The failure to reform has meant that there is no buzz about job opportunities, or about urban opportunities enticing young people off the farms.
And it is this failure that has contributed to the widespread disappointment that threatens to make the next general elections closer than expected, says Mihir S Sharma.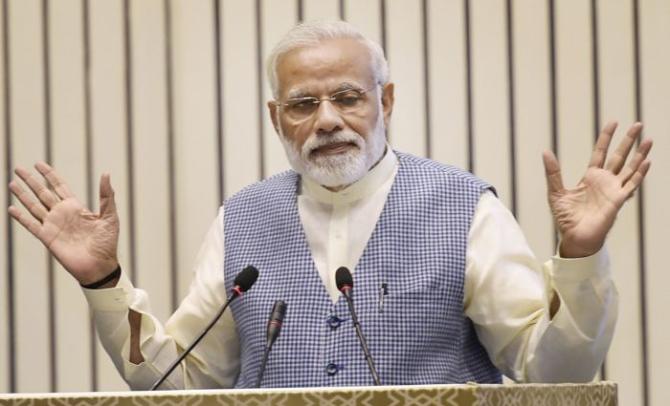 One year from now, India will be in the middle of what is likely to be a fiercely contested general election campaign -- if, that is, the elections are held on schedule.
What is notable is the new consensus that the elections will not just be fiercely but also closely contested. This was not predictable after Prime Minister Narendra Modi's resounding success in 2014, nor was it evident when he was riding high half-way through his term.
It is important to note that Modi's personal popularity continues to appear very high, whether you judge anecdotally or through surveys.
It was clear in 2014 that he was the most popular Indian leader since Indira Gandhi, and this has not changed.
It is also very relevant that the Opposition, in spite of a certain recent infusion of energy, has not yet managed to re-invent itself as a credible challenger or aspirant to power.
Given that these two facts are indisputable, it is even more surprising that Modi's re-election is not considered to be a fait accompli.
The problem is, in the end, with the economy. Much is being made of the moderate recovery in economic growth in recent months. But most observers, if asked in 2014 whether Modi would manage to deliver better growth than the United Progressive Alliance's jinxed second term, would resoundingly agree.
They would be even more emphatic if told that global conditions, such as the flow of capital and the price of oil, would be benign. Yet Modi's government has delivered under-par growth. Why is this the case, and what are the consequences?
Modi's under-performance is only partly his fault. He had to deal with some bad monsoons, which always depress demand and divert attention and resources to alleviating rural distress.
The introduction of the goods and services tax would also have been somewhat disruptive in the best of scenarios, with an impact on either inflation or growth or government revenue.
And it is not as if there have not been important and forward-looking structural reforms put into place. Besides the GST, the Insolvency and Bankruptcy Code (IBC) needs to be highlighted, as well as the increasing digitisation of government processes and permissions.
The government's commitment to climate change and renewable energy is marked, and eminently praiseworthy.
Yet it is clear that the government's positive economic efforts were either half-hearted or too late. Worst of all, many of them were poorly planned and executed, and betrayed a lack of capacity and understanding of the issues.
Enough has been written about how the GST roll-out was mismanaged. Even the IBC is in danger of being scuttled by entirely predictable problems.
The government was warned that a cadre of independent resolution professionals was needed to add capacity to the new bankruptcy professionals and keep disputes from flooding the courts. That requirement was unfortunately taken out of the final draft of the law.
Meanwhile, other forms of mismanagement undermined the positive efforts. Most prominent among these was demonetisation, a completely hare-brained scheme that destroyed demand, hamstrung the informal economy, and added to mass unemployment.
Meanwhile, it achieved little of what it set out to do -- whatever its true economic aim may have been, an uncertain question at best.
As has been recently reported, cash in circulation is now at levels comparable to the pre-demonetisation status quo ante.
Additional errors of commission, as opposed to omission, include the nature of the UDAY (Ujwal DISCOM Assurance Yojana) scheme, aimed at restructuring power sector debt, which has merely postponed a reckoning with the state of the distribution companies; the abandonment of the fiscal consolidation path in the last Union budget; the decision to hold capacity in the higher judiciary hostage to a dispute about appointments; the excessive use of cesses, which undermines India's federal nature by withholding funds from the states; populist and misconceived price control measures in such fields as medical equipment, pharmaceuticals, and aviation; attempts to de-link Indian exchanges from the world economy; a medical insurance scheme that might bankrupt the fisc and enrich only private operators; and the exceptions to reasonable regulation being carved out to benefit the still-to-take-off Gujarat-based international financial centre.
There are many other such.
The errors of omission are even more glaring, beginning with reforms to labour and land markets.
Structural reform of factor markets has largely been abandoned. True reform of public sector banks is off the agenda in spite of their obviously flawed operation.
The regulatory burden on entrepreneurs is still too high. Tax investigations have become more intrusive, not less. Public procurement of foodgrain remains unreformed. No offline nationwide market for agricultural produce exists.
Administrative reform is still a dream. Education has not been touched. Skill India has failed.
Meanwhile, India has turned protectionist in a manner not seen in 25 years.
The promise of 'Make in India' -- which was thought to be an attempt to revive manufacturing in India through deregulation, infrastructure investment, and investor protection -- has turned into a reality in which Indian companies seek protection behind high tariff walls.
Far from creating employment, this will lead to inefficiency, high costs, and misallocation of resources.
As a consequence of these errors, for all of which the government is directly responsible, there is little doubt that India's attempt to attain upper-middle income status during the period of its demographic dividend has been halted.
The current generation of young people, a demographic bulge which should have been India's ticket to prosperity, will instead be disadvantaged and left to their own devices -- pakodanomics, as it is being called.
The failure to reform has meant that there is no buzz about job opportunities, or about urban opportunities enticing young people off the farms. And it is this failure that has contributed to the widespread disappointment that threatens to make the next general elections closer than expected.
Modi is not personally blamed for his government's failure by many voters. He is still seen as a man doing his best.
Perhaps this is indeed the case. If so it is clear that his best is nowhere near good enough.
India deserves better.
Photograph: PTI Photo.