'What stood out at these meetings between industry representatives and government leaders was how the equation between the ministers and industry had undergone a subtle and qualitative change,' points out A K Bhattacharya.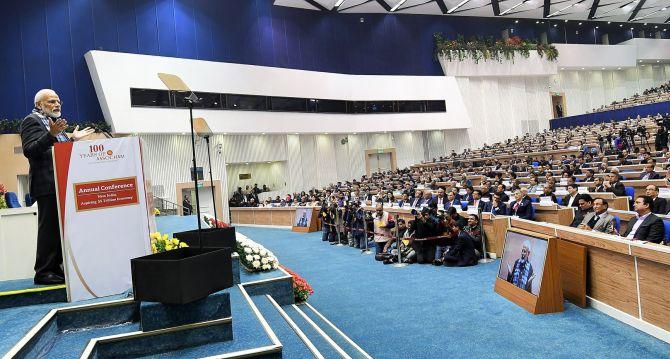 The Union government's engagement with industry leaders is always a keenly watched development.
Two national chambers of industry and commerce held their annual functions in New Delhi last month.
Prime Minister Narendra Damodardas Modi, Finance Minister Nirmala Sitharaman and Commerce/Industry Minister Piyush Goyal were among the senior government leaders who attended these events.
There were no fireworks from industry leaders this time, unlike those witnessed at a meeting in Mumbai in November, where veteran businessman Rahul Bajaj raised some apparently uncomfortable questions on why industry leaders did not have the confidence of openly criticising the government.
Perhaps a key difference was that the venue of last month's meetings was New Delhi and, given the adverse impact of a slowing economy on businesses, industry leaders were restrained in their response to the suggestions made by government representatives to improve the economy.
So restrained were industry leaders in New Delhi that the prime minister had to exhort them on more than one occasion to applaud with more enthusiasm his announcement on the reforms that his government had initiated by decriminalising penal provisions in the companies law and by slashing the corporation tax rates.
And industry leaders assembled there indeed fell in line and clapped more loudly in response to the prime minister's suggestion.
At the same meeting, he urged Indian industry to make bold investments to help the economy reach the goal of attaining the size of $5 trillion.
Giving a hint of what industry could expect from the forthcoming Budget, Modi talked about his government's plans to invest more in infrastructure.
He also assured industry that he was confident that his government would come out with steps to rescue the economy from the current slowdown.
But he was obviously keen that industry must appreciate that his government was focused on the need to improve the economy and address the business leaders's concerns about growth.
Hence, he made no secret of his desire that industry must recognise the government's intention to reform and revive growth.
He thus asked industry to clap a little louder on what his government had already done instead of remaining focused only on what the government would do in the coming months. Clearly, this was a different Modi.
The finance minister too held out an olive branch to industry when she addressed the same forum of industrialists.
She reiterated the government's commitment to help revive businesses.
Sitharaman said: 'This government does not want businesses to close. We want to help them to be revived by legislative and other administrative changes... we are with you. I want this mood of self-doubt to be completely removed from your minds.'
Such a statement may reflect the concerns of a government that, unlike in the past, is eager to be openly friendly with industry, recognising that industry's cooperation in reviving investments and growth is crucial.
But it also raises questions on whether a government should make any commitment on not allowing businesses to be shut down.
Doesn't that defy the spirit of economic reforms where both the entry to undertake economic activity and exit from it should be subject to market disciplines?
In a similar vein, Goyal sought the cooperation of industry in identifying countries and markets that had created non-tariff barriers for Indian exports.
The objective of that exercise was to help the government take retaliatory action against countries that imposed such barriers to trade.
Goyal said: 'Our government is willing to stand by you and look at retaliatory actions and impose similar trade remedial measures.'
However, it was not clear if that meant India's trade policies would introduce a fresh dose of protectionism, citing the need for retaliation.
More significantly, Goyal assured business leaders that he and his office would always be available to address industry's concerns, as he believed that a 'responsible and listening' government can have a positive impact on businesses.
What stood out at these meetings between industry representatives and government leaders was how the equation between the ministers and industry had undergone a subtle and qualitative change.
The government appeared to be unusually keen on making itself more accessible to and understood by industry.
It was trying to impress upon the assembled business leaders that the government was keen to understand industry's problems, address its grievances and revive growth through legislative or administrative measures.
This is perhaps a new phase in the Modi government's relationship with the Indian industry.
It is possible that this is a temporary phase and an outcome of the current economic slowdown.
It could have also been a fallout of the problems of law and order in the wake of country-wide protests over the recent legislation on citizenship and the associated plan to launch a National Register of Citizens.
Industry will, of course, hope that the new equation results in more sustainable industry-friendly policies, increased investments in infrastructure and steps that can revive demand in the economy, which could then boost economic growth.