'India's achievement will go a long way in the world meeting its Sustainable Development Goals of universal coverage to toilets and safe disposal of excreta.
'However, this success must be made sustainable - it must last.
'This is where the big risk lies,' says Sunita Narain.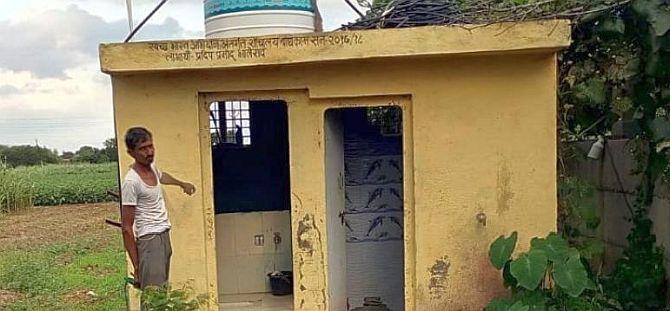 This is big. No doubt about it. In the past four years, India has built 100 million toilets in its 600,000 villages and another 6.3 million in its cities.
The country has been declared open defecation free (ODF) - a seemingly impossible task just some years ago.
According to government estimates, by 2019, over 93 per cent of the country's households had access to toilets; in over 93 per cent of the villages, people do not defecate in the open; over 96 per cent who had access also used the toilets, suggesting an important change in behaviour.
Then 99 per cent of the toilets are found to be well maintained and hygienic, and in 100 per cent of the toilets the excreta is "safely" disposed of - there is no pollution, and, in fact, in 95 per cent of the villages there is no stagnant water, no wastewater, and only minimal litter. Amazing.
How do we know this? The ministry of drinking water and sanitation (MoDWS) commissioned two private consultancies, IPE Global and Kantar, to conduct a nationwide survey, to be used for the future financing of the programme by the World Bank.
The second phase of the National Annual Rural Sanitation Survey (NARSS) was done between November last year and February, and covered some 6,135 villages and some 92,411 households to assess the situation on the ground.
In addition, says the Economic Survey 2018-19, all built toilets have been geo-tagged and therefore these can be verified.
Most importantly, the gains from the toilet programme are showing in health indicators - dramatic reduction in diarrhoea and malaria cases among children below five in districts with high coverage of toilets in households, says the survey, citing reports of the World Health Organization and the United Nations Children's Fund (Unicef).
There are no ifs or buts here - only an and.
The evidence suggests that the country has managed to achieve a near impossible target.
In fact, India's achievement will go a long way in the world meeting its Sustainable Development Goals of universal coverage to toilets and safe disposal of excreta.
However, this success must be made sustainable - it must last.
This is where the big risk lies.
So, even as we take a moment to celebrate, we must not call off the toilet challenge.
This is because there is still much to be done and much that can go wrong.
One, let's be clear that slippages happen in all programmes.
It will not be different here.
So, even if toilets are built and even if people have started using them, this trend can reverse in no time.
When reporters of the fortnightly magazine Down To Earth traversed different districts of the country, looking at toilets, they found good and bad news.
In districts of Uttar Pradesh - an earlier laggard state - change was visible on the ground.
There were toilets and people - particularly women - were using these and wanted more.
But in Haryana, declared ODF in 2017, there were signs of people slipping back to old habits of open defecation.
This, when this state had been particularly recognised for investing in changing the behaviour of the people.
But toilets get broken, they are not accessible or people just go back to doing what they have done for generations.
Two, there is the issue of excreta disposal.
The NARSS 2018-19 uses an inadequate and erroneous definition of "safe" - it defines safe disposal if the toilet is connected to a septic tank with a soak pit, a single- or double-leach pit, or a drain.
The fact is that this is only the system for containing the excreta, not its disposal.
It is estimated that the bulk of the 100 million toilets built in rural India are either single- or twin-pit latrines - in other words, people defecate into a pit, which is emptied and then reused.
There is no information where the excreta from the empty pit ends up - in waterbodies, drains, or fields.
It could well be argued that the toilets are still new and so there is still no faecal matter to be disposed of or emptied. But it will happen.
And, let's be clear, if this excreta is not managed, it will end up adding to the health burden - the toilet will not be the source of contamination, but soil and water contamination will take away the health gains.
Thirdly, there is the issue of credibility of the assessments - crucial to know that we are on track.
Currently, all studies are commissioned by the project funders or its proponent ministry.
I have no reason to doubt the methodology or results of these massive surveys.
But it is also fair to say that nothing in India can ever be so black or white - the over 99 per cent success story just does not square with the black, grey and white reality of the country that we all know.
So, there is reason to ask for differently done assessments by many more institutions and with many more colours.
Because there is one fact that even our good news toilet story must remember: If we all turn into cheerleaders then there will be no team to cheer.
Sunita Narain is at the Centre for Science and Environment.
Photograph: Kind courtesy, DownToEarth