Assuming that demonetisation had not happened, the value of notes in circulation this year could have increased to Rs 19.3 lakh crore.
But what we have, instead, by the end of August is a 20 per cent lower figure for currency notes in circulation, says A K Bhattacharya.
Illustration: Uttam Ghosh/Rediff.com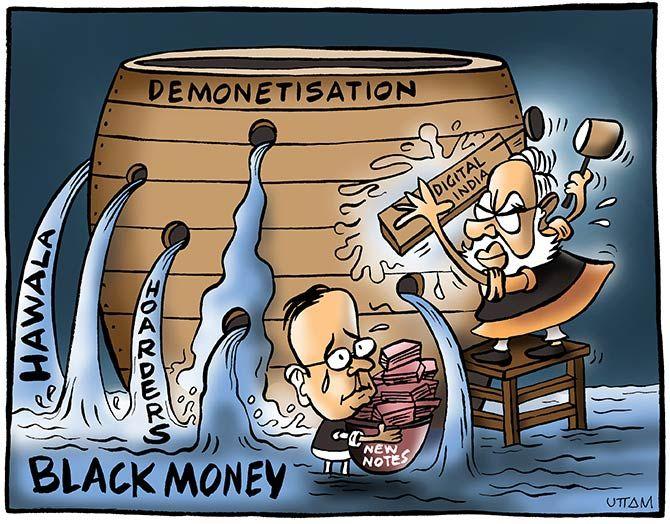 One year after 86 per cent of India's currency in circulation ceased to be legal tender, it is time to take a closer look at what impact that decision of Prime Minister Narendra Modi has had on the country's drive towards increasing digitised payments.
There can hardly be any dispute over its adverse impact on growth and jobs.
Nor can anyone claim that there was no disruption to economic activity once all old currency notes of Rs 500 and Rs 1,000 were annulled.
Government economists have already admitted to a slowdown as a result of demonetisation and are hopeful that growth will recover from the second quarter of the current financial year.
On jobs, there are no official data, but even in this regard government economists acknowledge the need for closely monitoring the jobs market to ensure that things get better.
The purpose of this piece, therefore, is not to enumerate how growth has decelerated, jobs growth has suffered and the pain for the economy due to disruption has been substantial.
It is perhaps time now for a more informed debate on whether demonetisation has in any way changed the way cash is used in the Indian economy and how the government has fared in tracking the black money.
Let us start with currency notes in circulation.
The data with the Reserve Bank of India (RBI) show that notes in circulation at the end of October 28, 2016 (the last reporting fortnight before demonetisation took place on November 8) were estimated Rs 17.54 lakh crore.
At the end of August 18, 2017 (the latest data available so far), notes in circulation stood at Rs 15.46 lakh crore, a decline of around 12 per cent.
There is another way of looking at these numbers.
The annual increase in currency notes in circulation in the Indian economy in the last five years has ranged between 10 per cent and 17 per cent.
The sharpest increase took place in October 2016 over the same month of 2015.
In the normal course, therefore, notes in circulation could have increased at least by 10 per cent in the last one year.
Assuming that demonetisation had not happened, the value of notes in circulation this year could have increased to Rs 19.3 lakh crore.
But what we have, instead, by the end of August is a 20 per cent lower figure for currency notes in circulation.
Clearly, the Indian economy is now working with less cash.
What about non-cash transactions?
RBI data on non-cash transactions can be classified under four broad categories: real-time gross settlements (RTGS); retail electronic clearing (which includes national electronic fund transfers or NEFT and immediate payment services or IMPS); credit as well as debit cards; and prepaid payment instruments.
And the broad picture here suggests an initial pick-up in such transactions, but their growth has slowed down in the following months.
On an annual basis, RTGS saw a 21 per cent rise in 2016-17, compared to an increase of 11 per cent in 2015-16.
Retail electronic clearing also saw a 45 per cent jump last financial year, compared to a 40 per cent rise in the previous year.
A similar trend is seen for the use of credit and debit cards on points-of-sale machines, whose transactions in 2016-17 grew by 65 per cent, compared to 28 per cent in 2015-16.
Pre-paid payment instruments, too, saw a rise in transactions by over 71 per cent last year, compared to 128 per cent in the previous year.
But the trend changes somewhat and the pace of growth in use of non-cash instruments slows in 2017-18.
For instance, the August 2017 transactions under each of the four categories of instruments show much lower growth, when they are compared with the value of transactions recorded in October 2016, the month before demonetisation took place.
For RTGS, the growth is 16 per cent and for retail electronic clearing, it is only 31 per cent.
The growth in each of these two categories in 2016-17 was much higher at 21 per cent and 45 per cent, respectively.
The divergence is sharper in respect of prepaid payment instruments and credit as well as debit cards used on point-of-sale machines.
Compared with 65 per cent growth in 2016-17 for credit and debit cards, the August 2017 transactions grew by 38 per cent compared to the October 2016 level.
Similarly, transactions under prepaid payment instruments grew by 69 per cent in August 2017 over those in October 2016 -- a drop from 72 per cent growth recorded in the whole of 2016-17.
On tracking black money after the demonetisation drive, the government seems to have made some headway.
Government officials point out that it has used data analytics to already identify about 1.77 million suspicious cases of deposits.
This involves deposit of Rs 3.68 lakh crore in 2.32 million bank accounts.
Based on further investigation, the government has identified about 100,000 "high-risk" cases for action.
It is clear that the government's tax department and other investigative agencies have their hands full with the task of tracking of black money.
Only time will tell how long it will take for the government to achieve its stated goal.