'Since the growth is not fast enough to provide jobs for the young, the fallout will be political and social,' warns T N Ninan.
Illustration: Dominic Xavier/Rediff.com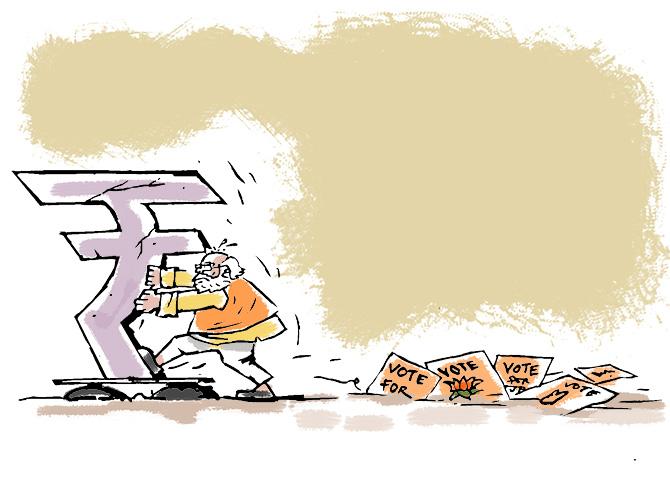 The new government will have to deal with the economic slowdown.
The issue to focus on is not the usual one of how long growth will stay in the 6.5% region before moving back up to 7% and beyond.
First, because we should not assume automatic reversion to what existed before, and second because the credibility of the GDP (gross domestic product) numbers has been shredded.
Instead, the focus has to be on real numbers that can't be fudged, and these tell a troubling story.
Merchandise exports have been flat for most of the last five years.
This reflects the failure of domestic manufacturing, and has made the economy more inward-looking.
Tax revenue was buoyant, but has now dropped short; collections from the goods and services tax especially suggest that business is not buoyant.
The consumption numbers show a dip across many sectors, affecting corporate sales and profits.
Balance sheet stress continues because of high levels of debt.
All too many entrepreneurs are still busy with debt reduction efforts; some are giving up and selling out, mostly (it would seem) to foreign investors, and others are simply going bust.
The 'core sector' output numbers on steel, cement and electricity don't suggest buoyancy.
Corporate projects tallied by the Centre for Monitoring Indian Economy are still at a long-term low, and the government funding of projects has been squeezed (or payments not made for past work done) because of the revenue shortfall.
The external account is comfortable because of capital inflows, but the current account deficit is too large for comfort.
The financial sector continues to be a drag.
Credit flow has recovered, but banks are still in trouble (the State-owned banks have provided for bad loans at a staggeringly high level of Rs 52,000 plus crore in the latest quarter -- nearly twice the earlier figure).
The next tier of lenders, the non-banking financial companies, faces a liquidity problem flowing from general loss of confidence about what is hidden in their balance sheets.
What does any government do when faced with such an all-encompassing, multi-faceted slowdown?
It uses monetary and fiscal measures to stimulate economic activity.
But interest rate cuts by the Reserve Bank have not so far found reflection in the real rates in the market.
As for fiscal policy, the deficit is too large for offering any tax discounts, unless the government simply gives up on fiscal discipline.
If it does do that, a higher level of government borrowing will create bigger problems for monetary policy.
There is a third solution, which is to force down the value of the rupee to make Indian products cheaper overseas and thereby competitive, and to make India an attractive sourcing base for global players, but no one in government has wanted to go down that road.
TThe real danger is that the momentum created by past reforms has run out of steam, and that we need a fresh set of structural reforms designed to make the system more competitive.
There has been all too little of such reform in the last 15 years, and so the agenda remains unchanged: Reforming the factor markets (land, labour, capital).
This means changing key laws, and forcing State-owned companies to face hard budget constraints (no bail-outs for Air India and its ilk).
This is next to impossible politically, given that the losers will be workers and farmers who are already seen as having lost out.
The flow of facts and logic leads to one conclusion: The country should be ready for slower growth.
This is already evident, but has been masked by the fiddling with (and suppression of inconvenient) GDP and employment numbers.
The economy dropped to well below the key 7% growth benchmark towards the end of the Manmohan Singh government, and even the official statistics put it at lower than 7% today.
Since that is not fast enough to provide jobs for the young, the fall-out will be political and social, on ground made fertile by an under-performing economy for the rise of populism.