'The most successful Indian firms are setting the trend, make the current partnerships qualitatively different from earlier times,' says Shailesh Dobhal.
Illustration: Dominic Xavier/Rediff.com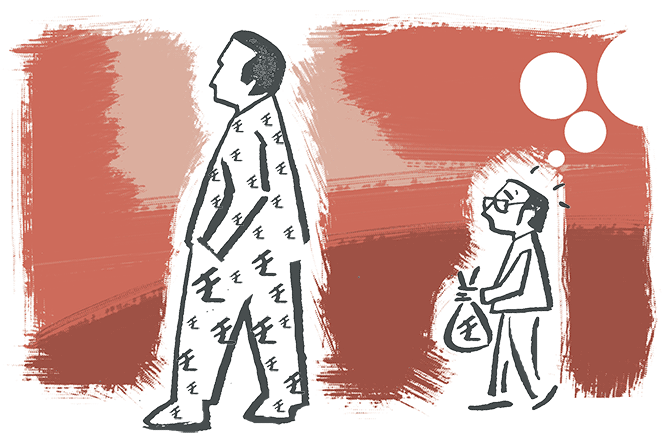 Call it the season of big-bang partnerships.
The country's biggest firm by revenue, Reliance Industries (RIL) sold a fifth of its oil-to-chemical division to soon-to-be the world's biggest firm Saudi Aramco for a whopping $ 15 billion.
It also announced the hunt for strategic partners for its telecom and retail ventures.
Well, given the stress in both the sectors and the scale of RIL's ambitions, potential partners can only be deep-pocketed foreign firms.
Bharti Airtel recently sought permission to up the foreign investment limit for itself to 100 per cent, with reports that long-time partner Singtel is upping its stake in the country's second-biggest telco's holding firm Bharti Telecom to over 50 per cent.
Though denied by the firm, there were other reports that said Japanese investment behemoth SoftBank too may be looking at some kind of partnership with Bharti Airtel.
Then there is the country's original retail king, Kishore Biyani, letting world's biggest e-tailer Amazon get a toehold into his sanctum sanctorum.
Amazon is subscribing to a sliver of quasi-equity in one of Biyani's core firms, Future Coupons, which holds the strings to his listed retail business.
And paying top dollars, double the current market valuation of the group's flagship Future Retail.
After gobbling the country's biggest ecommerce company Flipkart for $16 billion last year, the world's largest retailer Walmart has reportedly opened talks with the $ 110-billion salt-to-software Tata Group for collaborating with it in big box retail.
After bringing in an 11 per cent financial partner in American Invesco Oppenheimer Developing Markets Fund, Zee Group is on the lookout for a strategic partner, with speculation focusing on global names like Comcast and Sony doing the rounds.
It seems nothing pressures the corporate mind like a debt overhang.
In order to become net-debt free in the next two-years and improve returns for millions of its shareholders, the traditionally insular RIL is now openly serenading global biggies in its core business -- refining and petrochemicals -- and sunrise areas: retailing and telecom.
Though chairman Mukesh Ambani had articulated a partner-driven approach a few years ago too, but barring the now decade-old BP deal for oil and gas exploration, RIL had remained a solo player, even choosing to incubate new businesses in retail and telecom all alone.
It is only now that the firm is walking that famous "new Reliance" talk by Ambani at the annual meeting of the firm's shareholders a few years back.
The case is very different for television biggie Zee, which is saddled with over Rs 11,000 crore debt, and bringing in a partner is an existential necessity for both the firm and promoter Subhash Chandra.
The firm started out as global media Moghul Rupert Murdoch's India partner, split from it and became one of the biggest in the business in India.
Its size in that sense rules out most Indian firms as potential collaborators, and willy-nilly only a foreign firm can come to its rescue.
That the march of foreigners is happening across sectors, and that the most successful Indian firms are setting the trend, make the current partnerships qualitatively different from earlier times.
Unlike the rent seeking partnership of the yore, where the foreigner needed the Indian player to navigate the treacherous regulatory, political and bureaucratic labyrinth in India or a technology-starved Indian firm needed the foreigner's patent crumbs to survive, the current partnerships are between near-equals, leaders in their respective geography or segment.
In that sense, these "big bang" tie-ups are reflective of the coming of age of Indian industry, which for long was buffeted by a closed economy and learned to face global competition only in the last two decades or so.
True that some of these partnerships may very well turn sour, others may result in the foreigner taking over the Indian one or it may unravel in other ways, but this paring of Goliaths is a trend that is likely to endure.