Every time the Indian economy has faced headwinds due to international developments, the oil sector has played a crucial role, explains A K Bhattacharya.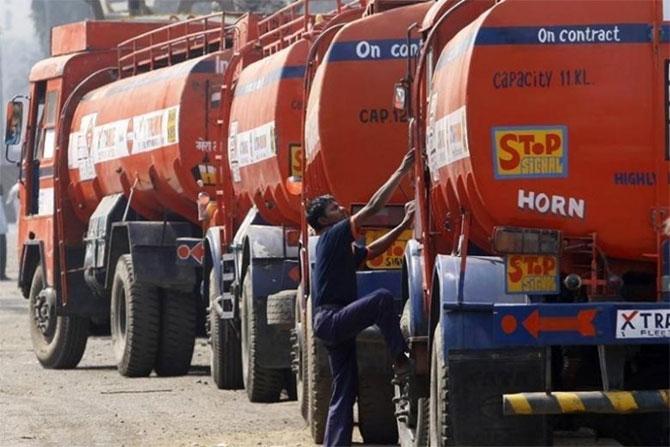 For the first time in many years, India's overall trade account, including both merchandise and services, has seen a surplus in each of the last two months.
In comparison, the overall trade account in 2019-2020 ran a deficit of $70 billion and the deficit in the year before was higher at $98 billion.
Of course, the surplus so far in the current year has been very small at about $0.42 billion in April and $3.98 billion in May.
It is also riding heavily on a sharp fall in overall imports, particularly of petroleum products, and a decline in the pace of economic activity in the wake of the pandemic and the lockdown.
In addition, a relatively low decline in service exports has played a key role in achieving the surplus. As the pace of the economy hopefully picks up in June and the coming months, this surplus too should disappear.
So, the surplus should not be a cause for any celebration.
After all, huge contractions in exports (over 34 per cent) and imports (over 48 per cent) in the first two months of 2020-2021 cannot bring cheer in an economy that is trying hard to 'unlock' itself and reclaim its earlier growth trajectory.
Instead, it should be an occasion to look a little closer at the pattern of India's exports and imports in the last two months and how this could be a pointer to the country's external account prospects in the coming few months.
The first two months of trade data has revealed how India is relying more and more on its primary sector for merchandise goods exports.
Iron ore has emerged as the sector notching up the highest exports growth of about 63 per cent in these two months.
Rice and spices have not shown growth by a similar margin, but it is clear that Indian agricultural produce continues to receive export inquiries in large numbers to give it growth even during the lockdown period.
Exports of drugs and pharmaceuticals have also done well in the lockdown months, recording growth of 19 per cent in April-May of 2020, more than double the 8 per cent increase seen in the whole of 2019-2020.
The worrying feature is that the entire manufacturing sector's exports have almost collapsed in these two months.
These include engineering goods, electronic products, gems and jewellery, chemicals, readymade garments, carpets, leather and leather goods. All these products used to contribute hugely to India's foreign exchange earnings through exports.
The collapse of such exports also highlights the pain points for the Indian economy during the lockdown phase.
Overall economic growth will have taken a big hit for these months, along with the jobs that were lost as a consequence.
The import of gold has also fallen significantly in April and May -- a cumulative decline of 99 per cent. This should help the country's external account.
Gold is the third-biggest item on the list of imports, after petroleum products including crude oil and electronic goods.
If the demand for gold sees a further decline in the current year, the country's external account would benefit.
Petroleum products continue to play the most crucial role in India's external account management.
In April and May this year, their imports fell by 66 per cent, largely because of a huge decline in international crude oil prices.
However, the benefit for the external account because of lower imports would be neutralised to some extent by a decline in exports of petroleum products in the same period by over 67 per cent.
While imports of petroleum products fell by about $15 billion in these two months, their exports also fell by about $6 billion.
Thus, there were some gains to be made on account of the lower international crude oil prices.
This is also why the current economic slowdown is posing difficult challenges.
Every time the Indian economy has faced headwinds due to international developments, the oil sector has played a crucial role.
In the aftermath of the Asian financial crisis of 1997, international crude oil prices fell by 31 per cent in 1998. This turned out to be a big relief for India's external account.
The government then managed to reduce the slippage in its current account deficit to only 1.3 per cent of gross domestic product in 1997-1998, compared to 1.2 per cent in 1996-1997.
Indeed, the current account deficit was brought down to 1 per cent of GDP in 1998-1999.
The story of India's external sector in the wake of the global financial meltdown of 2008 was quite different.
It's true that global crude oil prices had already dipped by 53 per cent in 2008, but they spurted by 78 per cent in 2009 and kept rising in the following two years though at a lower rate.
This impacted India's external sector with its current account deficit widening from 1.3 per cent in 2007-2008 to 2.3 per cent in 2008-2009.
It kept rising every year for the next four years.
Of course, there were other global and domestic factors that contributed to the worsening of the current account deficit, which rose to as high a level as 4.8 per cent of GDP by 2012-2013.
But the role of crude oil prices and the absence of appropriate policy interventions by the government cannot be ignored.
While retaining its rating of India at the lowest investment grade, S&P Global Ratings projected recently that the country's current account deficit would actually get better because of its improving terms of trade and weaker oil prices.
It is too early to say if India's terms of trade will improve as is being projected.
There is, however, little doubt that oil will continue to hold the key to the health of India's external sector, notwithstanding the overall trade account surplus recorded in the last two months.