Why do hundreds, and in some cases, thousands, turn up for a single vacancy at the lowest rungs of government jobs?
The answer is simple: It offers a stable, assured income, which overcomes all other objections, says Shreekant Sambrani.
Illustration: Dominic Xavier/Rediff.com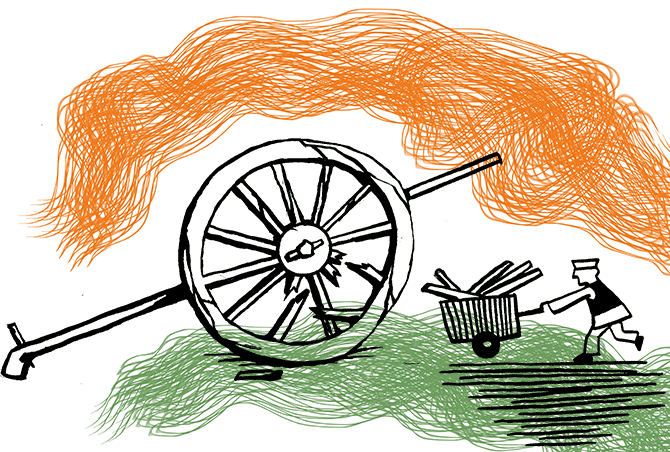 "My light bill is too much," moaned Kaluram, a small farmer near Ratlam in Madhya Pradesh, when a colleague and I conducted a village meeting.
He had dug a well and installed an electric pump four months ago. Making some quick assumptions and calculations about the working of the pump, I said that he seemed to have a valid complaint.
"Ask him how long he runs the pump," another farmer whispered. Kaluram sheepishly admitted he never turned off the pump! The power bill was entirely justified.
I noticed then that the new clothes he sported had obviously cost him a pretty penny. The truth gradually emerged. Kaluram had luckily tapped a gushing aquifer.
He pumped water for not only himself but also selling it to several neighbours. His received payment both in cash and as share of the crop.
He had leased out his plot on rather favourable terms. He concentrated now on tailoring, his earlier part-time occupation.
Kaluram, the subsistence farmer, had turned into a rent-seeker and an entrepreneur, a man of substance in the village, all because of nature's bounty.
That incident occurred in January 1973, in the course of an investigation we were conducting into the small farmers' development agency implemented in the district.
The programme subsidised small farmers digging wells in the arid area as also the pump installation.
The purpose in recalling this long-ago event is to highlight how dramatically farmers' lives and outlook change when they are rid of just one critical constraint.
Early on in its development journey, India realised that a monsoon-dependent agriculture was a major challenge.
In the first three decades after Independence, tens of thousands of dams -- large, small and tiny -- were built across hundreds of rivers and water courses.
Additionally, surface and tube wells helped provide ground water. Millions of Kalurams all over the country benefited.
Several studies by the Mahatma Phule Krishi Vidaypith of Maharashtra showed that even when only a part of their plots received water, farmers became risk-seekers on the irrigated portions, while they remained risk-averse subsistence seekers on the rest of their holdings.
But we soon realised this reduced only one physical uncertainty, that of moisture availability.
As farm production exceeded consumption needs, the peasantry faced another, more unpredictable and daunting risk of uncertain market prices.
The government reacted quickly. The Agriculture Prices Commission (now Commission on Agriculture Costs and Prices) was established in 1965, and mandated to ensure remunerative farm produce prices.
Despite many administrative and logistical problems, the minimum support prices primarily for the two cereal staples, paddy and wheat, appeared to work for the producers' benefit.
Problems such as grain rotting under unscientific storage, unmanageable mountains of surplus stocks and corruption were dismissed as occupational hazards inherent in such programmes.
Still, crops such as sugarcane, oilseeds and fibres went through periodic gluts and shortages due to climatic conditions, with an amplified impact on prices.
And recently we have seen even food grains suffering price crashes due to surplus production. The market-related risk appeared to be growing.
Diversification into other crops, mainly market gardening and dairying, appeared as a promising risk-spreading solution, at least on paper.
In reality, long supply chains and deficient logistics have led to uncertainties of income even in these activities.
Amul co-operatives have managed to insulate dairy farmers in Gujarat against risks and reduce their distress (as reflected in the 2017 assembly election results in all parts of the state except Saurashtra, where dairying is less prevalent).
Elsewhere, as in Maharashtra, even dairying is seen as risky because of the less than enlightened purchase practices of milk processors.
Ravi Matthai, the first director of Indian Institute of Management, Ahmedabad, adopted Jawaja, one of the least developed blocks in Ajmer district in Rajasthan for undertaking rural development after he stepped down as director.
He was greatly surprised to hear farmers say that they wanted their children to grow up like him, "wearing pants and boots".
What they actually meant was that they wanted for their children what Professor Matthai obviously had: A job with regular, steady, salary.
This was in sharp contrast to what they faced: A periodic income, subject to severe ups and downs.
That meant living in permanent uncertainty, not being able to count on anything except immediate survival (and not even that, at times).
Stripped of political hyperbole, that is exactly what rural India, especially the small and marginal farmers, the share-croppers, the destitute artisans and the army of the landless -- in other words, Bharat as is evocatively called -- yearns for.
Why do hundreds, and in some cases, thousands, turn up for a single vacancy at the lowest rungs of government jobs?
The answer is simple: It offers a stable, assured income, which overcomes all other objections.
Surjit Bhalla rightly observes that the jobs crisis in India is really an employment crisis for government positions (The Indian Express, January 5, 2019).
The income transfers which this writer has argued for in the pages of Business Standard recently will effectively provide a monthly stable salary for the poorest 50 per cent of India.
That may not turn them into Kalurams, but would take them a step away from risks of the vicious poverty and debt trap.
Shreekant Sambrani is an economist.