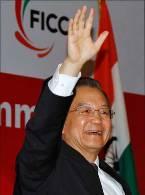 The visit to India of Chinese Premier Wen Jiabao did not mark any significant movement in relations between the two countries - forward or back. But it is still important as it allows an opportunity to know exactly where the relationship stands.
China is rapidly emerging as the country that matters the most to India. To its long-standing border dispute, two newer factors have been added - one, China is now a major economic power and likely to acquire even greater economic clout over time and two, partly as a consequence, it is now India's foremost trading partner with a highly skewed trade balance in its favour.
The recent stilting of relations with China - deterioration will be too strong a word - dates back to the Bush presidency when the US singled out India for special upgrading of relations in what China saw as an attempt to create a countervailing force to itself.

This has turned India's relations with the two super powers into a zero-sum game - if relations with the US warm up, those with China will cool.


A sharp edge has been added to this by developments within China. Its large and increasingly prosperous and educated middle class is touched with a sense of self-importance bordering on hubris.

A clear demonstration of this came from the stand-off with Japan over the arrest and subsequent release of the Chinese fishing boat captain. The belligerence which the Chinese showed, including putting a question mark over export of rare minerals, sent a chill down the Indian spine.

We now know from the latest round of Wikileaks that on the rebound India sought closer cooperation with the US because of "China's more aggressive approach".


With relations so delicately poised, it is perhaps a real gain that India-China ties have not got any worse.

On what bugs India the most, the stapling of Chinese visas for people from Jammu and Kashmir, China has not budged. In response India has not allowed a reiteration in the joint communiqué of China's sovereignty over Tibet.

If that is a stand-off, then there has been real gain for India in the mention of "good cooperation" between the two on "trans-border" rivers. This is crucial for India.

China building dams across the Tsangpo, which becomes the Brahmaputra in India, raises fears that free flow down the major river can become an issue anytime China wants. The fact that it has reassured India on this is a no mean thing.


India can also derive some comfort from the stated position on the trade imbalance. China has agreed on measures to promote Indian exports and "enhancing exchange and cooperation on pharmaceutical supervision".

This should be in China's interest as there is substantial complementarity between the pharma capabilities of the two countries. As a high-ranking Chinese pharma representative has pointed out, there is enormous scope for the two to join hands to promote third-country exports.

Whereas both have strong capabilities in the manufacture of bulk drugs, India has a clear edge in formulations and, most important, is miles ahead in having gained regulatory approval in developed markets.


There can hardly be any ground for keeping Indian formulations out of China when the whole world welcomes them. China has also agreed to "speedier completion of phyto-sanitary negotiation on agro products".


On the other hand, the decision by Reliance Power to enter into a massive $8.3 billion import deal with Shanghai Electric, topped up by a large $1.1 billion loan to pay for it, and the Indian government's refusal to impose duties on the import of power equipment sought by L&T underline what India has to do in setting right the trade imbalance - up its manufacturing competitiveness.

Indian industry has miles to go in the manufacture of not just capital goods but consumer goods also, and large-scale import of capital goods over time will skew the trade balance against India even further.


What India needs to do in putting its own house in order is even more important when it comes to defence preparedness. For very nationalist-minded Indians and the BJP which waves the flag as part of its political strategy, this immediately translates into a demand for more defence spending.

But the key question is: are the armed forces capable of efficiently using all the resources they get?

The succession of financial scandals involving defence brass raises questions as to whether India has a trim and fit fighting machine, and not something that is bloated and self-serving.

The 1962 debacle showed up both enormous political miscalculation and poor military leadership.


Since China is so important to India, relations with it must be marked as extremely fragile, to be handled with utmost care. Even a single misstep will be unaffordable.

The strategy must be to carefully avoid any kind of provocation, stand firm on one's own ground and work assiduously over time in improving capabilities, be they in manufacturing or defence preparedness.

The obvious friendliness of Mr Wen can be taken at face value but it must be remembered that the Chinese leadership is not a monolith. There are conservative hardliners who are rather full of themselves.

Strengthening trade ties should help by creating a stake in the Indian market for Chinese business. But it also has to be remembered that the importance of the US to the Chinese economy has not prevented China from following a carefully confrontationist path.