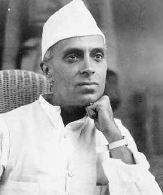 All the scams that have tumbled out of the closet in the last few months have exposed one more time the link that exists between businessmen and politicians, writes Bhupesh Bhandari.
Conceptually, there is nothing wrong about it. Businessmen, like anybody else, have every right to lobby the elected representatives for what they think is good for them.

Should the leader maintain his distance from businessmen? The example of Jawaharlal Nehru is often quoted to suggest how leaders should deal with businessmen. It would be instructive to see how India's first prime minister handled this delicate matter.


Nehru was a socialist, though of the Fabian type. He disliked wealthy men in general and intrusive businessmen in particular.

He had attended the International Congress against Colonial Oppression and Imperialism in Brussels in February 1927 as a representative of the Indian National Congress.

Though the Soviet Union had stayed away, it was an assembly of communists and their sympathisers. Nehru made quite an impact at Brussels.

He then travelled to Moscow along with his father Motilal Nehru to see firsthand communism at work. He came back full of the revolutionary zeal.


When Nehru became Congress president at the Lahore session in 1929, he left nobody in doubt where his heart was: "I must frankly confess that I am a socialist and a republican and am no believer in kings or princes, or in the order which produces the modern kings of industry, who have greater power over the lives and fortunes of men than even the kings of old, and whose methods are as predatory as those of the old feudal aristocracy."


What strengthened his belief in the years that followed was the rapid strides made by the Soviet Union under the Five-year Plans, while the rest of the world - the capitalist world or the free economies - reeled from the impact of the Great Depression: The crash in the stock markets had wiped out huge quantities of wealth, factories had come to a standstill and there was joblessness all around.

The communist bloc, being an autarchy, was immune from these shocks.


Nehru seldom got along with Ghanshyam Das Birla, the tallest Indian businessman of his time. In the pre-Independence days, he thought Birla supported the Hindu lobby within the Congress.

Agnostic to the core, Nehru found no place for religion in public life. Birla, on the other hand, found his sympathies for the Soviet Union and his socialist bent of mind a bit too much to handle.

In 1936, Birla wrote to Mahatma Gandhi: "In London, Nehru was making speeches that Russia was India's best friend and Japan a weakening power. I don't know about Russia, but I definitely know that Japan is not a weakening power."

After Mahatma Gandhi was assassinated on January 30, 1948 by a Hindu fanatic in the lawns of Birla House in New Delhi, Nehru wanted the house to become a national monument; Birla wasn't keen.

Another catfight was played out between the two. Independence didn't help matters. Birla had to junk his plans to set up a steel plant at Durgapur in West Bengal because Nehru had decided that it was the job of the public sector to make steel.


There was no businessman Nehru disliked more than Ramkrishna Dalmia. "He is an ugly man with an ugly face and an ugly mind and an ugly heart," Nehru once said of him. Dalmia had at one time even invested Rs 10,000 for a 30 per cent stake in Nehru's newspaper National Herald.

The venture required more and more money. Nehru and Dalmia began to bicker. Dalmia left in a huff. Subsequently, Dalmia blamed Nehru for the plight of Hindus during Partition. When it came to light that he had taken out public money from his insurance company for speculation, Dalmia was arrested and spent two years in jail.


But Nehru respected some businessmen. When he was short of money after his father's death, Nehru had toyed with the idea of working with the Tata group. He had even used a Tata aircraft during his campaign in 1937.

The Tatas were Parsis and did not wear their religion on their sleeves. They had built assets like the steel mill in Jamshedpur and the Taj Mahal hotel in Mumbai, which had done all Indians proud. Under J R D Tata, they had earned a name as an ethical business house which did things the right way.


But fractures in the relationship began to emerge soon after Independence. Tata did not approve of Nehru's economic policies. Nehru once told Tata that he hated the word profit.

"Jawaharlal, I am talking about the need of the public sector making a profit," Tata shot back. "Never talk to me about the word profit; it is a dirty word," Nehru retorted!


Another businessman Nehru respected was Lala Shri Ram of DCM. He was well-known in business circles for his pro-labour policies, high ethical standards and staunch support to swadeshi.

On January 11, 1963, Lala Shri Ram died. One of the first visitors to his residence was Nehru. Standing next to the body, he put his arm on the shoulder of Bharat Ram, Lala Shri Ram's second son, and said: Bada mukammal insaan tha (He was such a complete man).