Prime Minister Modi should realise that his favourite preoccupation of India's standing in the comity of nations depends more on its economic destiny rather than aggressive diplomacy, says Shrekant Sambrani.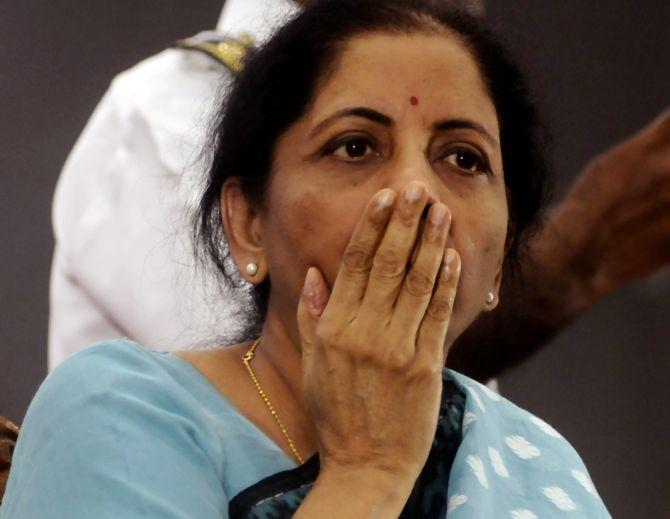 You just cannot escape it, no matter how hard you try.
The second Narendra Modi government completed its 100 days on September 6, and the hosannas haven't stopped.
It's not just the government and the Bharatiya Janata Party spokespersons who are celebrating what Modi 2.0 has done in this period, but virtually all news channels and newspapers seem to be in competition as to who gives the widest and loudest coverage.
By comparison, Prime Minister Modi and the BJP president Amit Shah seem almost muted!
Why are the first 100 days of an administration special?
This landmark was set up in 1933, in the first administration of President Franklin Roosevelt of the United States.
Immediately after assuming office on March 14 that year, he set himself a busy agenda.
By June 11, the administration had completed 100 days. It had managed to get 15 important economic legislations passed through the Congress, thus boosting public confidence in the administration's ability to cope with a depression-ravaged economy.
Roosevelt himself referred to this in his Fireside Chat on the radio, another of his innovations, on July 24.
The US News and World Report calls the 100-day performance a useful measure to gauge presidential performance because "presidents tend to be most effective when they first take office, when their leadership style seems fresh and new, when the aura of victory is still powerful."
While Modi's aura of the second victory is undoubtedly most powerful, his leadership style has been known for five years. So whether the 100-day criterion is relevant for the second term is a matter of detail, inconvenient as details usually are. Let that be.
Modi 2.0 certainly matched Roosevelt's despatch in managing legislative affairs in its early days. Its feats of abrogation of Articles 370 and 35A, the reorganisation of Jammu and Kashmir, the instant triple talaq law and passing of a host of other measures have been lauded.
But references are rather rare to that elephant in the room, the economy, stupid (the mantra of James Carville, strategist for Bill Clinton's successful campa­ign for the US presidency in 1992). We hear instead exhortations to achieve a $5 trillion economy (by 2024/25) and low inflation. Modi talks effusively of Chandrayaan and India's manifest destiny in space, but seldom about the more down-to-earth economic issues.
The immediate reaction to Roosevelt's 100-day economic campaign was, according to economic historian William L Silber, a "remarkable turnaround in the public's confidence." Within two weeks people returned more than half of the cash they had been hoarding, and the first stock-trading day after the bank holiday marked the largest-ever one-day percentage price increase.
In India, the Bombay Stock Exchange Sensex crossed 40,000 for the first time on May 23, the day of the election results, but it has since been subject to rather severe ups and downs, languishing between 36,000 and 37,000. Foreign investors have taken out more than $10 billion in June and July. The rupee has slid from about Rs 69 to the dollar in May to nearly Rs 72 now. All of these hardly indicate confidence of investors, domestic and foreign.
As to the general public, I have to narrate some anecdotal evidence. A pharmacist with a robust business and the local sole distributor of our leading dairy brand both said that they had experienced a downturn in their volumes for the first time.
Mind you, food and pharmaceuticals are generally considered immune to cyclical swings of demand.
Their experience also mirrored that of those infallible weathervanes, the wholesale fruit and vegetable traders. If the economic headwinds turns to a gale, these straws will blindingly multiply.
The good ship Indian economy today is caught between the Scylla of the need to inject significant stimuli and the Charybdis of resource squeeze caused by the economic downturn.
The Reserve Bank windfall payment of Rs 1.7 trillion for the year may not be adequate to ensure a safe passage to calmer waters, nor the proposed public sector bank amalgamation.
Export markets offer no quick fixes either. The activities which will rebound fastest, according to Arvind Subramanian, are clothes and shoes. But India will have to strive hard to reclaim the lost ground here.
The government and especially its economic bureaucracy would do well to dust off the former chief economic adviser's Economic Survey 2016-17 to devise an eminently practicable strategy.
Modi has espoused Roosevelt's 100-day measure and Fireside Chats (Mann ki Baat), even if it is sheer happenstance.
The New York Times had observed in 1933 that Roosevelt "considers the President …the instrument by which profound and necessary changes in the American system are to be effected."
Modi will wholeheartedly agree that the prime minister has an identical role to play in India. His discharging that task successfully depends largely on how well the economy is handled now, not through fire-fighting, but through a nuanced strategy.
He should realise that his favourite preoccupation of India's standing in the comity of nations depends more on its economic destiny rather than aggressive diplomacy.
His choice is between Roosevelt who pulled the US out of depression and his would-have-been rival in 1936, the populist Senator Huey Long of Louisiana.
The writer is an economist.