Ajit Balakrishnan offers a thinking man's guide to e-commerce controversies.
Illustration: Dominic Xavier/Rediff.com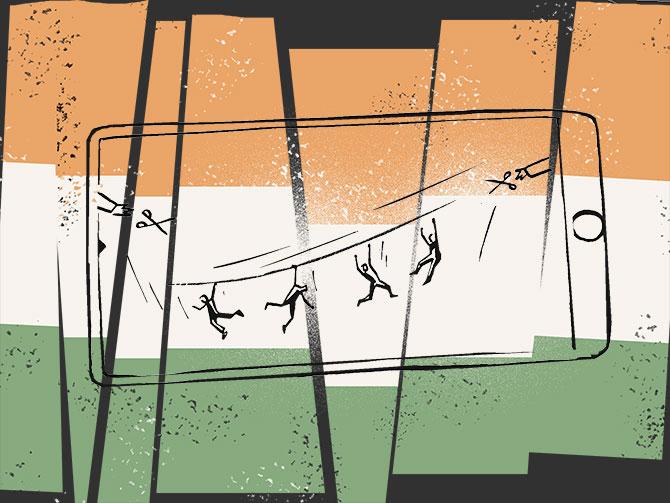 If you have been befuddled by news headlines which alternately feature the astronomical losses being posted by online shopping sites and the equally astronomical market capitalisations they seem to secure from private equity investors, be comforted that you are not the only one to be so confounded.
The mechanisms that drive Internet-based businesses, particularly those that deal with consumer e-commerce, are not the same that have driven traditional businesses. Unravelling these new processes will go a long way towards taking a rational public policy stance on the controversies surrounding consumer e-commerce in India.
At the core of any Internet model of commerce is 'disintermediation' -- or eliminating the multiple layers of wholesalers and dealers between a principal (producer or importer) and the buyer.
In the case of, say, mobile phone headphones, the manufacturer in Shenzhen, China, sells to an entity in Shenzhen who has trade connections in India, who, in turn, sells these headphones to an entity in Delhi (the importer) who then sells these headphones to someone based in Mumbai (the wholesaler for Maharashtra) who, in turn, sells the headphones to an entity in Pune (Pune distributor) who then sells the headphones to a retailer in Viman Nagar area of Pune, who finally sells it to the consumer.
This simplified model comprising the manufacturer, China exporter, India importer, Maharashtra wholesaler, Pune distributor, Pune retailer and Pune consumer shows that between the China manufacturer and the Pune consumer, there are five entities.
When the China-based manufacture and the Pune-based consumer adopt the Internet and become proficient in its use, the Pune-based consumer will buy the headphones directly from the Shenzhen manufacturer's Web site; the five entities who stood between them get 'disintermediated' -- that is, there is no role for them and they must close down their businesses and fire all their employees.
As you can see, this disintermediation saves on the markups made by the five entities which stand between the manufacturer and the consumer, making the product, in this case headphones, cheaper for the consumer and more profitable for the manufacturer.
This is an outcome that rational thinkers will accept as what 'efficiency' is all about and consider it undisputedly good for the economy as a whole.
This sounds like music to the ears of consumers.
Where does this music queer its pitch? For one, to facilitate the elimination of this chain, several e-commerce companies have sprung up, which enable this disintermediation partly by enticing manufacturers and end-consumers by subsidising the price. This, they hope, will entice consumers to quickly choose to buy from their site instead of buying from the retail shop.
These subsidies cost a fortune but private equity and venture firms will provide them the capital to carry on till all the five elements in the chain are eliminated.
Where this music queers its pitch again is that in countries such as India, this four-level chain (India importer, state-level distributor, city-level distributor, city shop) is where economic power has always resided.
The folks who own these distribution businesses are the ones who lead chambers of commerce, Rotary Clubs and Lions Clubs and serve on the boards of local co-operative banks and educational institutions. In other words, they are the true grandees of the Indian business establishment.
And looked at from another angle, this four-level chain accounts for 30 to 40 per cent of the gross domestic product and 55 per cent of the employment in India. The complete destruction of this chain will destroy half of India's employment.
What are the consumer behaviour patterns that are shaping the behaviour of consumer product e-commerce firms worldwide?
To start with, how big is online shopping right now after two decades from its starting days in the late 1990s?
Authentic data is available only for the United States. According to the US government census, US retail e-commerce sales in the last quarter of 2019 as a per cent of total retail sales was a mere 10.5 per cent.
But this overall number masks many different underlying movements. For example, many traditionally offline department stores (such as Walmart) are increasingly selling online and traditionally native online marketplaces such as Amazon have started private labelling (putting their own brand name on products made by others).
Online e-commerce seems to flourish in some product categories -- books, fashion, consumer electronics, for example -- and has barely made a dent in some others.
Increasingly, online consumers resent being charged for delivery, but at the same time want delivery either the same day or the next day. To achieve this, online companies are investing in vast warehouses and in their struggle for industry dominance are also subsidising delivery charges and product prices.
What drives this subsidising behaviour is a shared belief in the American financial community that 'Winners Take All' -- that the leading company in any market tends to take most of the profits -- and because of this belief tend to give that early leaders mega-sized valuations.
The dilemma that India faces in 2020 is, if you reflect deeply, not much different from what we as a country faced in the late 19th century when the textile spinning and weaving machines arrived threatening the livelihoods of India's handloom spinners and weavers.
The use of such machines (broadly called the Industrial Revolution) did put many spinners, weavers and cloth retailers out of jobs but also made cotton cloth affordable for the Indian masses -- not just for the zamindars and other wealthy folk.
Turning our eyes away from the consumer e-commerce controversies could lead to a trader-led social revolt; hindering the progress of e-commerce could make the Indian economy less competitive. Letting a few companies, particularly foreign ones dominate the market is nationally suicidal.
It will take a mega effort to update India's Competition Law, laws dealing with foreign direct investment and taxation laws dealing with venture funding if we have to realise our full national potential from e-commerce.
Ajit Balakrishnan (ajitb@rediffmail.com) is an Internet entrepreneur and as a member of the government committee to update India's Information Technology Act wrote Section 79 which defines and governs the role of Internet players.