Time-automated trading through algos can massively amplify irrationality, leading to more volatility and still more irrationality in an ever-spiralling loop, warns Debashis Basu.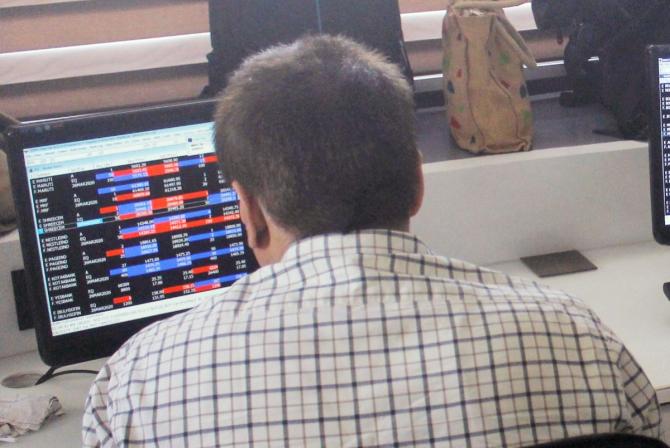 Since early June 2020, the stock market has been on a wild bull run, which has drawn in more retail investors than in the past 30 years, with time, money, and the opportunity to play the market.
For the first time in decades, retail investors as a group dominate cash market trading, which has a volume of around Rs 60,000 crore per day.
Over the past six years, the share of individual investors rose by 12 percentage points from 33 per cent in FY16 to 45 per cent in FY21, rising especially sharply in FY21.
The share of foreign institutional investors and domestic institutional investors is down to single digits.
In FY20-21, on average, about 1.2 million demat accounts were opened per month as compared to 420,000 per month in FY19-20.
The growth rate has doubled this year, when the monthly average account opening shot up to 2.4 million accounts in the first quarter. These accounts are overwhelmingly those of retail investors.
However, it is precisely when a roaring bull market is underway that mistakes start to creep in.
Indeed, millions of new investors in a wild bull market is a disaster waiting to happen, as we have seen time and again. What can make the outcome worse are two new trends that were never seen before.
One, technology that automates trading through algorithms, and, two, the proliferation of social media, which can create massive herd-like moves not seen before.
In both cases, ease-of-use and ease-of-sharing, which can bring about a massive scale in consumer technology, can also work against investors.
Consider this story of Utsav Kapoor.
Ustav, an IIT alumnus software engineer, lost his job in April 2020 due to the pandemic. He had savings of Rs 25 lakh, all in fixed deposits. This is when someone contacted him from a Bangalore-based company called MarketCalls. Utsav paid them around Rs 1.2 lakh as course fees to learn about stock trading strategies.
MarketCalls later launched an 'advanced, high-tech, server-based' platform called Algomojo for trading. This software allowed server-based algo trading without any supervision. As 'icing on the cake', it provided several trading strategies.
In using this algo (all back-tested to give great returns, it claimed), Utsav lost Rs 8 lakh in four months.
Dejected, he found a 'disruptive' app called Tradetron, recommended on Internet forums that suggested you can make 20 per cent or more per month from the stock market. Tradetron is another server-based app for algo trading that did not require any manual supervision.
In fact, Tradetron is a 'marketplace' where hundreds of self-proclaimed trading gurus sell you strategies of your choice. Each one promises spectacular returns "in the best of intellectual presentation to appeal to any scientific mind", says Utsav.
"Tradetron's UI (User Interface) is addictive and beautiful like an online gaming portal," he adds. The site is integrated with numerous well-known brokers to put through the transactions fired on your chosen algos.
Between September 2020 and February 2021, Utsav lost over Rs 20 lakh through Tradetron. Overall, from algo trading, his entire savings in FDs, plus additional savings from his provident fund, got wiped out.
Utsav opened accounts and traded with six brokers between April 2020 and February 2021, and all of them recommended algo trading. He admits he was foolish in continuing to trade, but he also "accepted all the losses as my own mistake for not being intelligent enough to make money from stock markets."
"This belief was triggered by educational propaganda from these algo platforms," says Utsav.
However, he started researching deeply about the algorithms and found that these algo platforms are flouting norms set by the National Stock Exchange and the Securities and Exchange Board of India.
His broker, IIFL Securities, meanwhile has been calling him to try out another new 'path-breaking' platform called Algobaba.
I believe there will be many Utsavs when the market becomes volatile and algos go haywire. Unlike previous occasions when price declines could trigger irrational behaviour on the part of newbie investors acting independently, this time-automated trading through algos can massively amplify such irrationality, leading to still more volatility and still more irrationality in an ever-spiralling loop.
Indeed, we have an example of how irrational things can get, from October 19, 1987, when programmed trading led to a 22.6 per cent decline in a single day in the Dow Jones Industrial Index in the US. This led to a worldwide panic with major global markets crashing by 20-45 per cent.
The cause of this was a trading programme, ironically called portfolio insurance, which called for selling as stocks hit new lows. A mindless automated programme like that will obviously lead to a waterfall decline because a vicious cycle of new lows, more selling, further lows, and further selling takes over.
We have all the ingredients of such a shock in place.
One, the incentive -- the aggressive algo push by all brokers to generate trading volumes.
Two, the ease of setting it up -- no coding needed.
Three, the hook -- gaming characteristics of algo sites.
Four, ease-of-use -- no research, no analysis, off-the-shelf strategies.
Five, scale -- automation to fire many trades.
All it will take is an external event to turn the market volatile. That will be like lighting a match to a highly inflammable tank of chemicals.
Unfortunately, the Securities and Exchange Board of India does not see it this way and is not interested in regulating retail algos, putting the entire market at risk.
Debashis Basu is the editor of www.moneylife.in