For the Bengal government, there is no alternative to revising user charges and also creating a strong industrial base, rues Ashok Lahiri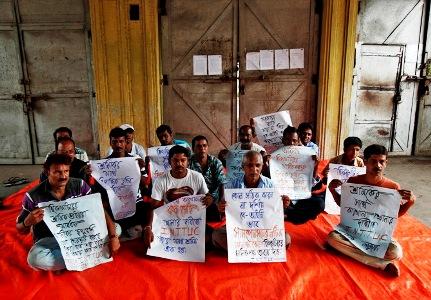 In March 2014, before the Lok Sabha elections, Professors Maitreesh Ghatak and Sanchari Roy compared the Gujarat economy under Narendra Modi with the 16 best performing Indian states during 1980-2010.
The criteria were the level and growth rate of: per capita income; the human development index; inequality; and people below the poverty line.
Haryana, Karnataka, Kerala, Maharashtra, Punjab and Tamil Nadu were praised across the board, while some received special mention in particular categories: Andhra Pradesh, for low levels of poverty; Assam, for low levels of inequality; Bihar, for growth of per capita income; and Rajasthan, for low and declining inequality. There was no mention of West Bengal.
How West Bengal has dropped out of the screen for better-performing Indian states!
Like a frog slowly being boiled alive and cooked to death, the people of Bengal were unable or unwilling to react to significant changes occurring gradually since the late 1960s until 2011.
In the late 1940s, factory employment in West Bengal was as much as in all of Bombay State (present Maharashtra and Gujarat combined).
West Bengal was the second-most industrialised state in terms of value added and first in terms of number of factories and employment even in the mid-1960s.
With a severe and long process of deindustrialisation, it lost its primacy.
Its share of net value added in the factory sector fell from more than 14 per cent in 1971 to four in 2002, and its share in employment from 16 to seven per cent.
Yet in 1980-81, in per capita income, Bengal ranked fifth after Gujarat, Haryana, Maharashtra and Punjab.
By 2000-01, Himachal Pradesh and the four southern states of Andhra Pradesh, Karnataka, Kerala and Tamil Nadu overtook West Bengal and its rank slipped to 10th.
With Cuba and North Korea, West Bengal shared the distinction of being under almost uninterrupted 'communist rule', even after the former Soviet Union's demise.
In May 2011, things changed.
A new government under Mamata Banerjee inherited a West Bengal in distress.
With West Bengal in overdraft seven times for 62 days in 2010-2011, the inheritance included a daunting fiscal challenge.
The communists left Bengal with the distinction of having the highest debt-to-gross state domestic product ratio, followed by Punjab, Uttar Pradesh and Kerala.
Among all non-special category states, as a proportion of GSDP, West Bengal had the lowest own tax revenue and the highest fiscal deficit.
After paying salaries, pensions and interest, there was no fiscal space for development expenditure.
In November 2013, West Bengal's Finance Minister Amit Mitra had urged the 14th Finance Commission for loan write-offs, rescheduling, interest moratorium and special grants.
What the Commission has done with Mr Mitra's request in its report, already submitted to the president on December 15, 2014, will be known soon.
It is difficult to see, however, how it can accede to such a request without breaching the principles of sound federal finance.
Who but the state itself will make amends for the sins committed by its own past elected governments?
Indeed there have been some serious fiscal consolidation since 2011. Information technology has been used for ensuring tax compliance.
Fiscal deficit-to-GSDP ratio, after remaining on average at 5.2 per cent, came down to a provisional 3.4 per cent in 2012-13 and is 3.1 per cent for 2013-14.
In the last two financial years, West Bengal increased its own tax revenue receipts remarkably by 31.6 per cent and 19.2 per cent by augmenting its land revenue, stamp duties and registration fees, taxes and duties on electricity, and sales taxes.
The government also introduced the Integrated Financial Management System in 2012-13.
In this context, a notable oddity is the non-implementation of the new pension system for new government employees: it is being implemented in all the other major states!
Notwithstanding the encouraging efforts of the present government on tax mobilisation, for sustained fiscal consolidation, there is no alternative to revising user charges and also creating a strong industrial base to widen the tax base.
A long tradition of resisting user charge imposition and cost recovery is entrenched.
In 1953, the Calcutta Tramways Company could not revise its second-class fares, unchanged since 1922.
There were protests by the Tram and Bus Fare Enhancement Resistance Committee, known popularly as Pratirodh Committee, led by the future Communist Party of India-Marxist Chief Minister Jyoti Basu, and Subodh Banerjee of 'gherao' fame, among others.
The CTC went bankrupt and was taken over by the West Bengal government in 1967. Kolkata continues to be a rare major Indian city where water is completely free for domestic consumers. Inculcating the habit of paying for utilities among the middle and upper classes is critical going forward.
West Bengal, after Bihar, the second-most densely populated state of India, has 1,029 people a square kilometre.
With so little land and so many people, agriculture alone cannot put the state on a sustained path of high growth and prosperity.
Agriculture can grow at say five per cent for a few years, but can never absorb surplus labour in 'quality' employment or generate sustained seven to eight per cent overall growth for two to three decades.
Promoting industry requires rejuvenation of the physical infrastructure.
The infrastructure bottleneck is best illustrated by the sorry state of the north-south corridor extending from Haldia port via Kolkata to Siliguri in the north, and touching important towns such as Baharampur, Krishnanagar, Malda and Raiganj.
It is an artery connecting Bhutan, Nepal and Sikkim to the sea, and Bangladesh and the seven sisters in the Northeast to the western parts of India.
The corridor improvement project, including its four-laning, is stuck for years because of land acquisition problems.
Such was the poor state of National Highway-34, the corridor's southern section, that all air-conditioned bus services between Kolkata and Siliguri were suspended in August 2013!
Industrialisation suffered from a turbulent trade union movement.
Banerjee, minister in the 1967 and 1969 United Front Government, introduced the 'gherao' tactic, by which the employer is prevented from leaving the workplace until workers' demands are met.
'Gherao' was added to the Oxford Dictionary in 2004, and he became immortal, as a Bengali enriching the English vocabulary in recent times!
The memory of gherao is fading; it will have to be completely wiped out.
For various reasons, expectations triggered by the regime change in 2011 have become a bit subdued.
The West Bengal government will have to work hard on multiple fronts to live up to these expectations.
Image: Employees hold placards as they sit on a protest outside Hindustan Motors Ltd's Uttarpara plant near Kolkata. Photograph: Rupak De Chowdhuri/Reuters
Ashok Lahiri is an economist