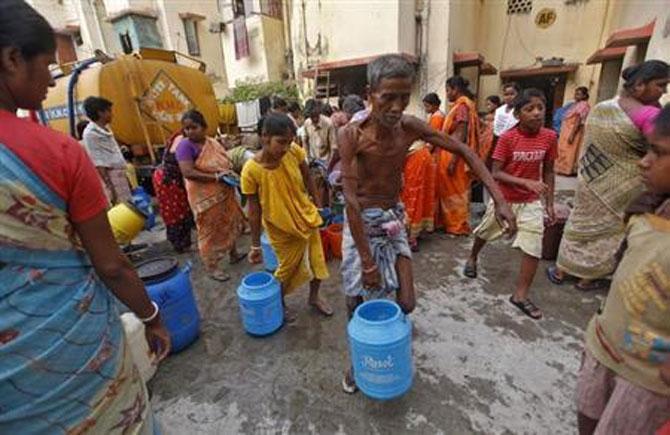 Globally, 2.5 billion people do not have access to proper sanitation.
Direct intervention in schools by ensuring that children have access to safe, hygienic and regularly maintained toilets will increase their attendance and engagement.
This will translate into good toilet habit among children and their families and communities.
Naina (name changed), aged 13, no longer has to wait for eight hours to reach home before she can use a clean, safe toilet and does not miss school during her periods any more.
Bhaskar (name changed), having stumbled over broken tiles and potholes, would shamefully resort to using the shrubs outside his school.
Not any more, because his school toilet is now repaired and well lit-up.
Naina and Bhaskar both study in government schools where children suffer innumerable difficulties and indignities in not being able to access safe and clean toilets.
Globally, 2.5 billion people do not have access to proper sanitation.
Lack of basic sanitation affects people's dignity and escalates the spread of life-threatening diseases that can be fatal to children and their families.
Governmental bodies and world leaders have increasingly called attention to the sanitation crisis by organising events such as World Toilet Day and more recently, by including "access to water and sanitation for all" in the United Nations' Sustainable Development Goals.
In India, the Swachh Bharat Abhiyan has galvanised strong support from all stakeholders.
In a country where more than 600 million people still resort to open defecation, the construction of 10 million new toilets, with toilet facilities in 90 per cent of schools in one year, is no small feat.
However, reports suggest that four out of every 10 of these school toilets are non-usable or dysfunctional because of lack of regular maintenance.
In rural India, one out of every two toilets in schools is unusable, leading to continued open defecation. India reports the highest number of diarrhoea deaths among children under five, open defecation being the main reason.
Further research suggests that 23 per cent of girls drop out of school on reaching puberty, but access to safe and hygienic toilets can increase their attendance by up to 11 per cent.
While government schools have an annual maintenance grant for the upkeep of their facilities, they may not have the necessary resources to channel these funds into repairs and maintenance of toilets.
There is also enough evidence that inculcating toilet habits in children translates into toilet habits for the entire family, thus helping reduce the incidence of open defecation in communities.
Sanitation is inherently linked to the nature of our business and in response to the global call for action, we developed a multi-country programme to provide access to sanitation in Latin America, Africa and India.
In India, based on feedback from government stakeholders and our NGO partners, we decided to approach the sanitation issue from a different angle: fix what has been built and focus on school toilets.
These can range from something as simple as fixing a door latch for privacy, attaching soap dispensers in wash basins or replacing broken commodes to more fundamental interventions such as paving the floor to prevent slips and falls, replacing the water pipes that bring water to the basins, preventing water clogging, repairing the flushing systems and regular cleaning of septic tanks.
These are not challenging tasks, but they need to be identified and fixed because our children deserve usable toilets, which have a direct correlation with their attendance and engagement in school.
In our endeavour to focus on children as future change agents, we have identified schools and anganwadis across Delhi and the National Capital Region, Uttar Pradesh, Telangana and Maharashtra in partnership with Charities Aid Foundation, to address specific barriers children face in using existing toilet facilities.
We are doing this by identifying specific issues school by school, engaging key influencers and school authorities, deploying resources for specific repairs or renovation and setting up hygiene clubs to inculcate good toilet habits among children.
In addition to this direct intervention in schools, it is equally important to develop commercially viable and scalable solutions for sanitation in India.
As co-founders of the Toilet Board Coalition, a global body comprising companies, government agencies, sanitation experts and non-profit organisations, we are also partnering with sanitation social entrepreneurs Svadha and eKutir in Odisha, to build a market-driven sanitation model.
Beyond the financial support, it is important to build capabilities.
Our employees from around the world are volunteering their time and skills to train these social entrepreneurs in areas of marketing, sales, finance, research and engineering to build a sustainable sanitation model.
In sum, industry needs to complement the government's focus on building new toilets with sustainable interventions in areas of repair, maintenance, education and change of behaviour.
Only if we tackle both the hardware and software issues, can we move the needle on sanitation and create a lasting impact.
Image: Residents of a free-housing colony are forced to buy water from a commercial tanker because of shoddy supply piping in their buildings. Photograph: Rupak De Choudhury/Reuters.
Achal Agarwal is president, Kimberly-Clark Asia Pacific