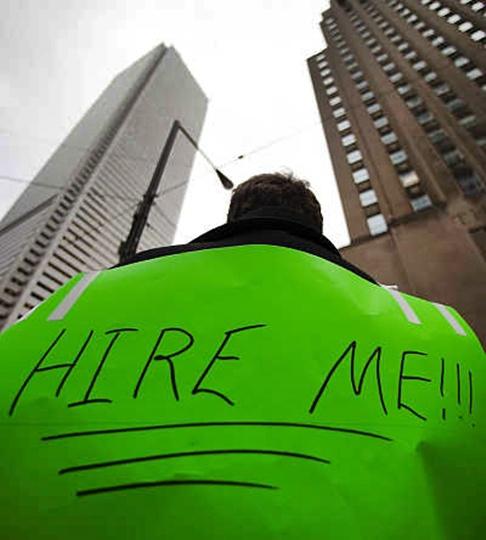 Too few opportunities for large-scale manufacturing and poor technical training is causing unemployment, note Abheek Barua and Tushar Arora
The jobs data released recently by the Indian Labour Bureau has rekindled the debate on 'jobless growth', a phrase whose coinage a surprisingly large number of professional economists wish to take credit for.
The data, based on eight sectors (textiles, leather, metals, automobiles, gems and jewellery, transport, IT/BPO and handloom/powerloom), showed a startling 68 per cent drop in employment generation between 2014 and 2015.
While one can quibble endlessly on whether this unexpected drop is a problem with the sample, it might be worth one's while to stop fretting about the minutiae and look at the bigger picture.
If the objective of economic growth is to produce good -- productive, well-paying jobs -- in the organised sector then we certainly have a problem.
While this has been somewhat common knowledge over the last decade and a half, it is useful to revisit the debate and assess whether the solutions that seemed relevant in say 2000 remain so today.
For one thing, the unemployment situation is becoming increasingly acute as demographic transition pulls young people into the work force at an accelerated pace.
Recent data on employment is difficult to get and economy-wide numbers are available only up to 2011-12.
The labour bureau's eight-sector estimate works as a fairly good proxy since it covers a range of manufacturing and service industries.
Job creation in this set of industries peaked at 1.1 million in 2010 and then slowed down. The average annual addition in working age population (roughly the demand for jobs) is 12 million.
Does the much-touted formula of a larger share of manufacturing in GDP combined with more flexible labour laws likely to work now or is it past its sell-by date?
But first things first.
Some analysts would want to see this as a performance scorecard of the Prime Minister Narendra Modi government.
This is unfair for two reasons.
India has a roughly a four-decade-old history of dwindling employment growth and there are a number of factors -- education policy, labour laws, policies that encouraged suboptimal scale.
This would make 'jobless growth' more of a chronic structural problem. Second, to the extent that cyclical factors have played a role, matters have simply got worse over the last couple of years.
External demand has grown weaker as our major markets like China and West Asia have almost collapsed.
Old-fashioned growth economics talks about a natural transition from agriculture to manufacturing and then to services as the economy moves up a value chain.
The grouse against Indian policy makers has been that they have somehow 'missed the middle' -- manufacturing's share has fallen way short of optimal, both in terms of GDP and labour force shares.
The corollary is that boosting manufacturing would be the right solution.
An international perspective might be useful here.
India is not unique in this 'premature de-industrialisation' (phrase coined by the economist Dani Rodrik) -- that is, scaling up services relatively quickly without going far enough down the manufacturing path.
A study by Arvind Subramanian and Amrit Amriapu shows that while in 1988, the peak level of industrialisation was 30.5 per cent of the labour force attained at a per capital income level of $21,700.
In 2010 the peak share dropped to 21 per cent and at a per capita income of $12,200. Within this period the share has been steadily coming down so that late industrialisers like Bangladesh or the Philippines have hit a peak at 16 per cent post which there has been a reversal.
However, even if India were to buck this trend and push up manufacturing share, there are other problems to grapple with.
To quote Kalpana Kochhar, Raghuram Rajan and their co-authors ("India's pattern of development: what happened, what follows", 2006), 'India's emphasis on tertiary education combined with a variety of policy distortions may have channelled the manufacturing into more skill-intensive industries'.
Using the level of education as an indicator of skill requirement, our study (and indeed many others) shows that registered manufacturing is just as "skill-intensive" as mid- to high-end services.
Given the fact that India faces a problem of a large supply of working-age individuals coupled with a severe shortage of skills, industrialisation simply in the sense of increasing the share of manufacturing in GDP alone will not do the trick.
The pattern of manufacturing growth has to be realigned to the available mix of skills.
Thus Make in India might have to be (at least in the short run) to mean "Make less skill-intensive products in India".
The question is: do these opportunities for large scale manufacturing opportunities that say China exploited in its growth spurt in the 1990s and 2000s still exist?
A clear challenge comes from automation.
A somewhat dire projection by the International Federation of Robotics sees over 65 per cent of manufacturing and service sector jobs at risk from automation in India.
The average growth in automation has been 15 per cent in the global industrial sector between 2002 and 2014 while industrial output growth in this period has been just three per cent.
We also argue that the effort at skilling workers needs a complete overhaul.
A raft of anecdotal evidence suggests that while there appears to be a massive skills gap, workers who acquire "skills" do not find it easier to find jobs than others, nor do "skill-certificates" fetch a premium in the job market.
Apprenticing (possibly the easiest way to develop skills) has been a non-starter.
There were only 250,000 industrial apprentices in 2013.
Ministry data shows that from the time of the Apprentice Protsahan Yojana scheme's launch last year till February 2016, only 288 new apprentices were formally engaged, which is miniscule compared to the government's first target to sponsor 100,000 apprentices by March 2017.
The only plausible answer to this conundrum seems to be that technical training in India is incompatible with the needs of employers and apprenticeship schemes tend to be too superficial to actually turn into a viable job-track.
What can be done to avert a demographic catastrophe?
Should make, farm and serve in India be the employment mantra? What is the best mix of manufacturing sectors in the short and long term? Watch this space.
The image is used for representational purpose only. Photograph: Mark Blinch/Reuters
Excerpted from 'Naukri.com', a report by HDFC Bank, 26 May 2016. Abheek Barua and Tushar Arora are chief and senior economists, respectively, at HDFC Bank. Views are personal