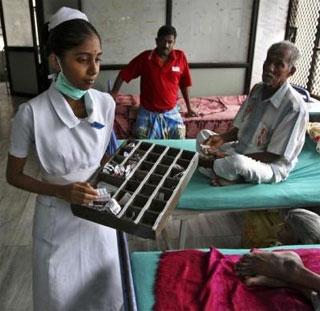 More money, better governance needed in public health care
India's poor health outcomes are well known.
Not only have China and Sri Lanka forged far ahead, in recent years Bangladesh and Nepal have overtaken India from behind. As things stand, in South Asia, India remains ahead of only Pakistan.
The state of health is a reflection of both what is spent and how it is spent.
The twin endeavours must therefore be to sharply increase spending and also improve governance of health care delivery in both the public and private sectors.
In this regard, it is important to note the critical role that publicly funded health care plays in even market-driven economies. Both France and Britain have a higher life expectancy than the United States but spend far less on health as a percentage of gross domestic product.
Significantly, private expenditure is also lower. It is more efficient to have a well-run and well-funded public health care system.
Over and above all this, the private market for health care runs on the basis of inadequate information.
Patients do not know whether the medicines or procedures being recommended are necessary, particularly when private delivery is plagued by low ethical standards.
This is one big reason why indications that the government may raise public spending on health from the current 1.04 per cent of GDP to 2.5 per cent, as reported in this newspaper, is to be widely welcomed.
This is a bit of a comedown from the earlier government's target of 3 per cent -- a target that remained on paper as actual expenditure has stagnated at present levels.
But even this will enable per capita government expenditure every year on health to go up almost four times from the current Rs 957 to Rs 3,800 (both at current prices).
Importantly, the central government will raise its share of public health care spending from the present 33 per cent to 40 per cent.
This is a big change from the current (2015-16) Budget, which pegged expenditure at last year's (2014-15) revised levels after they were slashed by 20 per cent from last year's Budget estimates.
It is also right to project a bulk of the expenditure (70 per cent) to go into primary care; timely simple intervention, both through drugs and procedures, goes a long way in reducing the disease burden of the poor in not just rural but urban areas too.
But perhaps the greatest challenge will be to improve the quality of government health care. Higher financial allocation will ease some of the chronic shortages but additionally government health care staff will have to do a lot better.
This will require a significant improvement in the quality of state administrations which are responsible for the entire public-facing structure from the primary health centre to the district hospital.
As things stand, Tamil Nadu will continue to deliver, whereas Bihar is unlikely to change for the better.
This underlines the need for strengthening health care administration in the public sector across states.
The image is used for representational purpose only