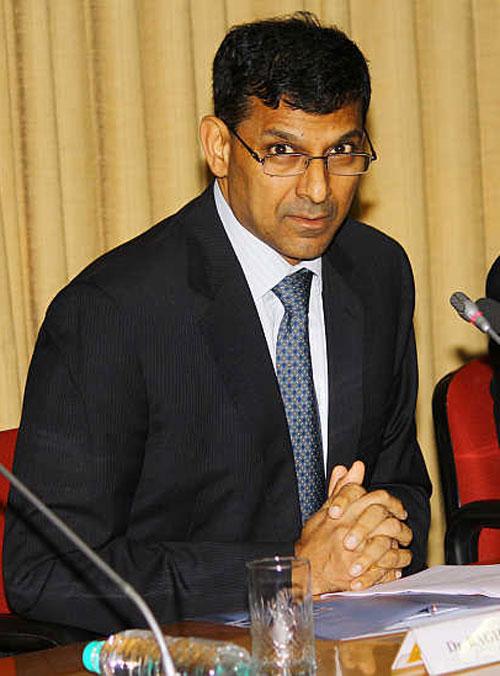 It is not just a question of to cut or not to cut but also when to cut and when not to.
The Shakespearean character Hamlet, Prince of Denmark, often provides an apt metaphor for the heads of central banks.
To cut or not to cut policy rates, they may ask themselves. In Reserve Bank of India Governor Raghuram Rajan's particular case, whether it is nobler in the mind to suffer the slings and arrows of outrageous prices of pulses, or to take arms against a sea of idle capacity and sluggish investment?
It says much for Dr Rajan's credibility as an inflation fighter that analysts are unanimous in their forecast that the RBI will maintain status quo on the repo rate in the fifth bi-monthly policy statement scheduled for tomorrow.

Some argue that there is merit in waiting and watching for what the US Federal Reserve will do.
But virtually all are agreed that last month's spike in the consumer price index, which took the year-on-year rate of inflation to five per cent, significantly driven by runaway prices of pulses, will be the main factor in a status quo policy announcement.
The steady transition to an inflation-targeting framework is enabling analysts to more confidently predict the central bank's actions, whether they agree with them or not.
No matter what the drivers of inflation may be, the response to a persistent shock -- in which category high prices of pulses would fall.
However, inflation targeting aside, the concerns about sluggish growth are not going away anytime soon.
Since the policy announcement will be made barely a day after the estimates of gross domestic product for the second quarter are announced, those numbers will determine whether the RBI will be seen as prescient or naive.
But last week, Dr Rajan, in a very significant statement, highlighted the serious burden that idle capacity was placing on the Indian economy and the deterrent effect that it had on corporate investment. In and of itself, this statement could perhaps be interpreted as the governor's willingness to prioritise a stimulus to growth in his policy calculations, running the risk of hardening inflation a little.
On balance, though, he will presumably choose to remain true to the framework he has put in place.
Unambiguously, this calls for a contractionary stance whenever inflationary pressures revive -- particularly if the causes of this revival are not likely to be transitory.
The dilemma runs deeper, however.
It is one thing to maintain the status quo on the policy rate. It is another to be certain that the current rate is the right level.
Many would argue that lending rates are still too high to provide a meaningful stimulus and that a pause at this level of the policy rate will take away an important trigger for a growth revival.
Of course, the Seventh Pay Commission recommendations may contribute here, but interest rates will not lose their importance.
There may have been some opportunities recently for further rate cuts, which were not taken.
It is not just a question of to cut or not to cut but also when to cut and when not to.
Image: Raghuram Rajan. Photograph: Reuters