Paytm's Vijay Shekhar Sharma reveals his '20-minute' meeting with Alibaba's Jack Ma that lasted for two hours.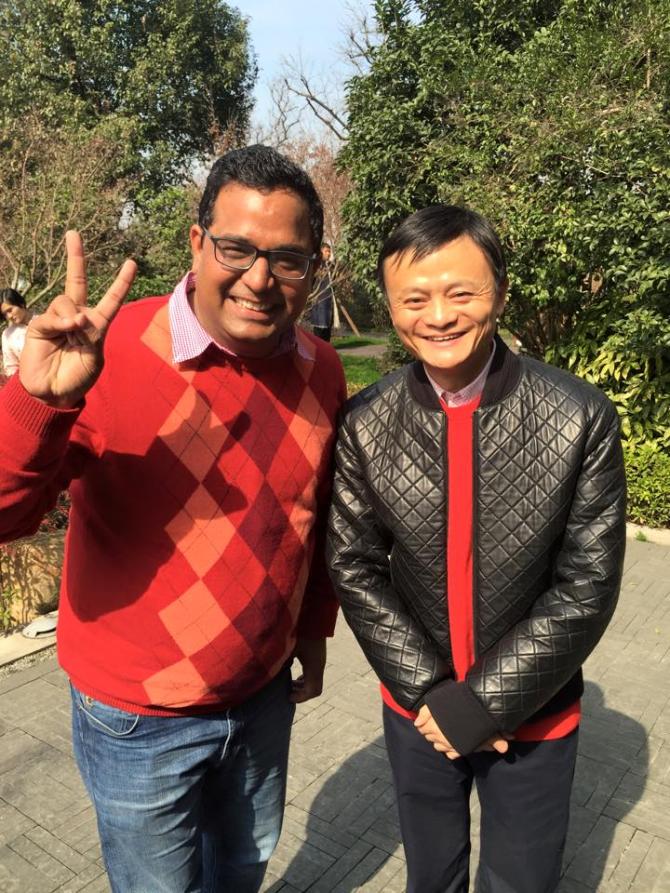 Image: Paytm chief Vijay Sharma Alibaba's Jack Ma. Photograph: Courtesy, Vijay Shekhar Sharma/Facebook
We worked together about a decade ago when he was a technology consultant with afaqs.com, where I was heading the news operations.
So I take the liberty of telling Vijay Shekhar – yes, the Vijay Shekhar Sharma, founder of One97 Communications, the parent company of Paytm, in which the Jack Ma-led online retail giant Alibaba is pumping in $575 million – that instead of meeting at Nehru Place, as he suggests, we should consider meeting someplace in Noida – say, the Radisson Blu – which would be close to his place of work and my home.
Because I don't get a confirmation from his office, I reach
The Eros Hotel, bang in the middle of Asia's biggest IT district in south Delhi, about five minutes before our scheduled lunch.
As luck would have it, Sharma is waiting at the Radisson Blu, Noida.
"I can't do cross country in this heat," I tell him sweetly. "Don't worry, I will, give me half an hour," Sharma says.
So here we are, seated at a poolside restaurant in The Eros Hotel, Nehru Place, 45 minutes after that conversation over the phone.
"I really shouldn't have asked you to drive down," I start defensively. "It is fine, really, I drive a lot, it really forces me to concentrate on one thing – the road ahead – instead of all the things happening around," Sharma says matter-of-factly. "And you know, it's been a long journey for me."
Yes, I kind of do. Besides consulting with afaqs (back then it was known as agencyfaqs.com, he used to run an internet-based people search company in those days. One97 used to be a white pages of sorts on the net. I also remember he wasn't making much money. "At that time, internet was not sexy. My assumption was that I would go from white pages to yellow pages, and then probably make some money," he adds.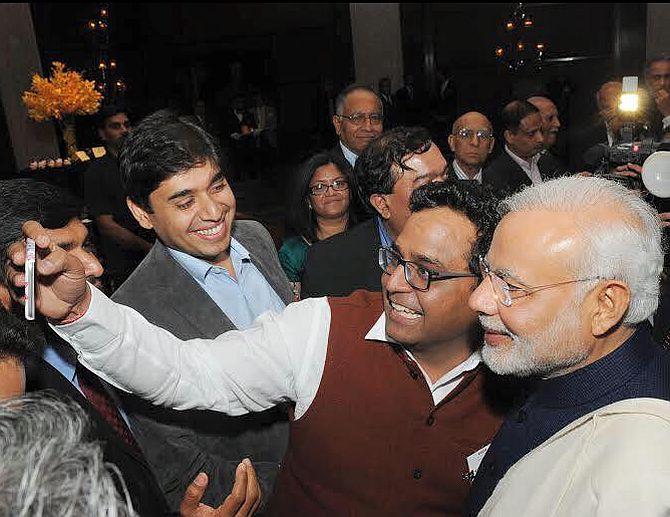 Image: Vijay Shekhar Sharma clicking a selfie with Prime Minister Narendra Modi at an event. Photograph: Courtesy, Vijay Shekhar Sharma/Facebook
Things began to change when he hooked up with Airtel, so that the One97 people search could be made available on the mobile phone.
While discussing the revenue-sharing model with the telecom company, he bumped into what he calls the solution for the "mother of all problems" — payments.
"So way back in 2001, we decided to be a mobile-only company much before mobile was considered sexy!"
"I took a forward-looking approach," he continues. "First we used to market content, then we started creating content for the mobile, we dabbled in utilities payments, and now Paytm is a full-blown marketplace. But we kept a low profile all along."
According to his projections, Paytm will cross 100 million wallets ahead of its self-determined deadline of 2015-end. It currently has 66 million.
"As I see it, you have to have the trust of the consumer. Now that they have come to trust us with their money, we know they will trust us and buy the products that we are selling."
"That is our biggest advantage — we have been around much longer than the other guys and people trust us. That's why we could think of getting into a highly local business like grocery," Sharma adds.
"You are thinking I have come quite a distance from the time you knew me, right? I can tell you it has not been easy for a small-town guy like me," he continues.
"But can we decide what to eat first," he goes in another direction — vintage Sharma, with him the conversation can go in many different directions at the same time. "Let's check out the buffet."
I approach the live Chinese counter instead and order seafood noodles and return to the table with some chicken satays.
Sharma is already there with a lot of vegetable this and that on his plate.
"This is the street food of China," he wolfes all of it down in a jiffy and goes back to get his made-to-order vegetarian noodles.
"Oh yes, I read somewhere that you studied in a small school in a small town in Uttar Pradesh," I try to pick up the threads of the conversation. "Small town? I went to a school where many students didn't have even a single pair of shoes," he says indignantly. "They walked to school barefoot. So, I grew up valuing everything I had."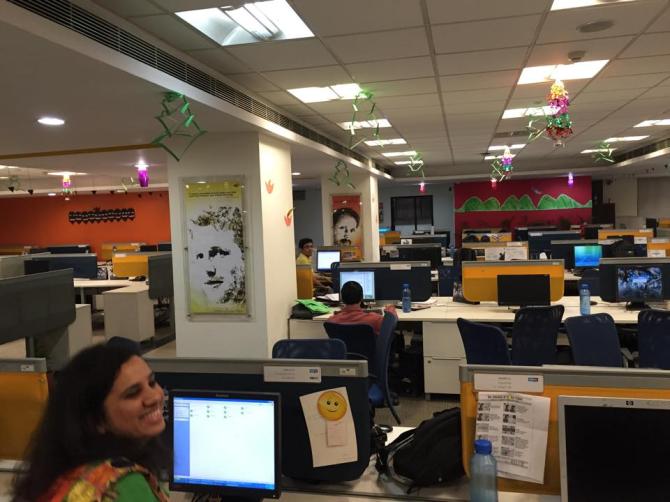 Image: One97 Communication office in Noida. Photograph: Courtesy, Vijay Shekhar Sharma/Facebook
Sharma's father was a teacher (who wouldn't do tuitions as a matter of principle) and retired as the principal of Agrasen Inter College in Harduaganj, a small town near Aligarh district in Uttar Pradesh. His mother was a homemaker and like regular middle-class kids, Sharma was encouraged to work hard on his studies. Which he did — he was a top scorer in school and was one of the youngest to graduate from the Delhi College of Engineering (DCE) in 1998.
Sharma explains why it wasn't easy: he studied in a Hindi-medium school and didn't know English enough to be able to take the entrance examination for DCE.
So, he dropped a year after Class XII to learn the language, so that he could read two books – one in English and the other in Hindi – simultaneously.
Still, it wasn't good enough. "You see, they give you multiple choice questions, so I actually looked at the answer options to figure out what they were trying to ask."
Now, when I meet some of the other guys from the industry at conferences and so on, especially the guys who have studied in a place like Delhi, I feel they have such an advantage and I really admire their confidence."
"I come to this place quite often," he goes in another direction, again. "I am a member of the gym here and I also come here for the Sunday brunch. The food at this place is really awesome."
"Tell me about Jack Ma. How did you meet him? How many questions did the richest man in China ask you before putting money in your company?" I ask.
"Meeting Jack is an experience, trust me." It was only last year that Sharma met Ma "one-to-one" for the first time.
He did get a chance to see Ma once in 2011, when he attended a Wall Street Journal event in Hong Kong as part of a 50-strong audience, comprising entrepreneurs and business leaders from Asia.
At that event, Ma spoke of how his business doubled from $64 billion to $126 billion in one year flat, Sharma recalls.
"That pace of growth on that base? I was like 'is that possible?'"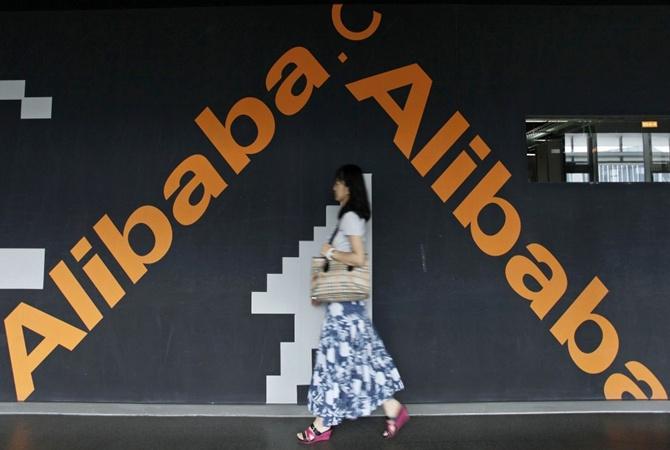 Image: Paytm is currently working with AliExpress, the international online marketplace for Alibaba, to tap international markets, including China. Photograph: Reuters
Sharma didn't get a chance to shake Ma's hand that day but he knew he had to figure out everything about Ma, Alibaba, Alipay and Taobao from whatever published material he could get his hands on the company.
So, when he finally met Ma in October 2014 at the Alibaba headquarters in Hangzhou, he knew what to say.
"Ma said he had 20 minutes; we ended up talking for two hours," Sharma says with great relish.
"I couldn't resist the temptation of taking a selfie with him that day," he proceeds to show me his photograph with Ma, both smiling ear to ear.
Paytm is currently working with AliExpress, the international online marketplace for Alibaba, to tap international markets, including China.
The two companies are looking to build multilingual applications to facilitate Paytm's global play.
If the gambit works out, Paytm will be the first Indian e-commerce or mobile commerce venture to enter the global marketplace.
Lunch over, I ask him whether he faced any family resistance on the way, like Flipkart's Sachin Bansal had said he did.
"Oh can't you see why I got married so late? No parent wanted to give their daughter to a guy who didn't have a regular pay cheque.
So, I had to actually take up a part-time job at some point to show a pay slip to prospective in-laws," he laughs.
Sharma has the gumption to be himself.