The Gujarat model basically means what people have not seen at the Centre: transparency and clarity in policy and a largely corruption-free government.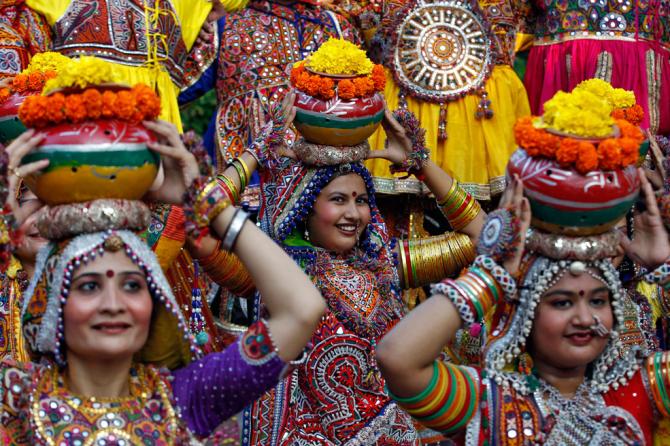 During a discussion on rent subsidies for small industries a couple of months ago, a senior civil servant who has been in Gujarat a couple of decades matter-of-factly observed, "It is quite obvious that small industries provide greater employment than large companies."
He rattled off a checklist of what industry needs - land, water, electricity and regulatory permissions - and how his department did its utmost to ensure these.
Looking back at the experience of setting up a new factory in the state, a senior manager said a couple of days later, "Part of the reason for coming to Gujarat was the process they had in place to bring issues to the government."
"I had monthly meetings with the principal secretary of industry and mines and he would have all the relevant people around the table."
It is rare to hear a senior Indian Administrative Service officer speak of job creation as his primary responsibility, and rarer still to hear an executive confirm the government's mode of operating is better than advertised.
Looking back, these comments have seemed like they were made in another country.
The government's bewildering gyrations on minimum alternate tax (MAT) appear to have permanently soured foreign institutional investors' view of India - witness the nearly Rs 17,000 crore in debt and equity outflows in May and in June thus far.
But this has been followed by an over-the-top assault on Nestle's Maggi that now threatens to expand to Starbucks and Kellogg and even plain pasta and macaroni of all kinds.
At a time when the prime minister has graced the covers of both The Economist and Time, the actions of government servants in the revenue department and food safety authority have raised large question marks about the predictability and transparency of government policy.
As the head of a lab pointed out a couple of days ago, with the indiscriminate use of pesticides and proliferation of heavy metals, much of what we eat (nearly all our vegetables, I imagine) has one or the other. I cannot recall a similar outcry that there is so often faecal content in our water supply because our sewage systems are so grossly inadequate.
On Monday, Bloomberg reported that squeaky-clean Singapore, where one can eat all sorts of street food at government-inspected hawkers' centres across the city, had tested Indian-made Maggi noodles and given them a clean bill.
Add to this mess the renewed crackdown in the past few days on Uber and Ola in New Delhi that could throw several thousand drivers out of work with car loans hanging around their necks, and it is hard not to conclude that a good section of the bureaucracy remains rooted in the era of George Fernandes and will soon demand Coca-Cola's secret formula.
All that sugar, all that colouring … Last year, when the Gujarat model was widely discussed ahead of the elections, no one could have anticipated such a turn of events.
"The Gujarat model basically means what people have not seen at the Centre: transparency and clarity in policy and a largely corruption-free government," Yamal Vyas, the eloquent long-time advisor to Narendra Modi in Gujarat told me last summer.
"He (Mr Modi) is very clear it can be done at the Centre."
The government deserves full marks for a mostly scam-free administration, but clarity in policy and proportionate punishment for multinationals when they step out of line remains an elusive goal.
In a country as hierarchical as India, how are different sections of the bureaucracy allowed to run amok and become a more obstructive opposition to Mr Modi than even opposition parties?
Why is it not possible to bring the Bharatiya Janata Party chief ministers of Gujarat and Maharashtra into one room and steamroller over their absurd insistence on a one per cent tax on the origin of goods made in their states that will thoroughly undermine the goods and services tax?
And surely with an articulate, business-friendly, media-savvy finance minister like Arun Jaitley, it would not be difficult to amplify the reforms initiated by Jaswant Singh, when he was finance minister in 2002, and rely on technology rather than harassment to boost tax compliance as Shaji Vikraman wrote in The Indian Express this week.
Instead, we have the tax department, promising to heap - and here's an ease of doing business, 21st century colloquialism for you - "social opprobrium" on us all.
None of this appears to faze the government; it just upped its target for India to be ranked among the 30 top nations on the World Bank's ease of doing business survey, from 142 currently.
Writing in these pages last month, Parthasarathi Shome revealed that MAT's applicability to foreign institutional investors was discussed threadbare in a forum involving the government and chambers of commerce a couple of years ago.
In addition, the income tax department had indicated that foreign institutional investors (other than private equity investors) with no India operations were not expected to prepare profit and loss accounts for their India accounts and were not liable to pay MAT.
This was communicated in the handover between the two governments in May last year.
The honeymoon with foreign institutional investors that buoyed the stock market is probably over.
After the Maggi melodrama, soliciting foreign direct investment into the food processing industry, critical to reducing the rotting and spoiling of about a quarter of all vegetables and fruit in India, will be an uphill battle.
In Gujarat, Mr Modi built on the strengths of the administration he inherited with good project management and by setting in place processes for speedy resolution of problems.
His government needs to display such single-mindedness today.
If assorted officials veer as wildly off message as in the past few weeks, the Gujarat model will prove to have been difficult to transfer not just to other, less developed states as one expected, but to the stultifying corridors of Lutyens Delhi not far from the Prime Minister's Office.
Accused by some critics as being authoritarian, Mr Modi will paradoxically find himself charged with not being authoritative enough.
Photograph: Reuters