As the Modi government enters the fourth year of its tenure, it is looking more confident, shedding its earlier inhibitions about offering sops or new opportunities to big business, says A K Bhattacharya.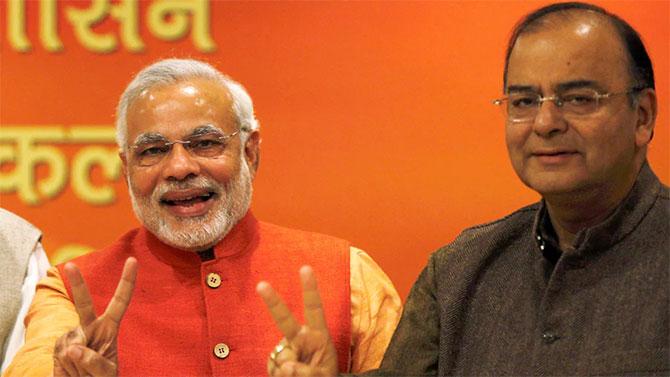 Has the Narendra Modi government finally shrugged off its shyness and hesitation in rolling out policies and incentives that benefit big business?
It seems so, if one takes a quick look at some recent decisions taken by Modi and his Finance Minister Arun Jaitley, who at present is also in charge of the defence ministry.
Indeed, the government has now shed its political reluctance of the past couple of years that had made it extremely touchy about being seen as friendly towards top corporate houses or India Inc in general.
This did not imply that the political leadership of the Modi government had no relationship with big business. What it did suggest was a clear desire on its part not to project that relationship or talk about such ties, let alone promote it openly.
Ironically, that shyness was not too obvious in the early months of the Modi government that was formed in May 2014.
There was plenty of zeal for such business-friendly reforms when it had amended the land acquisition and rehabilitation law by issuing an ordinance in the hope that it would be able to secure approval of those changes by Parliament.
But all that evaporated once political opposition to that ordinance became intense and the Modi government dropped the idea of amending the land law.
That ordinance was eventually allowed to lapse. An expensive suit that Modi wore when Barack Obama attended the Republic Day parade in New Delhi also contributed to the government's image problem.
The proverbial nail in the coffin was driven by Rahul Gandhi of the Congress, who accused the Modi government to be a suit-boot ki sarkar, which roughly meant a government of the rich and for the rich.
This may not be the only reason, but since then the Modi government's conscious attempt has been to be seen as being more focused on the rural poor, farmers and the underprivileged.
Even demonetisation in November 2016 was projected as an attack on the rich, who had amassed black money. The focus of the Budget, too, shifted more to rural India and rural infrastructure.
If in the first Budget, a promise of cutting the corporation tax rates for companies after phasing out the exemptions was made, what actually was delivered a year or so later was something different. Some exemptions were phased out, but the corporation tax rates were cut only for smaller companies, excluding the large business houses.
But things have changed in the last few weeks. The government issued an ordinance to empower itself as well as the Reserve Bank of India to take quick and decisive action against resolving stressed assets of banks.
Resolution of stressed assets would also mean some banks, most of them state-owned, taking a hit on their loan books and some companies accepting a haircut by way of loss of their share in the stressed companies.
While this will undoubtedly address the twin balance sheet problem of the Indian economy and help revive lending as well as investments to eventually give a boost to economic growth, there is a good chance of its being seen as a bailout for India Inc.
It has taken three years for the Modi government to take such decisive steps to resolve stressed assets of banks and the past hesitation in taking such steps was directly attributable to its political discomfort in taking measures that might lend credence to the Opposition charge of it being a pro-business government.
That it amended the RBI Act and is now pushing for stressed asset resolution through a new route also shows a more politically confident government, perhaps after recent victories in Assembly elections.
Two more decisions were taken last week that confirm the change in government focus. Private sector companies have now been allowed to enter into strategic partnership with foreign companies to jointly produce defence items in four key sectors.
The details of the nature of the strategic partnership are yet to be made public, but the step would mean a big boost to the entry of large Indian companies in the defence sector, which was dominated by either imports or public sector companies.
Another decision pertains to reserving all government procurement orders between a value of Rs 5 lakh and Rs 50 lakh for local companies with a 50 per cent value addition criterion. This would provide a new business opportunity of over Rs 2 lakh crore every year for Indian big business.
It would not be an exaggeration to conclude that as the Modi government enters the fourth year of its tenure, it is looking more confident, shedding its earlier inhibitions about offering sops or new opportunities to big business. It is also a reflection of an emaciated Opposition that hardly poses any challenge to the government.
Photograph: Shailesh Andrade/Reuters