The new institution can play the lead role in bringing together central, state and local government and departments, as well as private sector and civil society stakeholders.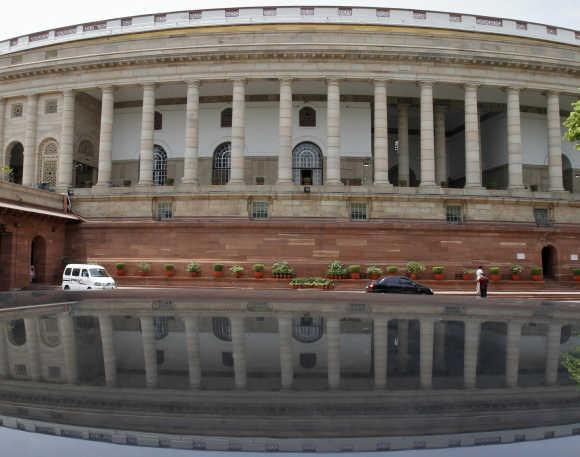 Image: Parliament House Photographs: B Mathur/Reuters
The Planning Commission played a major role in policymaking till the 1991 reforms. In the 1970s it attracted top economists and policymaking was in the most capable hands.
But after the reforms, many felt that such top-down centralised planning had outlived its usefulness. Hence the prime minister's decision to seek radical institutional change is timely.
The critical question is how to replace the Planning Commission with a new institution to manage the still considerable government spending on development.
There has been some talk of creating a 'think-tank' of eminent economists and other domain experts. But lack of expertise has never really been a problem in India.
The essential challenge has been one of implementation and monitoring, and being able to understand grassroots problems related to implementing plans at the local levels.
What is required is a grassroots stakeholder-based policy development process that makes a comprehensive effort to incorporate ideas from the field from state governments, businesses, civil society groups and sector experts.
Even more importantly, to develop a mechanism for constant bottom-up vigilance on the actual implementation of policies or development programmes in a manner that allows for flexibility to adjust to local requirements.
The key concept here is decentralisation of policy-making through stakeholder consultation, through monitoring of implementation at the grassroots level involving non-governmental stakeholders, and through institutionalised inter-departmental coordination.
This article suggests three objectives for the new institution, and for a related institutional mechanism that will evolve a 21st century paradigm for development strategy.
Replacing the top-down model
A major challenge in policy formulation today is that multiple stakeholder perspectives, based on grassroots experience, are often missing.
The world over, it is the ability to understand the needs of all users and stakeholders in government services that leads to successful projects, not planning by a few 'experts'.
This has been the missing link in the chain for India. The current mechanisms for stakeholder consultations are mostly adhoc.
They depend on the level of efforts that bureaucrats in individual ministries make in collecting and incorporating such feedback.
The new institution can play the lead role in bringing together central, state and local government and departments, as well as private sector and civil society stakeholders.
This would ensure that policies and projects for development have the best chance of success due to a bottom-up policy design that incorporates micro-level operational realities.
Micro-level monitoring
The ability and quality of implementation of development initiatives remains India's Achilles' heel.
A part of the problem lies in the capacity of the government to constantly monitor policy or development initiatives at the ground level. However, relevant stakeholders and sectoral experts at the ground level can provide practical and effective feedback that would allow government to quickly identify problem areas and rectify them, thus ensuring that ambitious plans are actually making significant changes to lives.
The new institution can be this monitoring agency by setting up inter-departmental groups, which include non-governmental stakeholders, for specific projects related to governance reforms or development schemes.
These groups could also make periodic reports to the Prime Minister's Office (PMO) on policy implementation and problems, identifying the central or state departments which need to improve their performance or be better managed.
These groups should not have the right to interfere on the work of any ministry or department, but to make independent assessments of quality of project implementation and report these findings to the PMO, and if needed, to Parliament.
Flexible policy design There is a critical need for decentralisation of development initiatives by replacing "one-size fits all" centrally planned initiatives with initiatives that incorporate local solutions.
In most cases just more resources are not enough to solve development related problems and challenges.
Ground-level challenges tend to be locality and community specific, and their context can only be understood when actual programmes and policies are implemented and their impact properly monitored.
This is where programme pilots can be of great use.
Some have shown surprising results, challenging the assumptions that were made when such policies were first designed. Such pilots and impact analyses allow governments to constantly improve programme design and delivery, saving large sums of money and greatly improving performance and service quality.
They can help explain the real causes of the developmental or other challenges being faced in a particular state or region and offer alternative solutions.
The problems of malnutrition, illiteracy etc. arise in different parts of our country due to a complex inter-play of local problems, and "one size fits all" solutions lead to poor performance.
Turning the new institution into a solution finder that undertakes comprehensive pilot programmes can be a great way to improve India's developmental schemes and make them much more decentralised and democratic. An institution with such a mandate would need a small, highly efficient secretariat at its core.
However, it should draw domain expertise from the private sector, academia, civil society and the public sector, through a range of short to medium term secretariat positions giving it the kind of flexibility that its wide range of functions would require. Reducing the size of the permanent bureaucracy would free the budget to hire global best-in-class expertise on a project-by-project basis.
The development of such a new institution should become the first step in overhauling the entire framework of governance in India, making it much more attuned to market oriented needs, and becoming more democratic and sensitive to the needs of the people it serves.
Such an institution would then also become much more responsible and accountable for its performance on each major government project, in terms of their implementation and impact.
Let the new institution become the global standard bearer for a unique kind of state intervention for development in a market-oriented, participative, inclusive and globally inter-connected society.
(Jayanta Roy was economic adviser in the commerce ministry. Pritam Banerjee is Senior Director, Deutsche Post DHL, South Asia.)