Projects in other developed countries, such as Canada, and even in developing nations like Mozambique and Indonesia are also in limbo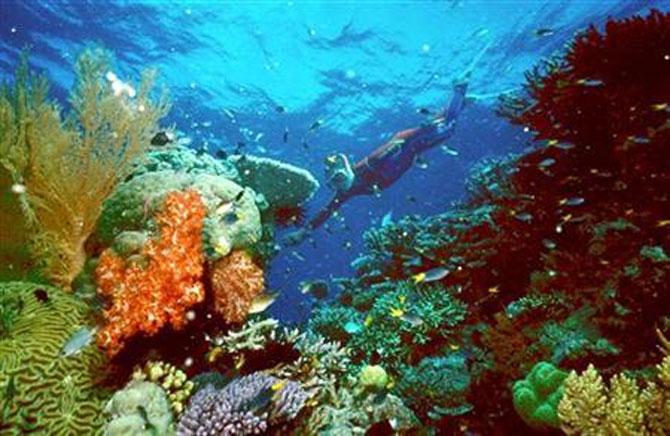 Threat to the Great Barrier Reef sealed the fate of Adani's Australian project. Photograph: Reuters
Want a snapshot of the problems facing natural resource companies and why the era of big projects is over? Consider the recent dilemmas of Chevron, Adani and Fortescue Metals in Australia.
The first is battling cost overruns and combative unions in trying to get a multi-billion dollar project ready.
The second is facing yet another delay to the world's biggest coal-mining development, with a court victory by environmentalists adding to financing challenges amid deteriorating economics.
The third is playing coy about a possible rescue by a Chinese white knight, which could help it survive a severe downturn in the price of its product, largely self-inflicted by overly ambitious expansions within the industry.
The three companies have little in common other than they all operate in Australia and face the challenge of trying to successfully run major projects at a time of unrelenting commodity price weakness.
Please read: Meet Yakka Skink and Ornamental Snake which halted the Adanis in Australia
But each in their own way highlights why companies are going to be increasingly reluctant to take on significant commodity projects, a trend likely to last for some time, possibly well into the next up cycle in prices.
While the three examples are all based in Australia, the issues are common to most resource projects in other developed countries, such as Canada, and even in developing nations like Mozambique and Indonesia.
Reptiles and reefs
If Chevron is having difficulty getting its project across the finish line, India's Adani is struggling to get its $16 billion Carmichael coal venture to the starting block.
In the latest setback, the Australian Federal Court ruled the environmental approval for the mine in outback Queensland failed to include conditions to protect two vulnerable reptiles, the yakka skink and the ornamental snake.
Environmentalists lauded the decision as a blow against the mine, which they believe should be scrapped on the grounds it threatens land-based species and the Great Barrier Reef, and because the coal would release greenhouse gases when burned.
However, Adani said the ruling only showed a "technical legal error" and was confident the matter would be rectified.
Australian Environment Minister Greg Hunt can still approve the mine and his department said it will take six to eight weeks to look at an assessment of the project's impact on the two species.
Even if the mine is approved, it's by no means certain to go ahead, with Adani battling to secure financing and recently stopping pre-construction and engineering work.
Weak prices and uncertainty over whether the coal will actually be needed are more likely to lead to the mine being cancelled, but environmental activists are also betting that the more difficult they make it for Adani, the more likely the Indian group will cut their losses and walk away.
No new projects without labour changes
Chevron is facing a strike by workers at its Gorgon liquefied natural gas (LNG) project, just as the $54 billion development nears completion.
The Australian Manufacturing Workers Union is backing its members to strike for an improvement to rosters, which would see the number of workdays cut and the number of days off increased, according to the Australian Financial Review on Aug. 4.
The workers are already among Australia's highest paid, with the newspaper saying they earned an average of A$200,000 ($146,000) a year for their part in building the 15.6 million-tonne-a-year LNG project on a remote island off the northwest Australian coast.
Any strike action may push first cargoes from the already delayed and over-budget project from later this year into 2016.
Chevron has said little publicly on the latest labour dispute at Gorgon, with the newspaper saying the issue was one to be worked out between the company's contractors and the union.
However, the disquiet among the companies currently building seven LNG projects in Australia is palpable, with one executive of an oil major saying privately his company would never again build in Australia without major changes to labour laws.
This would include life-of-project agreements that would set out terms and conditions for the entire construction phase, he said, rather than just for the current maximum four years.
The companies believe the shorter agreements have allowed unions to hold them to ransom by making excessive demands once a project is half complete.
While unions can be expected to push for the best conditions for their members, it seems self-defeating for them to make new projects so unattractive that they will remain undeveloped.
Iron ore's low returns
Fortescue Metals Group has at least got its major iron ore mine and associated rail and port infrastructure in place and operating, but it too faces the challenge of low prices and uncertain demand.
Shares in Fortescue jumped as much as 10 percent in Wednesday's trade after a Bloomberg report that China's Hebei Iron & Steel Group and Tewoo Group could invest in its infrastructure and mining assets.
Fortescue said in a statement that while there is no agreement with any party at this time, it remains open to discussions about selling stakes in its business.
Fortescue shares are now worth slightly more than a quarter of their 2011 peak, mirroring the decline in spot iron ore prices <.IO62-CNI=SI> over the same period.
The problem for the world's fourth-biggest iron ore exporter is that it funded its rapid growth with debt, and is now in a weakened position because of the collapse in iron ore prices.
While a white knight may help it weather the storm, a rescue won't remove Fortescue - or other iron ore producers - from a market that is massively over-supplied and has little short- to medium-term prospects of a demand-led rebound.
While Chevron, Adani and Fortescue all face low prices and over-supplied markets, these alone won't be enough to dissuade the companies of the value of their projects.
It's likely the other factors, namely the cost of labour, regulatory hurdles, environmental activism and financing difficulties, that will make future projects on the scale of what these three are undertaking unlikely to proceed.
Clyde Russell is a Reuters columnist. The views expressed are his own.