The Indian telecom market is highly competitive, and tariffs here are amongst the lowest in the world. As a result, the average revenue per user is around Rs 120 per month, or less than $2, also perhaps the lowest in the world, notes Bhupesh Bhandari.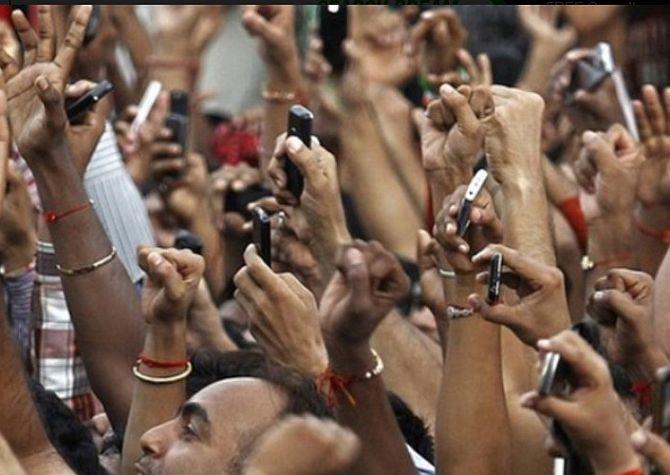 At Antalya, amid the newfound bonhomie between Barack Obama and Vladimir Putin, an important message got somewhat lost.
Sunil Mittal, there in his capacity as the vice-chairman of the International Chamber of Commerce, made a pitch for universal internet access.
This is important. The ability of the internet to transform human lives has been proven beyond doubt. It connects, entertains and informs people. It helps them transact and plan their lives.
The mobile phone, with internet connectivity, can become a mobile wallet.
It has taken banking to the doorsteps of the unbanked. India, given its strong base of 900 million mobile phone users, is nicely positioned to usher in this internet-led change.
Access to the internet requires a smartphone in the hands of the customer and a robust telecom network. So far as smartphones are concerned, prices have crashed in the last few years.
A brand new device can be bought for as little as Rs 3,000; second-hand devices are still cheaper.
That end of the problem has been sorted out. The challenge is the broadband network. This is where telecom companies like Mr Mittal's Bharti Airtel come in.
Critics have said for some time now that Indian telecom companies have under-invested in their network in order to shore up their profits.
The allegation is that their capital expenditure as a proportion of revenue is on the lower side. How true is that? The Indian market is highly competitive, and tariffs here are amongst the lowest in the world.
As a result, the average revenue per user is around Rs 120 per month, or less than $2, also perhaps the lowest in the world.
This constrains the ability of the telecom companies to invest in their network (spectrum and hardware), unless they go for a heavy dose of debt - and that's what many have chosen to do. But there is a limit to the debt they can take on their books.
That's why, when seen in absolute terms, like capital expenditure for every one million subscribers, Indian telecom companies come out in poor light.
But there is another way of looking at it. Telecom companies are required to pay the government annual licence fees and spectrum user charge which together add up to 13 per cent of their gross revenue.
If you add annual spectrum payments, the number goes up to 25 to 30 per cent, analysts say. (For the record, spectrum prices in India are amongst the highest in the world.) All expenditure on hardware is over and above this.
If you look at China, the capital expenditure made by telecom companies accounts for 30 per cent of revenue - not very different from what is sucked out of Indian telecom companies by way of the annuities.
The difference is that there is neither a spectrum user charge nor licence fees in China.
The money that goes into the government's coffers in India gets invested in the telecom network in China.
It is obvious why the internet experience in China is streets ahead of India.
These levies - the spectrum user charge and licence fees - made sense in the past when spectrum was allocated: telecom companies had to acquire a licence and the spectrum came bundled with it, there was no separate charge for it. Now, when spectrum can only be acquired in an auction, these levies have outlived their utility.
It is difficult to see how Indian telecom companies can match the capital expenditure of their global counterparts and still stay afloat.
So, in order to protect their profit margins, telecom companies focus on areas where broadband is easy to roll out - the urban areas. Unless the telecom companies have better financial wherewithal, they will be reluctant to expand into the rural areas.
Digital India, the pet project of Prime Minister Narendra Modi, will remain a pipedream unless this issue is resolved. It is for the government to decide: does it want internet for all or does it want revenue?
There is an issue also with the quality of spectrum. Internet requires more spectrum than voice calls.
So, for better internet experience, large chunks of spectrum are required. In India, telecom companies on an average have 18 MHz spectrum (across bands), which compares poorly with the global average of 50 MHz.
This is all the more ironic because India has not sold large parts of its airwaves across bands: 800 MHz, 900 MHz, 1800 MHz, 2100 MHz and 2300 MH.
Then there is the quality of spectrum. For broadband (3G and 4G) services, continuous blocks of 5 MHz are required. According to one analysis, 50 per cent of the band in 800 MHz, 50 per cent in 900 MHz and as much as 67 per cent in 1800 MHz is fragmented and hence unsuitable for 3G and 4G services.
Unless these issues are fixed, the laudable goal of universal internet access cannot be achieved.
Photograph: Reuters