The slower growth since the financial crisis of 2007-08 inevitably saw middle class wealth briefly shrink; the middle class added only 6.6 million to its cohort in India between 2008 and 2015, notes Rahul Jacob.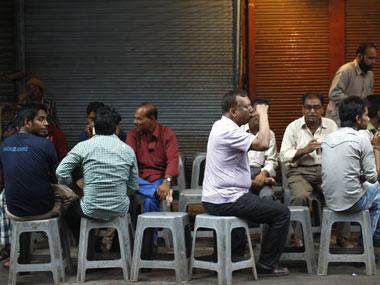 "Overly optimistic growth and consumption projections … have misled foreign investors. Most … citizens have a long way to go before entering the middle class."
This report, released last week by the US based think-tank, the Demand Institute, is actually about China, but its conclusions apply even more aptly to India.
The Demand Institute found that per capita consumption in China would jump to $4,400 annually by 2025, which compares poorly with $32,000 in the US today.
"While this growth is undeniably spectacular, it is coming from a relatively small per capita base and will arguably remain modest compared with most mature markets even by 2025," the report said.
The Demand Institute study was published on a day when Louis Vuitton announced it was closing three of its stores in China, leaving it with about 50 across the country.
Luxury retailers are struggling because of the downturn in the stock market, the crackdown on corruption and a smaller middle class than had been estimated in the go-go years.
The idea that demand from a vast new middle class in countries like China and India was going to power the world economy appears to be in retreat. J
ust weeks before the report quoted above, Credit Suisse released its misnamed 'Global Wealth Report'.
It defined middle class as an adult having assets of at least $28,000 in China and Brazil, $18,000 in Malaysia, Russia and Thailand, and just $13,700 in India.
The differences are explained by the fact that countries with lower wealth per capita tend to also have lower prices for goods and services, so the threshold is adjusted downwards.
India's middle class thus defined accounts for just three per cent of the population, compared with 11 per cent in China and Latin America.
"Including those with wealth above the middle class cut-off raises the North American rate to 51 per cent, but makes little difference to the numbers of China, Latin America, Africa or India."
As with studies on the incidence of malnutrition and other indicators of poverty, India is in a cohort at the bottom of this global league table of share of middle class with Africa.
Another indicator of how limited our spending power is came from Alibaba's Singles Day promotion.
This annual mega sale for e-commerce, a completely invented occasion in the manner in which Hallmark would have done to boost business, clocked $14.3 billion in sales on November 11 alone.
As an Assocham and Deloitte study estimated recently, India's total e-commerce sales are expected to hit $16 bn for all of 2015.
China's middle class has total assets of $7.3 trillion, about ten times that of India's middle class.
The problem of a much smaller middle class in India is further compounded by the fact that it is responsible for a disproportionate share of national consumption.
The average wealth of the middle class in India is "ten times the level of those in the rest of the population," the Credit Suisse study says, observing that this "signals that in such countries, members of the middle class are 'not in the middle.' Rather they are towards the top of the distribution and there are relatively few people above them."
The slower growth since the financial crisis of 2007-08 inevitably saw middle class wealth and numbers briefly shrink that year and grow fitfully since then; the middle class added only 6.6 million to its cohort in India between 2008 and 2015, compared with 43.6 million between 2000 and 2015.
This slower growth is apparent in the quarterly results of large consumer goods companies such as Hindustan Unilever, which has cut prices and passed on the benefits of lower commodity prices to consumers, but, nonetheless, at the beginning of this year was reporting that many of its buyers had downshifted from buying shampoo in bottles back to sachets and buying smaller packs of detergent.
Demand from the rural market remains weak in India as state after state declares drought.
The growth of earlier years in rural demand were likely because of a more favourable pricing environment for commodities and the effects of the rural employee guarantee scheme started by the Manmohan Singh-led government.
The hopes that increased government salaries that will result from implementing the Seventh Pay Commission's report will boost consumption is suggestive of an economy with modest ambitions and much to remain modest about.
Regardless, the admirably upbeat Bharatiya Janata Party government talks so frequently about India's rapid gross domestic product growth that it has engineered that if bullish talk could be counted as economic activity, India really would seem like an East Asian Tiger such as China or Thailand in the 1990s.
Unfortunately, the recent data released last month that suggest an uptick in economic growth in October, might prove to be a false dawn.
As Ambit Securities' Saurabh Mukherjea observes, "Several optimists interpret a turn in these indicators on a year-on-year (y-o-y) basis as proof of the fact that a 'recovery' is now just around the corner.
However, it is critical to note that for several of these data series (such as commercial vehicle sales), a very low base effect from financial year 2015 makes any interpretations based on FY16 y-o-y numbers very tenuous. "
He points out that a more thorough analysis of the numbers suggests that rather than growth accelerating in areas as disparate as coal production, two-wheeler sales, non-oil bank credit and rural wages, the trends point to an economy "losing steam."
"The pace of improvement in y-o-y growth rates …is in fact actively diminishing."
With a middle class still so small and no apparent leaps in productivity on the farm or in manufacturing on the horizon, India faces its own age of diminished expectations.