But Indian information technology workers might do better without the companies that held them back, says Mihir S Sharma.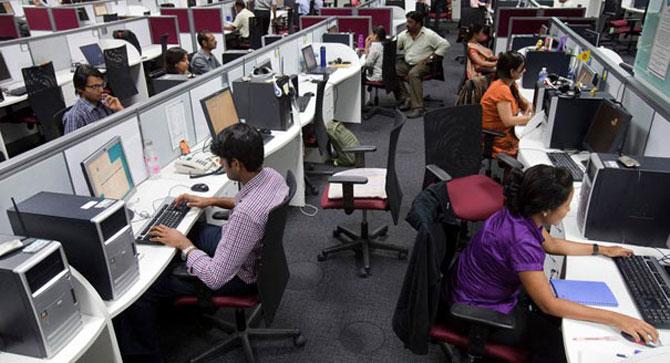 Let's give President Donald Trump the benefit of the doubt, and assume that he genuinely believes that he was elected to protect American workers.
He did promise on the campaign trail to "direct the Department of Labour to investigate all abuses of visa programmes that undercut the American worker". But even if that were the stated motivation behind the changes his administration rolled out to the work visa programme recently, their effect is to help American companies, instead.
Three major alterations were made to the H-1B visa system by the United States Citizenship and Immigration Services, or USCIS. It said it would make more "targeted" visits to companies that hire workers on H-1B visas. It would focus on cases where the companies were difficult to validate; where there was a high ratio of H-1B to "regular" workers; and, finally, places where H-1Bs worked "offsite at another company or organisation's location".
Meanwhile, the US Department of Justice issued a "caution" to companies seeking H-1B visas to "not discriminate against US workers". It threatened to "investigate and vigorously prosecute" claims that US workers were disadvantaged by companies that had applied for H-1B visas.
A third US government agency, the Department of Labour, is similarly energised; its head promised during his confirmation hearings to investigate any layoffs that "result" from H-1B visas being granted.
This may not, of course, be as much a product of Mr Trump's own instincts - to the extent he has any in this domain - as the long-held beliefs of some of his appointees. The man Mr Trump set to head the Department of Justice, for example, Attorney General Jeff Sessions, has had a long history of attacking work visa programmes.
But the Trump administration's efforts so far appear to be much more narrowly focused than expected — they aren't, so far, about protecting American workers, but about protecting American companies. The third component of the USCIS' efforts to target raids is illustrative: It specifically singles out outsourcing firms, many of which are Indian in origin.
Silicon Valley may worry in general about immigration, which is central to its innovation engine. But it will not be massively concerned about these moves, which in fact increase its competitiveness vis-à-vis Indian firms.
Indian IT firms got about two-thirds of H-1B visas in 2015. The top 10 sponsors of H-1B applications in 2016 included Tata Consultancy Services, Infosys, Wipro, and Tech Mahindra. The latest regulations will simply make life harder for them, and easier for American firms.
It's worth noting that US-based firms are looking for slightly higher-paid immigrants in general. Another move by the US recently, reminding H-1B processing centres to ignore the relatively low-skilled "computer programmer" category from H-1B qualifications, is an additional indication that the US firms are going to benefit under the new regime, and Indian firms lose.
But this is not necessarily bad news for Indian tech graduates. It's widely known that US firms are better employers and visa sponsors than Indian firms. They give you more freedom, have a more open work environment with better prospects for advancement - and, crucially, might well sponsor you for a green card, which few Indian firms would.
Even more benefits might accrue to Indian tech workers, if not to Indian IT companies, once these administrative changes are followed up by actual new legislation.
New laws might take a year or more to work their way through Washington DC, but their general outline is already discernible in a Bill being sponsored in the House of Representatives by California Republican Darrell Issa. Mr Issa wants to raise the minimum wage for an H-1B visa holder from $60,000 a year to $100,000. (The average H-1B visa holder earns around $78,000, but new visa awardees and those from Indian companies reportedly have a much lower average.)
A competing Bill, from the California Democrat Zoe Lofgren, sets the floor even higher at $130,000 - and gives higher-paying companies priority access. Ms Lofgren actually represents San Jose in Congress, so it might be worthwhile to think of her as being the voice of Silicon Valley here.
The big US companies may well go to the mattresses to defend immigration in general - but will clearly be happy to join the Trump administration to attack Indian outsourcers and render them unviable.
One Bill in the Senate, sponsored by Iowa Republican and Senate Judiciary Committee Chairman Chuck Grassley, would completely shut down the business model used by many outsourcing companies, by prohibiting "outplacement" of the H-1B-holding employee in the physical location of another company or organisation.
Many India-related companies have a business model in which about a third of work by time (but not value) happens in client locations. Mr Grassley's Bill would especially target "visa-dependent" companies.
These are those companies in which at least 15 per cent of employees physically in the US are H-1B holders - a list which includes not just the four I mentioned above but also Cognizant, Larsen & Toubro, Syntel and Capgemini.
Indian IT has responded with a shrug. TCS and Infosys have promised to hire more Americans, and perhaps buy a few American companies - presumably to reduce their "visa-dependent" proportion, just another way of continuing to game the system.
TCS has insisted it is already reducing the number of H-1Bs it applies for. Others have said they will now focus on Europe. Nasscom has declared that there will be "little impact" on Indian firms.
I disagree. Indian IT is a dead man walking. It has run on an obsolete business model for too long. Even those companies that have tried half-heartedly to transform themselves - Infosys, for example - don't seem to be doing it fast enough.
Infosys' Vishal Sikka gets the danger, not just from visa restrictions but from technological change, warning that "60 to 70 per cent over the next 10 years, or maybe less than 10 years, of the jobs that we do today are going to be replaced by AI".
He's also called the IT industry's growth over the past two decades "mechanical", and warned that Infosys is seen as professional but not innovative. Yet, three years into his tenure, it's not clear if Infosys' bedrock business model has really changed, or even how it can. And if Infosys can't change, nobody else is likely to.
Yet those Indian IT professionals who want to be innovative, and want to get ahead, might do far better in this new world than Indian IT companies have allowed them to do so far. Margins might collapse, but wages could rise. This is not bad news. Indian IT is dead; long live the Indian IT professional.
Photograph: Shailesh Andrade/Reuters