It is evident that businesses have begun to wonder about the government as it approaches its first anniversary, even as the cloudy monsoon forecast and the uncertain global environment cast their own doubts, notes TN Tinan.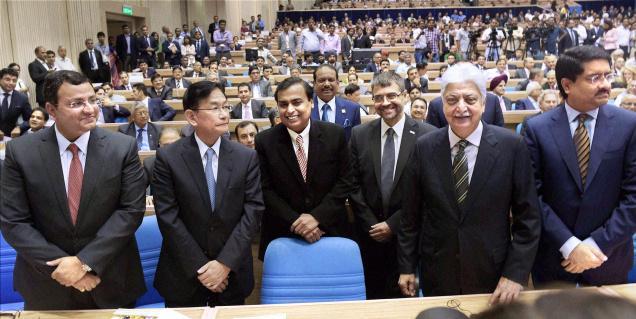 Image: India Inc expectes the economy to look up in FY16. Photograph: PTI
Ratan Tata's statement that business should give the Modi government more time to deliver results is fair enough.
Most people had expected too much too soon by way of a turnaround — and that includes the stock market, which had got caught in the excitement of political change and the expectation of quick action to follow.
The main market indices soared by about 35 per cent in 2014, but have been flat through the first four months of 2015.
That could be because the market had run ahead of itself and needs to catch its breath.
Still, it is evident that business has begun to wonder about the government as it approaches its first anniversary, even as the cloudy monsoon forecast and the uncertain global environment cast their own doubts.
The quarterly financial numbers that companies report are a good indicator of any change in tempo, as are economy-wide numbers on credit and trade.
While corporate performance in the March quarter will become more evident in a couple of weeks' time, there was no indication of any notable uptick in either the December or the September quarters.
Sales were flat or growing in single digits, and it was the same with profits.
More recently, exports have been on a downswing; the trade deficit in 2014-15 has been fractionally more than in the previous year, despite lower oil prices and, therefore, a reduced oil import bill.
Credit growth was unusually slow, at less than double-digit, before the usual bump-up at March-end when banks window-dress their books.
As for the key industry segments, car sales grew five per cent during the year, and commercial vehicles by just three per cent. The real estate market has remained dull, with an overhang of supply, and companies in the sector are still stuck with heavy debt.
Metals companies have been affected by the slump in prices, while hardy sectors like information technology and pharmaceuticals seem to have lost steam.
There is no flood of new orders to capital goods producers, with Larsen & Toubro saying a couple of months ago that a recovery was up to a year away.
However, consumer softs continue to do well, and some segments of the consumer durables market have shown better sales, while airline traffic has shown improvement in 2014, its best growth year since 2011.
Against this patchy business scene must be set the fact that the macroeconomic situation has rarely been better. Inflation is low, even if not fully tamed.
The finance minister met his fiscal deficit target, and the current account deficit is under control, helped by lower oil prices.
All the vital signs, therefore, read healthy, so the country's credit rating has gone half a leg up, and surveys of the business mood show improvement.
As for government action, the sale by auction of coal blocks has cleared some old cobwebs, but efforts to get stalled power and road projects going are still to show results.
The real reason for the lack of an uptick is that many industries have spare capacity, so investment in new capacity is not required.
Also, as the Economic Survey noted, "balance sheet recessions" take longer to deal with because it takes time to get rid of bad debt and clean up the books. Meanwhile, large international firms continue to place bets on India as the market of the future.
Ford has opened a plant at Sanand that, it hopes, will become its biggest manufacturing facility in the world, while the German luxury car makers are localising to cut costs.
Ikea is about to set up shop, and at least two companies have indicated their intention to invest in solar panel manufacture. Defence and insurance are two other magnets. It sounds like the old India story: short-term doubts but long-term optimism.