If the Budget hits the right spots and key reform Bills can be transmuted into Acts, 2015 could indeed be achche din.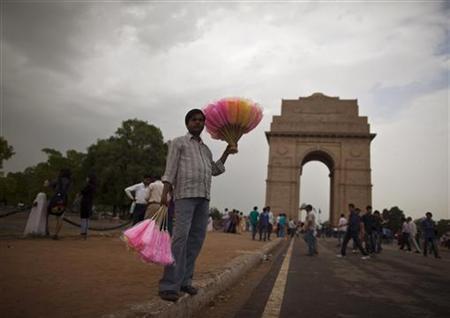 Image: Indian economy is on the right path to recovery, say experts. Photograph: Ahmad Masood/Reuters
Central bankers are the modern oracles - their words are parsed and interpreted multiple ways.
In its last policy meet, the US Federal Reserve said it would be "patient".
It is being assumed that the Fed will not raise policy rates for at least six months. Given that the US economy expanded at an annualised five per cent in July-September 2014, the Fed may have to hike sooner than that to prevent overheating.
Patience is the watchword because the global economy is in bad shape.
Higher dollar rates would mean investments pulling out of other regions. Europe and Japan are on the verge of deflation.
Japan will continue its quantitative expansion (QE). The European Central Bank may also try some QE strategy in early 2015.
Image: Emerging markets including BRICS has a tough time in 2014. Photograph: Reuters
Emerging markets (EMs), including BRICS (Brazil, Russia, India, China and South Africa), are in trouble.
There's stagflation in Brazil and South Africa. Russia is in recession.
The rouble clawed back from the brink. China has backstopped it with a swap line.
China has cut its own 2014 growth estimates and is likely to cut the 2015 gross domestic product (GDP) growth target to seven per cent.
Indonesia has been hit by high inflation.
Amid this doom and gloom, India is in a slow recovery.
The mid-year review projected 5.5 per cent GDP growth in 2014-15. Most projections suggest 6.4 per cent growth in 2015-16. But fiscal consolidation may be a problem.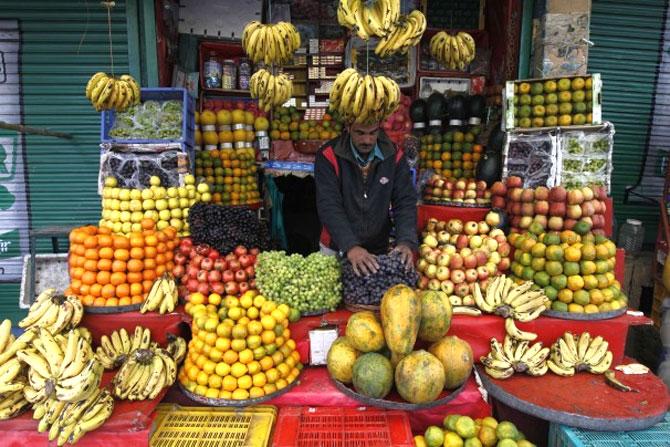 Image: India's GDP will grow significantly in 2015, say economists. Photograph: Fayaz Kabli/Reuters
The fiscal deficit may go well beyond the targeted 4.1 per cent since it had hit 89 per cent of the target by October.
The tax revenue shortfall is over Rs 1,05,000 crore (Rs 1050 billion) and disinvestments (so far about Rs 1,700 crore or Rs 17 billion)) will fall well short of the targeted Rs 58,000 crore.
If government expenditures are squeezed to stay inside 4.1 per cent, that will surely hit growth.
The rupee has lost ground against the dollar, along with every other currency.
The latest Reserve Bank of India (RBI) policy statement says the current account deficit, which is edging above two per cent of GDP, is high but still comfortable.
Balanced against lower crude imports, there has been a huge jump in gold imports indicating where household savings are being channelled.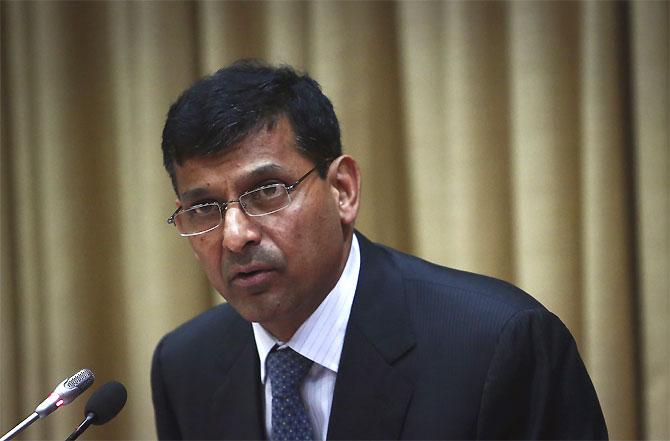 Image: RBI governor Raghuram Rajan needs to watch the twin deficits, the exchange rates, and the level of bank non-performing assets, along with domestic inflation. Photograph: Danish Siddiqui/Reuters
Exports have flattened. It is assumed by everyone that RBI will cut rates through 2015-16.
But Raghuram Rajan needs to watch the twin deficits, the exchange rates, and the level of bank non-performing assets, along with domestic inflation.
Some of those variables have disquieting trends. It is also very likely that overall allocations to EMs will fall in 2015.
But India's share of EM allocations may rise due to being a comparatively bright spot.
Calendar 2014 saw foreign institutional investor (FII) inflows of about Rs 66,800 crore, or a little over $11 billion into Indian equity.
The dimensions of the twin deficits will be a key factor in deciding if FIIs maintain or raise their commitments. The FIIs may turn skittish if the deficits are high enough to pose currency risks.
The size and shape of the Budget and RBI's stance will also be critical. While there may have been a change in sentiment, the economic performance on the ground is unremarkable.
Domestic institutions also sold over Rs 29,000 crore of equity in 2014, indicating some local scepticism.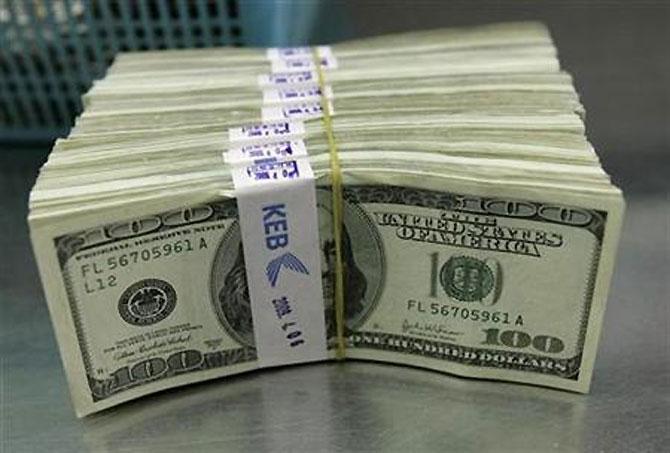 Image: Foreign investors may invest in India in 2015. Photograph: Jo Yong-Hak/Reuters
The Budget and the preceding political dialogue in the Budget session will indicate if the government can start delivering on reform.
Labour laws, insurance, coal, power sector reforms, Goods and Services Tax - it's a long laundry list.
Operating via ordinances is stopgap and unlikely to give comfort to long-term investors, whether overseas or domestic.
There has been some movement in presenting Bills but not enough, given the high expectations.
Despite the Assembly election successes, the Bharatiya Janata Party (BJP) cannot reliably gain a majority in the Rajya Sabha until April 2018.
It has to find ways around the political logjam long before that.
Inflation is down and there's every chance that crude prices will be subdued through the next year.
The BJP has a historic Parliamentary majority.
There is still enormous international goodwill for the government.
If the Budget hits the right spots and key reform Bills can be transmuted into Acts, 2015 could indeed be acche din.
Technically, December saw the Nifty going through a sell-off from an all-time high of 8,627 points, down to 7,961, followed by a rebound to 8,365.
Breakouts above 8,627 or below 7,961 could indicate serious changes in long-term trends.
The index may also range-trade 8,000-8,600 zone without a clear sense of direction until there is clarity about FII allocation patterns.