Why should the finance ministry issue circulars on refreshment budgets for ministries? It would perhaps be more gainfully employed if it were to just allocate each of the central ministries a hospitality budget, says AK Bhattacharya.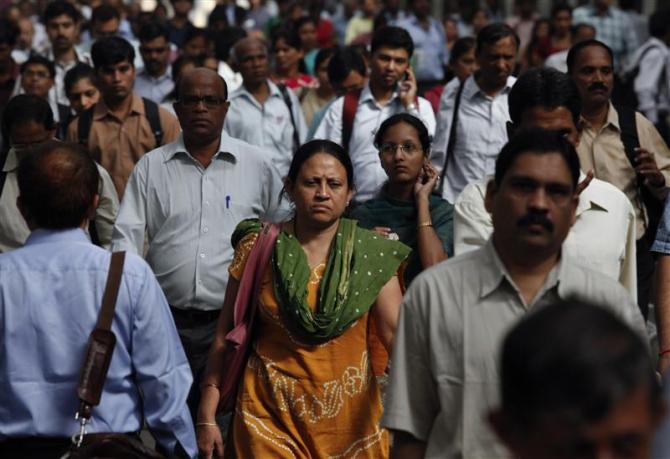 Image: The Finance Ministry must control overall food cost. Photograph: Danish Siddiqui/ Reuters
Early last month, the Union finance ministry issued two circulars on how different central ministries should spend money on providing refreshments at meetings.
The subject matter of the two circulars appears to be mundane, but they do show how little has changed in the way the Union government functions, ignoring the need for administrative reforms.
Issued by the expenditure department in the finance ministry, the two circulars amend earlier decisions taken by the government to maintain austerity.
They also show how the finance ministry continues to keep tight financial control through micromanagement.
Forget the need to decentralise such decision-making, the circulars also show how disconnected the finance ministry is with the overall food costs. In any case, it seems inflation rates certainly have moved at a different pace when it comes to fixing expenditure limits for offering refreshments to delegates at meetings and conferences.
In March 2004, the expenditure department had set a ceiling of Rs 150 that central ministries could spend per head for offering refreshments or working lunches at meetings, seminars and conferences.
The latest circular revises that expenditure cap by specifying limits for different types of refreshments.
The new limits are Rs 200 per person for tea and snacks, Rs 500 per person for high tea and Rs 750 per person for lunches or dinners.
The second circular amends an earlier decision taken in October 2014 as part of the government's plan to cut expenditure.
That decision had banned the holding of all meetings and conferences in five-star hotels, except in case of bilateral or multilateral engagements held at the level of the minister in charge or the administrative secretary and where such meetings were with delegations from foreign governments or multilateral bodies of which India was a member.
Several representations have been received in the finance ministry since then, seeking a relaxation in that order.
Three arguments have been cited. Many central ministries are now frequently engaged with meeting international delegations representing foreign governments and multilateral institutions.
There is also a scarcity of proper venues, other than five-star hotels, where such meetings could be held. And finally, the need for offering lunches or dinners at such meetings has risen in light of the government's rising level of engagement with foreign governments.
So, what does the expenditure department in the finance ministry do?
It extends the principle followed by the Ministry of External Affairs in hosting delegations and representatives of foreign governments.
Accordingly, any central ministry can now host a foreign government team at a five-star hotel for buffet lunch, buffet dinner or sit-down lunch at Rs 950 per head, sit-down dinner at Rs 1,050 per head and a cocktail party for Rs 575 per person.
Several questions arise from the two circulars. Why should the finance ministry be busy with issuing such circulars?
It would perhaps be more gainfully employed if it were to just allocate each of the central ministries a hospitality budget that it could use judiciously.
The specific need for the size of the hospitality budget for central ministries could differ depending on the nature of their international engagements.
The Ministry of Finance or Commerce would certainly need a larger hospitality budget than the Ministry of Agriculture.
There is an even more compelling reason for the finance ministry to avoid specifying spending caps for different kinds of refreshments to be served at five-star hotels.
The caps as specified in these circulars look to be conservative estimates and are certainly much below what the actual costs would be, unless the government can extract a better price from these five-star hotels through its negotiating skills.
Also, given the government lethargy in revising these limits in tune with inflation and rising tariffs for such refreshments in five-star hotels, the spending limits now imposed in the circular would soon become irrelevant.
This will only mean that central ministries would be soon asking the finance ministry to make some exceptions to these spending caps depending on the nature of the engagements and their importance.
This will perpetuate discretion even in such mundane matters.
Finally, it is time the Ministry of External Affairs also moved away from such a system of fixing expenditure caps depending on the nature of hospitality offered.
It would be far more pragmatic and easy to manage if it, too, had kept for itself a hospitality budget, which could be used as and when needed.
Exceptions can be made when that budget is exceeded. But barring those exceptions, there would then be no need for such circulars from the finance ministry.