Corporate India would do well to focus on setting its house in order and keeping its powder dry for growth, rather than getting caught in the good-bad government debate, says Sailesh Dobhal.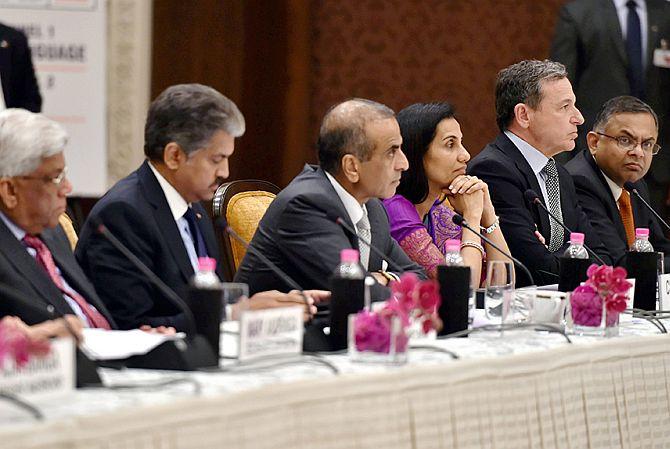 Image: Indian and US business leaders during India US CEO Forum that was attended by President Barack Obama and Prime Minister Narendra Modi in New Delhi. Photograph: PTI
In the run-up to the Modi government's first anniversary, there have been umpteen voices and opinions from some of India Inc's movers and shakers on the state of the economy as well as governance.T
he common refrain is have 'achhe din' arrived, as promised by the Bharatiya Janata Party-led alliance during the elections last year?
And has the business mood turned upbeat or is it still sombre?
While some, like HDFC Chairman Deepak Parekh and Marico Chairman Harsh Mariwala, believe good intentions have run ahead of reality on the ground, others, like Tata Group chairman emeritus Ratan Tata and Aditya Birla Group Chairman Kumar Mangalam Birla, are of the view that the government has delivered on its promises and that businesses need to be a bit more patient as lot of economic reforms that the country so dearly needs are a work in progress.
On his part, ICICI Chairman K V Kamath has virtually put his seal of approval on this government and said that India Inc's problems, both of perception and reality, might be internal.
A confidant to many top businessmen, Kamath says he hardly hears complaints regarding project clearance being held up by the New Delhi bureaucracy and that the 'policy paralysis' that characterised the last years of the Manmohan Singh regime, is a thing of the past.
Kamath, appointed BRICS Bank chief on Monday, has raised the issue of high debt weighing on company balance sheets and on businessman's minds. India Inc's outstanding debt has ballooned 10 times in the last 10 years to around Rs 36 lakh crore or Rs 36 trillion, with infrastructure firms alone accounting for almost a sixth of it.
That truly is acting as a drag on profits and hampering new investment.
High leverage ratio with many big Indian firms cannot be blamed on the last government or on the current one.
Businesses need to get more active in clearing the debt cobwebs, perhaps by getting more aggressive with closure of many sub-standard investment decisions of the heady days leading to the 2008-09 global financial crisis.
That the primary market has been moribund for a while is well known.
But shouldn't some of the blame go to the promoters who have been aggressive in pricing their shares, leaving little on the table for investors to bite into?
Almost 60 per cent of the 394 initial public offers made between April 2003 and July 2014 are trading below offer price, according to a recent report by investor advisory firm IiAS (Institutional Investor Advisory Services).
But as Kamath, and also Larsen & Toubro Chairman A M Naik pointed out, the cost of capital has to come down drastically - as much as two percentage points, according to Kamath - for any meaningful investment cycle to kick in.
That is truly an extraneous factor, and like Tata pointed out, businesses have to be patient here and wait out the central banker to start cutting rates.
But there is much else that India Inc can focus on rather then getting unduly distracted with often self-fulfilling debates on good-bad government.
Take compliance on issues like board composition, women representation, in particular. Why is that some marquee firms left it to the last minute, and many are still in violation here?
While some contend that the fiat of having at least one women director is 'stupid' - but then so are many other laws - but, like it or not, they have to comply with it.
Or, take the seemingly procedural issue of appointing a legally-binding sexual harassment committee at work. In principle, no one has a quarrel with being an open, equal opportunity employer.
So why is it that over one in three big firms in India is not complying with legal norms on sexual harassment at work, as a recent survey by management consultant EY brought out?
Perhaps, it is far easier to find 'imaginary reasons' for the woes, as Kamath pointed out, than work on fixing the business' nuts and bolts.