Property sales in the country are down, suggesting the economy cannot rely on construction to boost growth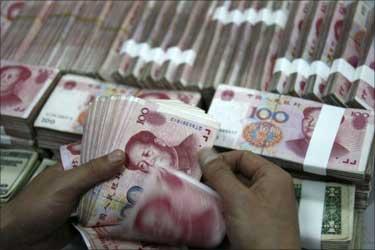 Data released on Tuesday by the Chinese government showed that producer prices in China fell almost five per cent in February -- the sharpest fall since October 2009.
The overall trends suggest China is likely to be caught in a deflationary cycle for some time.
Factory margins are under pressure -- even though it is a sector cushioned by its ability to export.
Exports for the first two months of 2015 grew by 15 per cent providing a rare bright spot while the value of imports fell by 20 per cent over the same period.
While Chinese exports to the US fared well, its imports from Australia, its top iron ore supplier and a major supplier of coal, dropped 28 per cent in value terms which included a 45 per cent drop in coal imports from Australia.
This raft of bad data suggests that the growth rate of China's gross domestic product or GDP is much closer to five per cent than the official target of seven per cent announced by Premier Li Keqiang at China's parliamentary session last week.
The producer price index numbers, prompting comparisons with those in October 2009, are both a backward glance and a harbinger of bad news.
Recently revealed US Federal Reserve transcripts of discussions in the aftermath of the financial crisis of 2008 suggest alarm and amazement at the amount of money the Chinese government was spending in response to the crisis.
The increase in bank credit in the first six months of 2009 was equivalent to 25 per cent of China's GDP, according to the Fed economist who had briefed the Fed's top bankers.
There has been a staggering increase of $17 trillion in total debt in China in the past six years since Lehman Brothers collapsed.
The worry now is that a hefty chunk of debt taken on by local governments playing property developers as well as building infrastructure could turn sour.
Property sales are down, suggesting the economy cannot rely on construction to boost growth.
It also looks likely that the Chinese government's playbook of relying on the building of highways, bridges and high-speed rail to sustain GDP growth rates will have to be rewritten.
There are very few places in China these days that do not have six-lane highways.
In any case, many local governments have no money to build more infrastructure.
Local government financing vehicles have in essence been banned this year by the central government, which wants provincial and city governments to use public-private partnerships -- a relatively untried model in China.
What this financial quagmire suggests is exactly what the world does not need now: a major compression in demand in its second-largest economy as big natural resource exporters like Australia are already experiencing.
The recent double-digit increases for Chinese exports were described by one observer as 'one less fire' Beijing policymakers have to fight.
The successive declines in PPI numbers suggest that China is awash with overcapacity and its manufacturers will do what it takes to keep selling overseas, which cannot be good news for Indian exporters.
Indian commodities exporters need look no further than Australia's trade data to see their future.
As strong US jobs figures this week underline, the world economy is increasingly flying on one engine.
Image: An employee counts yuan banknotes at a branch of the Industrial and Commercial Bank of China. Photograph: Reuters