China's economy is worse than it really is, but then these are emblematic of the baffling self-congratulatory mood that exists in India today, says Rahul Jacob.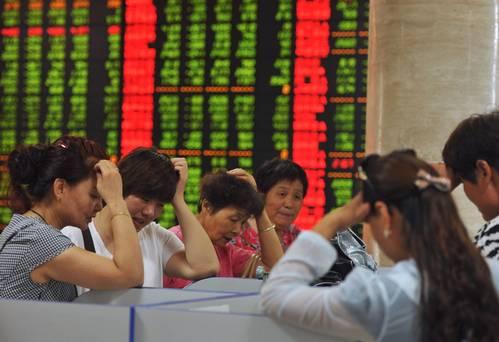 Investors react as they look at computer screens showing stock information at a brokerage house in China. Photograph: Reuters
Earlier this week, the husband of Li Yifei - head of the hedge fund Man Group's China operations - was trying to set aside speculation that she had been taken into custody as part of Beijing's crackdown on those it believes may have been responsible for the stock market rout of the past few weeks.
He said, unconvincingly, that his wife was somewhere in the suburbs of Beijing in meetings with the government and not allowed to have her phone on. He described her predicament as "normal."
Also distressing was the public spectacle of a respected journalist from the leading Chinese business journal Caijing issuing a self-criticism on China's state-owned broadcaster, for writing an article that he said had had a negative impact on the stock market.
"I shouldn't do that just to catch attention which has caused the country and its investors such a big loss," the reporter said.
It is a truth almost universally acknowledged that when the going gets tough in China, its leadership quickly shows its oppressive dictatorial side.
Even so, the events of the past week or two have been surreal. Item: The People's Bank of China governor, Zhao Xiaochuan, the FT's Jamil Anderlini reported, had not been seen in public since a week or so before August 11, the day of the 2 per cent devaluation of the currency.
Item: Beijing, after indicating last week that it would not intervene in the markets, was back at it almost every day after 2 pm because it reportedly wanted to ensure a favourable backdrop for a military parade that President Xi Jinping will attend on Thursday, September 3. Item: President Xi did at least make an appearance on Black Monday 10 days ago... to denounce the Dalai Lama, but thankfully not for the crime of shorting the market.
Many of us business journalists routinely rue the Indian government's lack of logic - take your pick from the damaging retrospective tax brawl between the Congress-led government and Vodafone, the chorus of ministerial confusion on Minimum Alternate Tax to be levied on foreign institutional investors earlier this year (now thankfully behind us), and the food safety regulator's spectacular lack of due process in the Nestle case.
But, this time, Beijing has outdone New Delhi in scoring own-goals.
China's economy is in better shape than headlines around the world and in India suggest, but its leadership has made it seem on the verge of a Latin American meltdown from the 1980s.
China's stock-market fall is a much needed correction; share ownership accounts for less than 10 per cent of household assets, so the knock-on wealth effect is much smaller. Retail sales are still rising at double-digit rates and incomes are rising at a real rate of 7 per cent.
On the negative side, investment is collapsing and with it the steel, building materials and mining industry is in the doldrums.
China needs to make a pretty rapid transition to being less dependent on investment; that jarring adjustment could hammer overall demand.
The real near-term risk is that Beijing's attempts at economic reforms will stall and sputter because the volatility of the past few weeks has unnerved a leadership obsessed with stability.
It first sought to curb rampant property speculation, but after a default by a property developer earlier this year, Beijing made it easier for people with second homes to get loans and relaxed restrictions on how long they had to hold the property before flipping it.
The ill-fated devaluation on August 11 has followed a similarly confusing stop-start-about-turn policy trajectory.
The 2 per cent depreciation was part of Beijing's grand plan to have the renminbi included in the International Monetary Fund's basket of elite currencies and to signal that it was comfortable allowing greater leeway for the market to determine the renminbi's level.
The Chinese central bank's decision to spend more than $200 billion to prevent the currency from declining too sharply now leave it accused of both starting a "currency war" to allow the currency to depreciate on the one hand and intervening too aggressively to prop it up on the other, notes Arthur Kroeber of Gavekal Dragonomics.
In any case, as Yukon Huang, former World Bank director for China, points out, internationalising the renminbi is something of a pipe dream.
"For a currency to be used more abroad, it has to be available abroad," he writes.
"The US did this by running huge trade deficits and paying with dollars. It also gave dollars away through its aid programmes. But China will not want to run trade deficits instead of surpluses."
He suggests that Beijing settle for a more practical goal - that the renminbi be a "reference currency" for the web of production partners that China's processing trade is conducted with in Korea, Taiwan and elsewhere.
The real problem is that President Xi is much more interested in swaggering on the world stage than he is in the minutiae of economic reforms that could transform his country.
The effort to prop up the stock market day after day - just so that a military parade that is expected to unveil a long-range missile carrier goes off well – underlines this. In that at least, President Xi's Beijing is not dissimilar to New Delhi.
Its points men on economic policy speak of India being a "safe haven."
The finance minister recently told the BBC that India is a "viable shoulder" for the global economy at this time of turmoil in China - and never mind that our GDP is a fraction of theirs and we are saddled with a banking sector mired in bad debts, an agrarian productivity crisis and an investment slowdown of our own.
Better still was the front page article of a business daily given to giddiness last Saturday: "China's Muscle Loss can lead to Six-Pack India: Panagariya [referring to NITI Aayog Chairman Arvind Panagariya]."
That headline, comical at so many levels, was not quite what the good professor had said, but it is emblematic of the baffling mood of self-congratulation that prevails in India today.