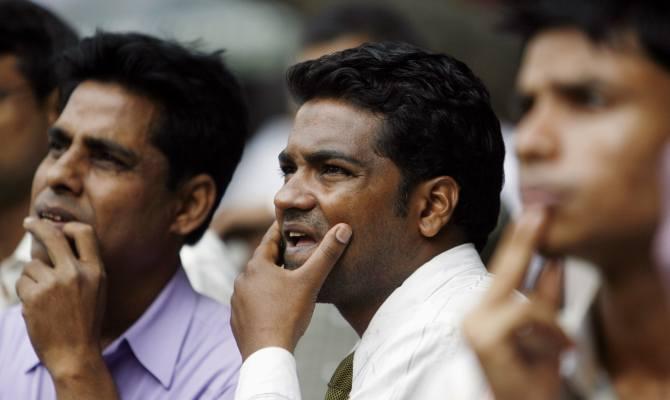 In spite of growing disillusionment, there is still enough time for the Narendra Modi government to turn things around, rues Akash Prakash
There is a growing sense of disquiet and disillusionment with the National Democratic Alliance government and the lack of economic progress.
In fact, the closer one is physically to India, the greater seems to be the frustration.
The feedback from friends and industry leaders living in India is sombre -- they sense no economic revival and are now starting to question why and when things will get better.
It has become almost fashionable to bash the government, and sensible people are losing hope.
The criticism against the government and Prime Minister Narendra Modi is basically on the following lines:

1. The PM has a very weak team, with a serious lack of talent in the government. Beyond four or five high-calibre ministers, most people struggle to even name any other member of the cabinet. The PM has to bring in talent from the outside, people with credibility and domain expertise. Those lateral entrants who have made the shift already seem to be ineffective and lost in government.

2. This government seems to either lack, or unable to communicate, an economic vision of what they wish to accomplish. They seem to be getting bogged down on clearing projects and micro details and not focusing enough on policy. There are many policy ambiguities, which can be clarified without legislative action. Who is in charge of economic policy in the government?

3. There is a sense that we are trying to run the country in the same manner as we ran Gujarat. A strong Prime Minister's Office cannot be involved in and supercede all ministries; ultimately it is the ministries who have to put up the Cabinet note. Nor can all decisions be taken by just one man.

4. The PM has not taken enough of the risks needed to push structural reform. He has not used his mandate to bring about systemic change; he seems to believe that tinkering with the current system of governance and running it tighter is all that is needed to get India back on the growth track.

5. There also seems to be a lack of urgency. At one level, it almost seems that many in the government have assumed that they have 10 years in power. The old adage is that you need to deliver the tough reforms and strong medicine in the first year; that opportunity, when we were in the honeymoon period with literally no opposition, has been totally lost.

As usual, the truth is somewhere in between. It seems the new government took office without enough preparation and planning on the key people it needed to bring into the government, what policy issues should be top priority, what can be achieved in the first 100 days, and so on.
But it is also fair to say that they were dealt a far worse hand then they realised.
The state of the economy, fiscal, our institutions and administrative machinery were in far worse shape than was obvious from the outside.
Many issues were also stuck in the quicksand of our judicial process, from which there is no easy exit.
Expectations were probably too high anyway as to what they could have delivered in the first year -- although they have made matters worse by not being as effective as they should have been.

It is also unfair to say that nothing has been accomplished. Over the past 18 months, we have seen corruption and crony capitalism at the Centre come down dramatically.
The Reserve Bank of India has brought about a sea change in the banking environment. Licences -- 23 of them -- have been issued for specialised banks, more than the total since liberalisation.
These new institutions will significantly improve access to, and reduce the cost of, credit for the self-employed and the micro, small and medium enterprieses sector. This is where there is job growth and a lack of credit.
The adoption of a formal inflation targeting framework is another significant reform.
There has been a sea change in the credit culture in the country with the adoption of the SDR (strategic debt restructuring) framework, and willingness to go after wilful defaulters. We have seen for the first time the induction of top-class private sector professionals into two public sector banks.
If this works, it can set a precedent and template to be used across the public sector.

We have also seen greater adoption of the cash-based transfers for subsidy disbursal.
It has been a success for the LPG subsidy; and, the courts willing, it will also be used for food, the Mahatama Gandhi National Rural Employment Guarantee Act and eventually fertilizer, leading to meaningful reduction in leakages.

Public spending has been ramped up in infrastructure after years of neglect.
After a long time, we will see public investment from the Union Budget exceed subsidies.
A big shift from relying on entitlements to one focused on equality of opportunity is underway in the approach to subsidies and poverty reduction.

There has also been significant reform at state level.
Rajasthan has been allowed to amend labour laws and Tamil Nadu the rules for land acquisition.
Thus, for the first time, a path for reform has been created to address politically sensitive areas such as land and labour, where there was little hope for nationwide change.

Obviously all is not well; the government has had a slow start and failed to meet the sky-high expectations. However, all is not lost.
We have 42 months of the term to go.
There is still enough time to turn things around; the next 12 months will be the litmus test.

Post Bihar, one would hope to see a major Cabinet and administrative reshuffle with the induction of new, more credible faces and exit of the non-performers.
There has to be more focus on laying down and clarifying the policy framework wherever ambiguity still exists. Each ministry must identify and focus on the one or two most critical policy issues.

The government can also target the states it controls (along with allies, 60 per cent of India's gross domestic product).
In each of these states, modernise labour and land policies and ensure they have modified their agricultural marketing laws. Ease of business in these states can be fundamentally improved.

The new bankruptcy code should be tabled in Parliament.
The government needs to reach out to the opposition to ensure a minimum legislative agenda is agreed upon -- with the goods and services tax being top of the list.

I think it is too early to give up -- things can still be turned around.
Image: People look at a large screen displaying India's benchmark share index, on the facade of the Bombay Stock Exchange building in Mumbai. Photograph: Arko Datta/Reuters

Akash Prakash works for Amansa Capital. These views are his own