Whatever be India's course of action, it will have an impact on India-Iran ties, notes Aveek Sen.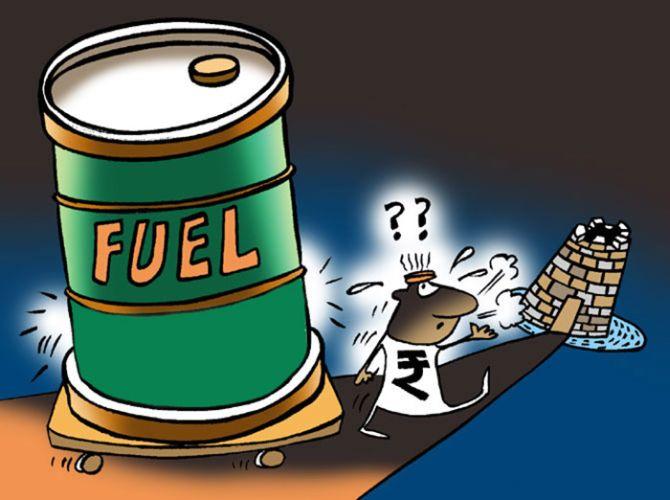 On Monday, April 22, the United States announced it would not renew sanctions waivers -- that are due to expire on May 2 -- to import Iranian oil that Washington had issued to China, India, Japan, South Korea, Italy, Greece, Turkey and Taiwan.
The waivers were in place for six months from November last year.
Vandana Hari of Vanda Insights, a Singapore-based provider of intelligence on global energy markets, feels the immediate reaction to the US threat will be a spike in crude prices.
"As OPEC puts more oil into the market to compensate for that, which I assume they will, we'll see the bullish impact eroded a little bit," says Hari, adding, "Overall, I am not very bullish about crude prices. I think the high 60s, low 70s (dollars per barrel of oil every day) seems to be a more sustainable level."
If crude prices rise much beyond the current levels -- at the prospect of 1 million barrels per day of Iranian crude being removed from the market -- Hari believes US President Donald J Trump will lean on Saudi Arabia and OPEC to put more oil into the market.
"One could also expect other major consuming countries like China and India to also put pressure on OPEC to ease supply like what we saw in the first part of last year," says Hari.
"It is hard to understand why the US would take a step which clearly would send crude prices spiking," says Hari.
Asked about the impact on India, Hari says it is a double whammy for this country.
While India is not overly dependent on Iranian crude, it has been receiving the supply under sweetened deals.
If the waivers are removed, any replacement barrel will no more be as discounted.
Meanwhile, the spike in international crude prices filters through to higher rates at the pump and more foreign exchange outflow for imports.
On the commercial front, India's refiners that import Iranian crude -- the Indian Oil Corporation and Mangalore Refinery and Petrochemicals Limited -- will scramble to find replacements.
What can the Indian government do?
At the very least, it could put pressure on Washington to not accept an impasse with Iran and ensure a speedy resolution of the situation.
It could also add its voice to that of the US, urging OPEC to ease its supply curbs.
S C Tripathi, former secretary, ministry of petroleum and natural gas, says the crude shortfall in India can be met by Saudi Arabia, the United Arab Emirates, Kuwait, Nigeria, Latin America and the US.
For China, the shortfall can be met by Malaysia, Indonesia and Russia.
But the removal of sanctions waivers will raise oil prices, which are already inching upwards due to the situation in Venezuela, Libya, Iran, Iraq and Nigeria.
*OPEC+ has also cut production by 1.2 million barrels per day.
India, Japan and South Korea should pressurise America to get Saudi Arabia to restore the OPEC+ 1.2 million bpd cut, says Tripathi.
With Iran going out of the market, it would remove 2 million to 3 million bpd, but 0.5 million to 1 million bpd of that will come into the market through other sources like Turkey, Syria, Lebanon, Iraq and the UAE.
Manoj Pant, director and professor of economics at the Indian Institute of Foreign Trade, believes the impact on India will be limited. In any case, India had cut its crude imports from Iran by about 40% in December.
Globally, the demand for oil declines in the summer months.
"India's crude imports from Iran are already down significantly," says Narendra Taneja, a Bharatiya Janata Party spokesperson and energy expert. "Sufficient supplies are available from other geographies, including North America, Latin America and Africa."
"The challenge would not be in terms of sourcing crude for our needs," adds Taneja, "the challenge would be on the other front -- crude prices globally could go up further."
Meanwhile, in response to queries on India's reaction to the US announcement to discontinue the Significant Reduction Exemption to all purchasers of crude oil from Iran, the ministry of external affairs's official spokesperson says, "We are adequately prepared to deal with the impact of this decision. The government will continue to work with partner nations, including the US, to find all possible ways to protect India's legitimate energy and economic security interests."
During the last round of sanctions and in November as well, India made clear that it would abide by UN sanctions, but not unilateral US sanctions.
Even though government-run oil companies did not shy away from buying Iranian crude, the private sector moved away in November.
Now that the sanctions waivers are removed, what will India's strategy be?
Whatever be India's course of action, it will have an impact on India-Iran ties and in the event of India cutting all oil purchases, could even affect the Indian stake in Chabahar port.
India is caught in a tricky balancing act, given the degree of exposure of its economy to the US.
However, this may be an opportunity too.
In case India decides to use one of its oil PSUs as a 'bad PSU' and continues to buy oil from Iran, India can iron out the differences over the Farzad-B** gas field.
*OPEC+ refers to its cooperation with non-OPEC oil producers to effect production cuts.
**The Farzad B gas field is an Iranian natural gas field that was discovered in 2012. The Indian government is trying to negotiate a deal to get rights to dig oil.
Aveek Sen is an independent journalist working on cyber security and the geopolitics of India's neighbourhood, focusing on Pakistan, Afghanistan, Iran and Bangladesh. He tweets at @aveeksen