To travel by any class of Indian Railways is to see India at its most spectacularly and unforgettably unlovely, notes Kanika Datta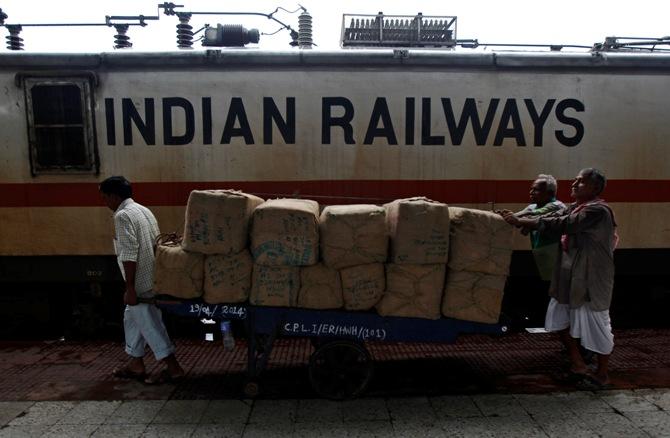 Image: Porters transport goods on a hand-pulled trolley to load onto a train at a railway station in Kolkata. Photograph: Rupak De Chowdhuri/Reuters

The Indian Railways website says: "India has some of the most spectacular and unforgettable rail journeys in the world. . . . There's no better way to enjoy India's outback, cities, coastal towns and regional areas in comfort."
Even the most charitable will concede that the adjectives 'spectacular' and 'unforgettable' can be interpreted in many ways, as can the institution's notions of comfort.
Not to put too fine a point on it, to travel by any class of Indian Railways is to see India at its most spectacularly and unforgettably unlovely.
From the crowded, noisy, malodorous, criminal-ridden stations to the grimness of the on-board experience; to visit the toilets is a yogic exercise in suppressing the senses.
In management-speak, rarely has a large service provider been less consumer-oriented than the Indian Railways.
The Railway Budget that will be presented on Thursday will talk all about passenger fares and freight rates -- the big and sometimes controversial takeaways from this exercise -- the new trains, new tracks, operating ratio, rolling stock and a host of other technical issues.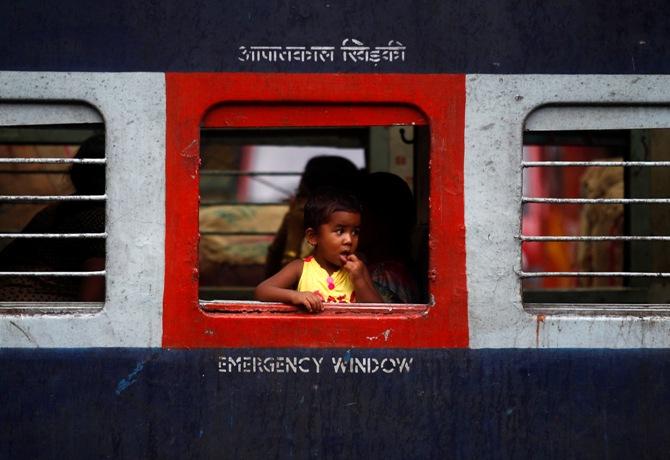 Image: A girl looks out through an open emergency window of a passenger train at a railway station. Photograph: Rupak De Chowdhuri/Reuters

Those numbers tell the story that will help economists and analysts understand why the Railways is so inefficient and the services so awful.
But politicians in a democracy are supposed to talk to the people. That's exactly what the railway minister doesn't do.
Instead, he (or she) drones on and on about various technical parameters and then recites a laundry list of new lines that have been sanctioned to please some politician or the other (a notorious exercise in coalition governments).
The people's representatives seem at least as uninterested as the people who use the Indian Railways.
Which is why Lalu Prasad is considered one of India's most efficient railway ministers, but this fact would have made little difference to the 13 million passengers who use the system every day.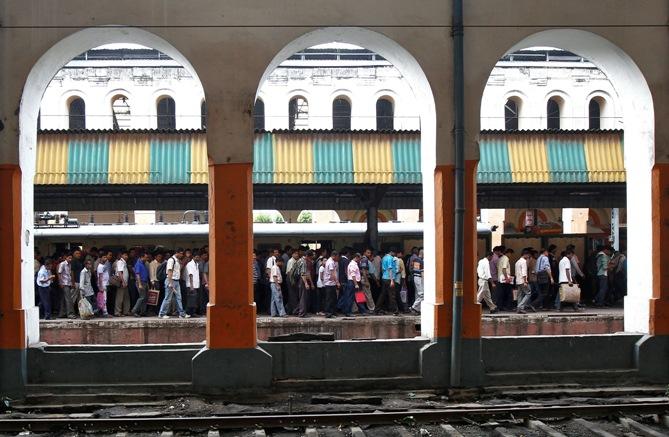 Image: Commuters walk on a crowded platform at a railway station in Kolkata. Photograph: Rupak De Chowdhuri/Reuters

Under him, the Indian Railways may have been in the pink of financial health but service standards deteriorated beyond measure.
Budget 2015: Complete Coverage
Railway Budget speeches rarely mention the little things that matter to users: clean and safe facilities that are easily accessible to the elderly and the handicapped or trains that are consistently punctual.
The last is a good example of non-speak: the Railways likes to call it "on-time record" and since it is a mother of all averages, the final statistic is, at best, meaningless. Note that China, the country with which we insist on comparing ourselves, takes all these virtues for granted (even their "hard class" is of a standard to which India can only aspire).
Yet the Railways has never been known to solicit passenger feedback. Perhaps its executives think the multitudes are incapable of making such judgements. Funny, no one seems to doubt their judgement when it comes to elections.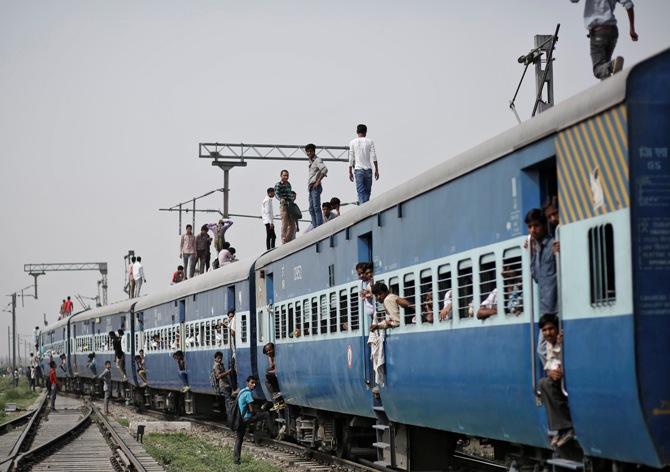 Image: Passengers stand on top of an overcrowded train at Loni town in Uttar Pradesh. Photograph: Anindito Mukherjee/Reuters

The problem, we know, lies in the entrenched view of how we should deliver our public goods. From power and water to fuel, fertiliser and railway services, delivery is priced below cost ostensibly to help poor people.
The irony is that poor people suffer the inevitable inefficiencies of under-costing -- corruption and discomfort -- even more than the middle class.
The Railways' version of being pro-poor is to cross-subsidise passenger fares by freight rates.
The fact that this has rendered it uncompetitive vis-à-vis road transport is one aspect of an issue that demands a thesis of its own.
It has resulted in sustained underinvestment in freight and passenger facilities even as costs burgeon.
Not for nothing is the Railways India's largest employer (and who can forget Pawan Bansal's job-dispensing contretemps).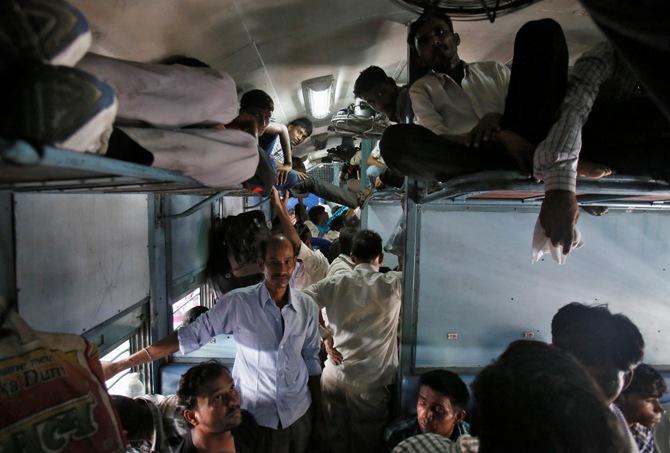 Image: Passengers sit inside a crowded stationary train at a railway station in New Delhi. Photograph: Anindito Mukherjee/Reuters

One of the myths about the Railways is that it is impossible to make it anywhere near world-class because of the sheer numbers who use it. But China has at least as many rail users.
Japan and Germany have a high frequency of rail passenger usage, too, with no apparent struggle in delivering an outstanding experience.
The other pro-hopelessness argument is that Indians lack a sense of hygiene and, therefore, do not demand any standard of cleanliness.
Anyone who visited China before its capitalist revolution could have said the same about the Chinese.
Even today, they retain a proclivity to hawk and spit that would rival any Indian's.
But they, too, have imbibed civic sense when public standards were upgraded.
The Delhi Metro is a good example of world-class state-provided facilities having a positive influence on civic behaviour.
For years together, the poor standards of railway services have prompted analysts to explore such desperate measures as wholesale privatisation, FDI, bullet trains, all of which have proved mostly unworkable or unviable elsewhere in the world.
Why not start small by raising freight rates and passenger fares in small, regular doses (as was once done with diesel), so that consumers get used to higher prices, and plough the surpluses into improving infrastructure and service in, as the bureaucrats say, 'a phased manner', and watch the knock-on effects.
At the very least, that will help it start thinking like a service provider rather than a conduit of power and pelf.