Ministers may come and ministers may go but the attitude of the RB remains the same forever, and it is this group that really calls the shots in Indian Railways, says S Pushpavanam.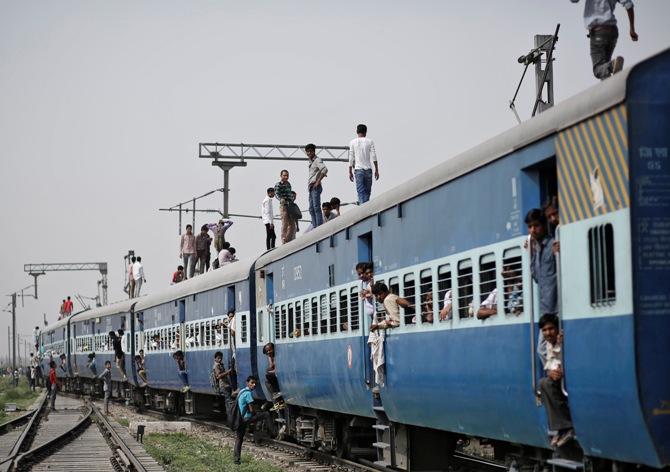 The rhetoric of the Railway Bureaucracy would have become very familiar to people who follow Railway Budgets. Since it is mainly a PR exercise to create impressions and not really meant to be executed within a timeframe, it has become an interesting piece of entertainment. Ministers may come and ministers may go but the attitude of the RB remains the same forever. Hence we can expect the rhetoric this year, too.
It might begin with a paean of praise for the prime minister. Then a few sentences on what Indian Railways have achieved with the help of ever sincere public service-minded workers and officials. Then something about the soul of the railways which is claimed to be commitment to the common man and its role in moving the economy. A few sentences on its nation-integrating functions will follow.
They may even try to name the current year. They may call it the Year of the Customer or Passenger Year as they did in the '90s. For them the passenger is not clearly the customer.
As usual, it will be declared that safety is their priority. But you would never be told how many heads rolled when a train rammed into another train from behind, or when two trains caught fire or when several derailments had taken place during 2015-16 so far or in 2014-15 for that matter.
The Bibek Debroy Committee submitted its report in June 2015. The RB has kicked 22 earlier committee reports to their destined goal, the attics in Rail Bhavan. Possibly, a committee will be appointed to study the Debroy Committee Report and analyse its implications. This is the usual route to the attic.
By now many of you must have concluded that this article is brimming with prejudices and so permit me to quote two passages.
This is from Sadananda Gowda's Railway Budget speech in 2014.
He said that out of 676 projects in 30 years, only 327 were completed. After spending the original estimate of Rs.1,57,883 crores, RB now needs Rs 1,82,000 crores to complete the rest. Only one out of 99 new lines sanctioned in the last 10 years has been completed.
Debroy wrote in an article recently: 'A new railway minister wants to show a healthy operating ratio? Not an issue, reduce contributions to Safety Fund, Depreciation Reserve Fund and PF. Consequences will be borne by posterity. RB could do anything at will and on demand at the cost of safety.'
The minister may proudly announce that the operating ratio has come down.
The RB is most inventive. If they want to hike fares, they can think of one thousand ways of doing it without calling it a fare hike. If any other railway in the world were to say, 'If you want us to carry you from Point A to Point B in our trains, pay us this much; if you want us to carry you safely, pay us more', it would be considered outrageous. But Indian Railways did exactly that and got away with their safety surcharge!
Similarly, if any trader sells you his goods for a price and collects +x rupees as development charge, no one would pay and it would be called a terribly unfair trade practice. But Indian Railways have been collecting development charges for years. It is quite likely that this year they will come up with something even cleverer.
Then we come to the dessert. I am reminded of Tennyson's lines from The Lotus-Eaters, 'They landed in an afternoon where it always seemed an afternoon'. That European afternoon was a very pleasant thing, unlike ours. Similarly in Indian Railways, once they launch a pilot project, it always remained a pilot project.
These are a few of my favourite pilot projects: safety devices like GPS guided signaling, train activated warning system, anti-collision devices, and fool-proof signaling, advance warning systems, bio-toilets.
Dedicated freight corridors, dedicated passenger train corridors, Railway Safety Authority, Rail Tariff Authority and branded food in pantry cars, fire extinguishers in every coach will all find a mention. These are regular characters in the drama of the Railway Budget. The bureaucracy will never tell you why they have not installed scoot and flash warning devices at every level crossing gate, saving hundreds of crores in salaries. It is because these appointments, for manning unmanned level crossings, are the playfield of politicians and union leaders.
Rat-eaten suitcases, unpunctual trains, unhygienic lavatories, unpushable flush knobs in latrines, and waterless wash basins at early mornings, unusable newspaper pouches in chair cars, regularly recurring accidents, will not, as usual, find a mention.
As usual, the prime minister and the ruling party will welcome the budget, of course with the opposition criticising it.
But what about you, the railway passenger?
S Pushpavanam is secretary, Consumer Protection Council, Tamil Nadu.