That the financial health of Indian Railways is precarious, is well-known. In his second Budget, Railway Minister Suresh Prabhu must bite the bullet and attempt brave stuff, says S Pushpavanam.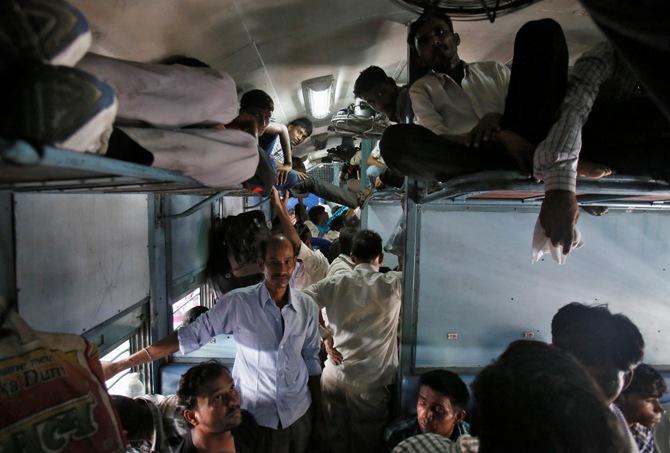 Being wise, Railway Minister Suresh Prabhu did not announce any new trains or new lines last year because he knew he had no money. No extra money has flowed in now either, although plans are afoot. But he has to be wise this year too.
Sadananda Gowda did some plainspeak in his Railway Budget speech in 2014. He said that out of 676 projects in 30 years, only 327 had been completed; after spending the original estimate Rs 1,57,883 crores, the Railway Bureaucracy now needed Rs 1,82,000 crore more to complete the rest; and further, only one out of 99 new lines sanctioned in the last 10 years had been completed.
Our Parliament meekly accepted such gross inefficiency.
Rs 8.56 lakh crores are needed to modernise in the next five years, including Rs 1.27 lakh crores for safety (page 169 of the Bibek Debroy report), and nearly Rs 4.91 lakh crores are needed to execute the pending projects (p 136, Bibek Debroy report).
The self-serving Railway Bureaucracy has ignored most of the recommendations of the 22 earlier committees. Of the 2012 Anil Kakodkar committee's 106 recommendations on safety, 70 were discussed and 36 are yet to be discussed, including the creation of a Railway Safety Authority.
The list of accepted but not implemented recommendations is long. Prabhu must stand firm and allot sufficient funds to implement the Debroy report in full.
The Bullet train can wait for another decade as it means taking a Japanese loan for Rs 90,000 crores besides our own money of Rs 10,000 crores. There are greater crying needs of the southern passengers.
Electrification and doubling of the Mumbai-Chennai tracks need to be completed in one go to run trains in 17 hours instead of the present 23. For the past 10 years, money has been dripping every year. This route badly needs one more train. If it is run from Tirunelveli to Mumbai, it would satisfy the southern passengers. Similarly, the Bikshander Kovil (near Tiruchi)-Namakkal line has to be laid to meet the long-felt need of Tiruchi-Bengaluru passengers. A survey must be ordered this year. This short-cut line will reduce the journey time by six hours.
If FDI is to come, zonal railways must be corporatised. The PPP did not progress since the Railway Bureaucracy would ensure its failure, such is their power! Although the 1973 Pay Commission asked them to abolish bungalow peons, they still retain 1126 peons. A corporate board may have 40-60 personnel to assist the board. The Railways have 1107 persons working in the Board Secretariat but it was not worried that operating ratio was over 90 per cent between 1980 and 2005. The operating ratio stood at 75.94 pc in 2007-08, and the Railways must get back to this figure from the current unacceptable 91 pc.
It made 17 zones out of nine zones to have many more GMs, DGMs, AGMs, CCMs, and so many other posts including 40 more DRMS. The Debroy committee records that efficiency did not increase even by one percent because of this creation of new zones.
The unions are going to strike, reforms will be stoutly opposed. But Prabhu must gear up to manage the strike. The staff must be reduced at least by10 pc this year as the staff cost remains at an unconscionable 51 pc of revenue. Surgery is needed.
On the night of November 16, 1980, Prime Minister Indira Gandhi signed the orders at 2 am and the entire Railway Board was sacked, M S Gujral was appointed chairman. Later, he sacked 900 railwaymen on one single day. If the zones are restricted to five again, the savings will help.
In order to raise the Rs 8.56 lakh crores needed, Prabhu must sell lock, stock and barrel the railway quarters, hospitals, schools and the land surrounding them. They have outlived their purpose. Non-core projects like nursing college, medical college and railway university must be immediately jettisoned to save money.
Profit can be made either by enhancing revenue or by reducing cost. There is already a drop in passenger revenues. Before any fare hike is attempted, this must be borne in mind. Any more increase in air-conditioned classes will persuade people to fly instead. Season tickets still have a scope for an increase. Fare must be fixed per km, and prices of commodities 10 years ago and now should be compared with railway ticket prices 10 years ago and now to convince the public of the need. Development charges must go and rationalisation of cancellation charges must be done.
The cost of concessions must be borne by the respective ministries instead of Railways. Concession for handicapped, for example, will be borne by the welfare ministry. This suggestion (from Bibed Debroy report) can be implemented now. As senior citizens occupy more berths and seats, Railways suffer erosion in income. Their concession must be limited to 20 pc for both genders in all classes.
Suresh Prabhu will not get encomiums for these reforms but posterity will not forget him either.
The question is, can he do these things?
S Pushpavanam is secretary, Consumer Protection Council, Tamil Nadu.