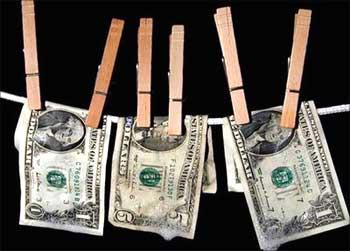 Every government and organisation has a blacklist of companies and people whom they would rather avoid. Their reasons could be political or commercial. Some such lists are kept a secret and need to be pried open with the help of private investigators.
Associations of industrialists presumably have such lists held close to their chests. Big corporations are known to buy database from snooping agencies on troublesome employees, such as whistle-blowers and prospective business partners. But most blacklists are public.

The Securities and Exchange Board of India and the Reserve Bank of India keep them to help investors.

The defence ministry - prone to Bofors-brand scams - recently announced in Parliament a list of arms suppliers with whom no further contracts will be signed. The charges against them include use of undue influence, agents and payment of commissions.
As the cry against corruption gets shriller, more diligence is applied in picking partners for projects. And the list just gets longer. Blacklisting entails not only lost contracts for a company, but it costs it its reputation.
Many of those who are thus drummed out have to take recourse to mergers and amalgamations to change their identities and carry on their businesses - much like Hollywood actors suspected of leftist leanings had to change their names to survive in the industry in the last century.
When other efforts fail, the next step to remove the slur is to approach the court. Several companies with stains on their back have recently approached courts for a legal scrub, with varying results.
The Supreme Court's view in a leading case (Erusian Equipment & Chemicals Ltd vs State of West Bengal) is that blacklisting could be ordered "where a person is convicted by a court of law, or if security considerations so warrant, or in case where there is a 'strong justification' that the person involved is guilty of malpractices such as bribery, corruption or fraud".
The court further said since blacklisting entails civil consequences, such as preventing a person from the privilege of entering into lawful relationship with the government, that person should be given an opportunity to represent his case before he is put on the blacklist.
The right to be heard is the main defence available to such companies who are threatened with blacklisting. Non-discrimination and right to trade are other defences often put forward.
The right to be heard, or natural justice, before being blacklisted has been accepted as a cardinal doctrine in such cases. This principle was applied last month by the Delhi High Court in a defence scam that rocked Parliament last year.
The ordnance factory board of the defence ministry debarred Israeli Military Industries (IMI), a government-owned company providing military hardware and technology, for 10 years for engaging middlemen in a large project.

One of the arguments of the Israeli company was that it was not given a hearing before the penal step was taken, which was "disproportionate" to the offence alleged. The court rejected its arguments on the facts of the case.
Moreover, the judgment said, "The state is free to take the stand that it will not engage with IMI. Surely this court, exercising equitable jurisdiction under the Constitution, will not interdict this decision of the government and force them to continue a relationship, which it seeks to terminate."
In a recent case, the Supreme Court reiterated that the inherent power of the government to enter into a contract included the power not to enter into a contract, "which is akin to blacklisting" (Patel Engineering vs National Highway Authority of India). Then the court qualified it by stating that "there is no inviolable rule that a personal hearing of the affected party must precede every decision of the state".
The government can debar a company or person if there is a "strong justification" for it, such as that person was guilty of malpractices like bribery, corruption and fraud. Though the authority is duty-bound to give "fair consideration" to the representations made in that regard, it is not bound to disclose the details of information in its possession.
These restraints are applicable mainly to the government and its various arms, including public sector undertakings, since they act within constitutional limitations. Private entities are largely free from such regulations and they exercise their freedom in abundance.
It is for those who deal with them to weigh the risks. For instance, students should check the antecedents of universities and educational institutions from the University Grants Commission website.
In the marketplace, there are NGOs that have blacklisted manufacturers of medicines, genetically modified food and those who have indulged in unfair and restrictive practices.
When such issues are taken to the street, little can be done in a court of law. These are areas where blacklisting helps consumers and ordinary citizens. The next thing should be a "whitelist" or "watch list" to help them.