Anjuli Bhargava's musings on why the national carrier is well beyond a turnaround.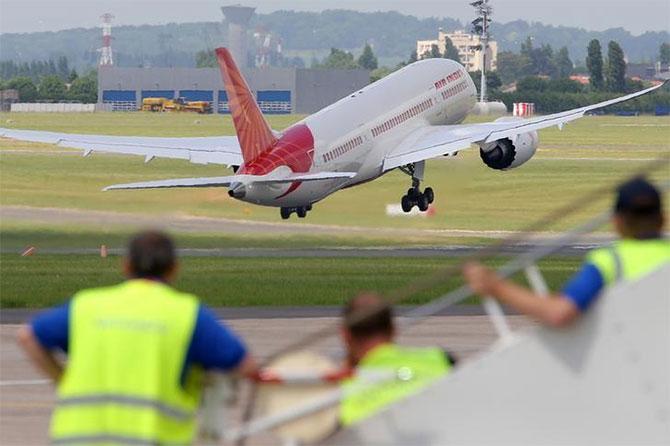 Photograph: Pascal Rossignol/Reuters
First, the good news. A government has finally made up its mind to bite the Air India bullet. If the NDA actually pulls this sale off, it will be one of the biggest and toughest reforms that I for one didn't think I'd see happen in my lifetime.
In June, I happened to meet a few people involved in the process. Reams have been written on the subject and I have no new gems to add, but here are my main takeaways from what I understood.
Sale of Air India seems a fait accompli this time around.
The ministry of civil aviation and the ministers may have some apprehensions, but they don't carry enough weight to be taken too seriously.
The employees may raise some objections, but are unlikely to have the heft to stall the juggernaut.
The present CMD may not be expressing his thoughts on the subject, but those privy to them say that he is privately convinced this is the only way to go.
Let me say here that he's not the first CMD with this view. I have met close to a dozen chairman and managing directors (CMD) of this airline over the years. CMD after CMD has always told me the same thing: the carrier is well beyond a turnaround.
Even if the entire debt is waived off, it will just be a temporary reprieve till debt and accumulated losses pile up once again. You waive debt off today, but five years down the line you will be back to square one.
Even if oil prices do not rise, there is very little chance of Air India ever making much money -- certainly not enough to sustain its operations, buy airplanes and function as other commercial carriers do.
Airlines the world over is a highly regulated business with many rules and procedures and one where safety is paramount.
It's typically a low-margin business and very few airlines really make a lot of money. To do that, you have to run it with zero interference, let the CEO or the guy in charge have a free hand (even to make mistakes), think on your feet and respond yesterday.
None of this is possible in the Air India context.
You follow a fairly rigid tendering process to buy anything -- be it a blanket or an aircraft.
As the CMD, you can't hire or fire. You are always under scrutiny -- be it the media, the politicians, the bureaucracy or the employees. You are always judged in hindsight and every decision of yours can be questioned.
In other words, you can't afford to go wrong. If you go wrong or make the wrong call, you are accused of corruption: the sceptre of enforcement directorate, the CBI and various courts of enquiry loom large before you. The scrutiny is endless and often conducted by those who have no intimate knowledge of the sector. You have virtually no authority and the fear of making a mistake hounds you constantly.
Functioning like a CEO of a commercial airline ought to is almost impossible. In most companies, the output is more important than the process; here it is the reverse.
Two, it's not as if the airline is worthless as many tend to think.
The real estate value of properties owned by the airline is much less than touted (lots of the properties are disputed or on long leases but are not owned), but there is a determinable value of the bilateral rights, the landing and take-off slots, the depreciated value of the aircraft and finally the brand name.
Be it fame or notoriety, Air India is a known name the world over.
Three, I don't personally think there is much credence to the Tata story that claimed that they were in talks with the government for the carrier, but if it is true the Tatas in my opinion really need to examine if they need a new albatross round their necks.
A present board member of one of the two airline ventures the Tatas are already invested in told me that the group's exposure to Vistara and AirAsia India was already ₹1,400 crore. And it's not as if either is showing any signs of touching a break even. It may be years before -- and there's a big if here -- either of its investments pays off.
And 'if' is the only certainty in India as we all know.
In the last few weeks, many have been asking me whether the sale of Air India is imminent and desirable. Desirable for sure, but imminent? I suspect only one man has the answer.