Home > Cricket > The Cup > First Look


Gibbs hits record six sixes in an over

March 16, 2007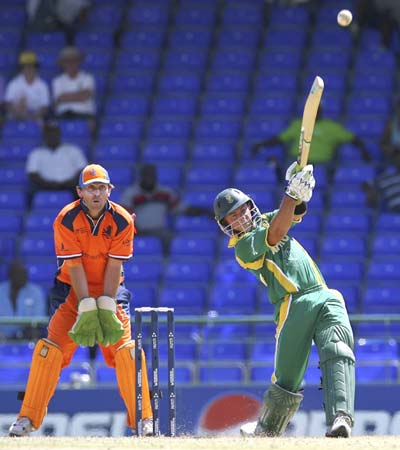 Herschelle Gibbs became the first batsman in the history of the World Cup to smash six sixes in an over.
The South Africa batsman achieved the feat in the Group A match against the Netherlands on Friday.
In the process, Gibbs became only the third man ever to achieve the feat in first class cricket, the others being Sir Garfield Sobers of the West Indies and India's Ravi Shastri.
His feat against Dutch leg spinner Daan van Bunge, in the 30th over of the innings, will make World Cup sponsors Johnnie Walker donate US $100000 to the charity.
The renowned whisky company had announced that it would make the donation to the choice of the cricketer who hits six sixes in an over at the tournament.
In the space of one over, the right-hander jumped from 32 (30 balls) to 68 (36 balls), leaving the bowler and Dutch team completely dazed.
But there was some consolation for Van Bunge. He claimed the catch to dismiss Gibbs for 70 (40 balls, 4 boundaries, 7 sixes) in the next over off Luuk van Troost.