Home > Cricket > The Cup > Stars we spotted


Spotted: Brian Lara at the opening ceremony

March 14, 2007

Reader Lloyd sent us these pictures from Jamaica.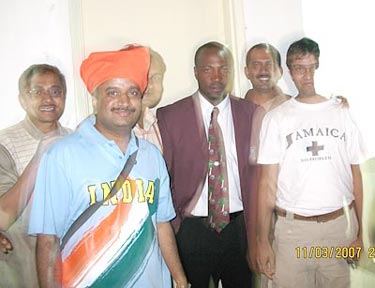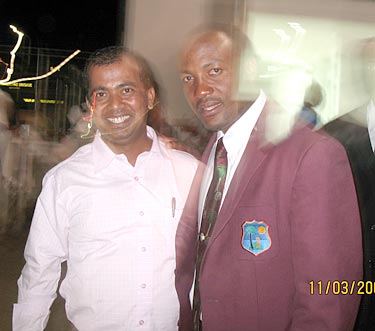 'My name is Lloyd. These pics were taken by my friends with Brian Lara during the opening ceremony of the Cricket World Cup in Jamaica. Lara was cool and ready to pose for pics. The security was too tight for the Indian team. As the pics were taken in dark they are not very clear, but I would request you to please publish them. I would want to give a surprise to my friends,' writes Lloyd.
Pic 1: (From left to right) Hari, Basu, Giri, Abhijeet and Ramen
Pic 2: Santosh.
If you encounter your favourite cricket/sports personalities, please send your photograph to sportsdesk@rediff.co.in. We will feature the best images right here on Rediff Cricket or Rediff Sports.