Home > Cricket > The Cup > Report


Australia start as favourites: Dravid

Harish Kotian in Mumbai | February 27, 2007 19:47 IST
Last Updated: February 28, 2007 12:19 IST



India captain Rahul Dravid believes that this World Cup will be very closely-fought, though he ranks Australia as tournament favourites.

"I always believed that this is going to be a tight and close World Cup. Australia will still start as favourites. Once they get their key players back they will be hungry and keen to perform. They have a good record over the last two or three years in one-day cricket, and you can't just dismiss that off in one week or two weeks of cricket," Dravid told reporters at the Board of Control for Cricket in India's headquarters in Mumbai on Tuesday.

The World Cup, beginning March 13, will be played in a round-robin format, before the top two teams from four groups progress to the Super Eight stage, where they face-off for a place in the semi-finals.

"I think the competition is going to be tight among the eight teams. It's going to be close and all of the eight teams will probably back themselves to make the semi-finals. The tough part is going to be in the Super Eight stage, where the eight teams are going to be match-up against each other, and on a day you have got to beat the team that is probably equal in strength with you," Dravid said.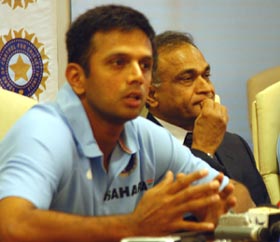 India's coach, Greg Chappell, said he would have preferred Australia coming into the tournament on a high rather than the lows of the losses against New Zealand and England.
"What it just shows is that New Zealand is a good one-day team and shows that England has made decent progress in recent times. Probably this would make Australia a bit hungrier and determined to do well. I would have preferred if they would have won every game and went to the West Indies and, maybe, rode on their confidence. Now they will be right on their job and we will have our work cut out," Chappell said.
The former Australian batting legend said he will not read too much into Australia's recent defeats, as their back-up strength would make up for loss of key players like Brett Lee and Andrew Symonds.
"No doubt, it will affect their balance if Brett Lee and Andrew Symonds are ruled out of their side. But they have good cricketers there and someone like Stuart Clark coming back into the side. He is an experienced and successful bowler and there is no reason why he could not be the player of the series. They are a good side and they have got the key players coming into the side from the team that went to New Zealand," Chappell added.
The Powerplay rule of fielding restrictions being in place for 20 overs will be used for the first time in a World Cup. But Dravid feels it may not produce high scoring matches as the slow wickets in the Caribbean would make batting that much difficult.
"If the wickets are anything like we experienced the last time we toured the West Indies [in 2006], it might not be a high scoring World Cup. There are grounds that we have never played on, there are grounds that are completely new, completely new stadiums. So it's going be a World Cup about going out there and seeing the conditions on the day, being able to adapt and play in those conditions," he said.
The Cup: The Complete Coverage
Would you like to join the Cricket and Cricket Lovers Discussion Group and discuss your cricket views with other cricket freaks? Click here. Have fun!