Home > Cricket > The Cup > Stars we spotted


Spotted: Merv Hughes and Nathan Bracken

April 20, 2007

Reader Royston Lewis sent us these pictures from the West Indies.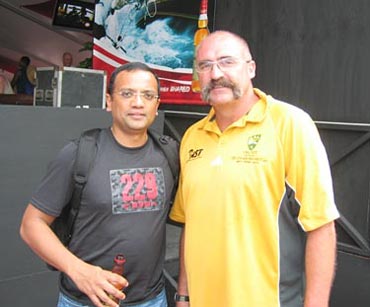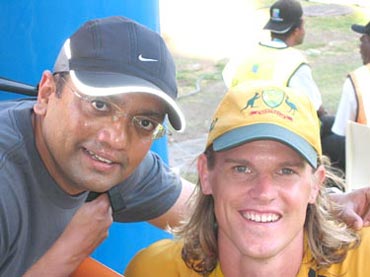 'I was recently in Barbados and Grenada to watch some of the WC Super 8 stage games. I was first able to get my picture taken with the former Aussie fast bowler Merv Hughes at the after party tent next to the Kensingon Oval Stadium, ,Barbados after the Australia-Ireland game. Big Merv is leading a troupe of Aussie supporters in the Caribbean,' writes Royston.
'I got even luckier getting my pic taken with Man of Match Nathan Bracken after the Australia-Sri Lanka game at the Grenada National Stadium. I saw Bracken patiently obliging every request for autographs from fans gathered near the Aussie dressing room and that's pretty cool.'
If you encounter your favourite cricket/sports personalities, please send the photograph or video to sportsdesk@rediff.co.in. We will feature the best images or videos right here on Rediff Cricket or Rediff Sports.