There was not much to link former Liberian child soldiers with a destitute Scot, the editor of a Russian street paper and a Manchester United coach -- until the Homeless World Cup.
After months of team trials, travel and training, homeless men and women from around the globe will battle it out in Cape Town from September 23-30 in an annual tournament which for many could become a gateway to a job, a home and new friends.
The United Nations estimates there are more than 100 million homeless people worldwide and more than one billion live in inadequate housing in shanty towns or without basic utilities.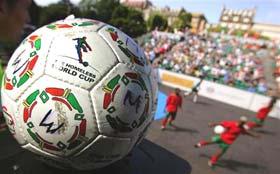 The British-based organisers of the HWC, which stages a shorter version of conventional soccer matches in smaller all-male, all-female or mixed teams, say the participating homeless and asylum seekers gain the necessary confidence and self-esteem to turn their fortunes around.
"I was staying in supported accommodation and nothing was really going for me. I turned up and made it into the Scottish team," said David Duke, 26, who took part in HWC 2004 and played soccer competitively when he was younger.
"And then from there I used it to get back into football and coaching. It changed my life.
"Being homeless is probably the best thing that's happened to me, it's crazy but it has been," said Duke, who became homeless in 2003 when he lost his job and couldn't afford a rent.
INITIAL TOOL
After playing in the HWC, he decided to pursue a career in coaching and is now a certified youth coach. He is renting a home and trying to buy one of his own in Glasgow.
Having previously worked in garages and bars, Duke said: "I am doing something now that I enjoy.
"Football is the initial tool," he said. "In football, there's a lot of communication with others involved, fitness, meeting new people ... winning games."
Duke's story illustrates recent findings by the organisers of the HWC tournaments.
Out of 217 players surveyed six months after last year's championship, 164 or 77 percent have either found a regular job, a better place to live or continued their education.
More than a half of those trying to combat an addiction succeeded and some, like Duke, now make their living partly as coaches or players.
An overwhelming majority of players have reported a new motivation for life.
"I probably wouldn't have stayed alive if I hadn't done something to my morale," said Arcady Tiurin, the 44-year-old editor of a Russian street paper who played in the last two HWC tournaments.
Formerly homeless, Tiurin now lives in a flatshare in St Petersburg but, lacking official registration in the city, is still considered an illegal resident.
So what exactly has changed?
"I have changed. I now have in my life, besides work, another thing that no one can take away from me. It's called football."
INTERNATIONAL LANGUAGE
It is hard to think of another sport or hobby that can have such a dramatic effect on a huge variety of people.
"There's an international language and that's football," said Mel Young, co-founder and president of HWC tournaments.
"It's very simple: it's a ball and a pitch. It's not expensive and you don't even have to have a football -- you can make one.
"You can play it anywhere. You can have two players a side or 20 players a side. You can be any standard," he said.
"For all these reasons, it's just this thing that has this magic."
The championship has swelled from 18 participating countries in its first year, 2003, to 48 teams expected in Cape Town and at least 10,000 homeless people are involved in pre-tournament trials and training this year.
"We were going to do a one-off event but it was such a success: the crowd was full, the football was really good and the media were fascinated but, most importantly, the homeless people were changing," Young said, adding that they were even asked for their autographs.
The competition for a place in the national team is fierce. In England, the squad is selected and trained by Manchester United coaches.
A new training project supported by HWC is aimed at selecting a national team from disadvantaged Liberians, many of them former soldiers, and organisers hope to get 200,000 players involved in the next two years.
"They put their guns down because they want to play football. Somebody gave them guns but they just want to play football," Young said.
After stiff competition, Copenhagen was chosen as the venue for the next HWC and Melbourne will host the 2008 tournament.
"I find it quite ironic," Young said. "They are always talking about homeless people being a problem and these cities are now fighting with each other to get these people to come."