Donetsk in the far east of Ukraine during the month of February is not at first glance an obvious setting for feats of athletic excellence.
The city is snowbound, the Kalmius river is frozen solid and coal smoke stains the grey sky.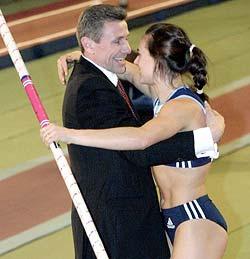 It is also, though, the city which produced Sergei Bubka, the human catapult who set 35 world records and won six world titles and one Olympic one.
Bubka, now a member of the Ukrainian parliament and the International Olympic Committee (IOC), is honoured officially by a statue and less formally by a sports bar.
Every year he stages a pole vault competition in his native city and this February he invited the Russian who has promised to do for the women's pole vault what he did for the men's.
Yelena Isinbayeva set eight world records last year, including a leap of 4.91 at the Athens Olympic Games.
Disarmingly frank about the financial incentives attached to raising the record by a centimetre at a time, a trick she learned from Bubka, Isinbayeva brought glamour and excitement to the most spectacular of the field events.
What she could not necessarily provide to order was a world indoor record in her first competitive vault of the season less than two months into the new year.
GREAT BUBKA
Bubka, who has been less than complimentary about the standard of women's pole vaulting in the past, was hoping for a world record to add extra lustre to his competition. On the eve of the event he told reporters he believed Isinbayeva would be the first woman past five metres, equivalent to his pioneering six-metres leap.
"Well if the great Bubka said this, I think it is quite possible," Isinbayeva responded. "As you know, human possibilities are unlimited. So I greatly hope that I will one day do what the great Bubka says."
The great Bubka, dressed in a sharp suit befitting his new status as a national politician, was present in the ramshackle Druzhba Auditorium to watch Isinbayeva vault. He leaped to his feet with relief and delight when Isinbayeva, accompanied by deafening rock music, cleared an indoor record 4.87 metres to pick up where she left off in 2004.
Isinbayeva won a Skoda car for her efforts and in her eagerness to drive away in her new prize she opted out of the customary post-event news conference.
It was left to Bubka to pay tribute. "She is an absolutely great athlete with wonderful potential," he enthused.
Isinbayeva extended her mark in Birmingham, England, and again in Lievin, France, completing her indoor season with yet another world record of 4.90 at the Madrid European indoor championships.
In the outdoor season the Russian, who turned 23 on June 3, took the world record to 4.93 in Lausanne and 4.95 in Madrid.
Finally at London's Crystal Palace on July 22, again watched by Bubka, Isinbayeva broke the five-metre barrier.
"I think she is unique," said Bubka.
"It was my dream," said Isinbayeva. "I don't know how much higher I can go, maybe 5.05 metres."
NEW LIFE
Not so long ago Isinbayeva knew nothing about the pole vault and had never heard of Bubka. Instead she was a gymnast in her native Volgograd whose coach believed she had outgrown the sport and suggested she take up the pole vault.
Her pole vault coach Yevgeny Trofimov started her new life, a career which has brought Isinbayeva fame and is gathering her a fortune, by asking if she knew who Bubka was.
"I answered 'no, who is she?' I didn't know anything about the pole vault, about Bubka, or even how to do it," she recalled in an interview last year.
Soon Isinbayeva knew not only what sex Bubka was but also everything about his vaulting technique, watching videos daily and studying text books.
"My coach taught me to jump like Bubka. From the beginning he would say 'you have to jump like Bubka'."
After an initial jump of 2.80, Isinbayeva quickly improved, winning the 1999 world youth title. By 2001 she was the world junior record holder and two years ago she took the bronze medal at the Paris world championships. Her first world record was set in Gateshead, England, that year, a leap of 4.82 metres.
The next target is a world title in Helsinki next month, to add to her Olympic and world indoor titles.
Isinbayeva has already made an attempt on her world mark, failing at 5.01 in Stockholm last Tuesday but still collecting a one-carat diamond for breaking the stadium record.
"It was my dream to be the first woman over five metres," said Isinbayeva. "Now I would like to have 36 world records. It's my new goal."