Holder Petra Kvitova was stunned at the WTA Championships on Tuesday with a defeat that reduced her to tears while Serena Williams and Maria Sharapova began their campaigns in top form at the end-of-season competition.
Sixth seed Kvitova was toppled 6-3, 6-2 by Poland's Agnieszka Radwanska in a contest that saw the Czech commit a whopping 41 unforced errors to only five from her opponent.
Wimbledon and US Open champion Williams eased to a 6-4, 6-1 victory against Germany's Angelique Kerber, while French Open champion Sharapova beat Italy's Sara Errani 6-3, 6-2.
Kvitova, so impressive winning the 2011 title, had trouble keeping the ball in court off the ground while fourth-seeded Radwanska put on a smart performance, easily moving her opponent out of position.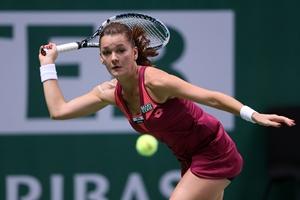 It was the Czech's first loss in 25 matches on indoor hard courts dating back to October 2010.
Kvitova came into her news conference with tears in her eyes and admitted having lost control of her emotions.
"It was a little bit different, but the nerves were there for sure," Kvitova told reporters. "I was nervous all the match. I felt my fingers weren't still moving and I didn't move on my legs. I'm disappointed in myself.
"I had a lot of errors and it wasn't good tennis from my side... If you are not playing like some matches before and now you have a player who's number four in the world, it's not easy to be relaxed."
BIG SERVES
Third seed Williams, who won her 15th Grand Slam at the US Open, did not appear nervous at all despite playing for the first time since winning the title in New York on September 10.
The American pulled out of this month's tournament in China with stomach flu but said she was healthy now and proved it against fifth-seeded Kerber as she sent down her booming big serves and took control of the action from the ground.
"I felt like I was ready to play," Williams said. "I felt like I practised too much, and if I hit another practice ball I'm going to go nuts. So I just really wanted a match.
"I was like, if I have another practice day, I don't know if I can handle it."
Number two seed Sharapova hit 22 forehand winners against Errani in a rematch of the French Open final which the Russian won by the same scoreline.
On Wednesday, Williams meets China's Li Na, top seed Victoria Azarenka of Belarus plays Kerber and Sharapova faces Radwanska in the round robin competition featuring the world's top eight women players.
Photograph: Julian Finney/Getty Images