Serena Williams is not the type to show mercy to weakened opponents and Saturday proved no exception as the American demolished Poland's Agnieszka Radwanska to reach the final of the WTA Championships.
Williams roared through her round robin group, winning all three matches, and proved unstoppable again in a 6-2, 6-1 victory that set up a final against Maria Sharapova.
Sharapova beat Victoria Azarenka, who will finish the year as No.1 in the rankings, with similar ease 6-4, 6-2.
Williams has yet to drop a set in the showpiece tournament while Sharapova has only conceded one set.
World number three Williams, the outstanding player on the tour during the second half of the year in which she won Wimbledon, the Olympics and the US Open, rattled off 39 winners against the leg-weary Radwanska.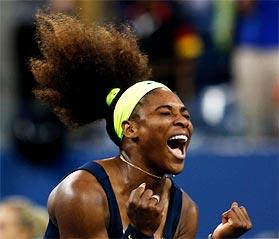 Radwanska, who took three hours and 29 minutes to beat Sara Errani on Friday, just about stayed with Williams until 2-2 in the first set but her resistance quickly crumbled against the 15-times Grand Slam champion.
"Those last two matches really killed me, especially that I didn't have the day off," Radwanska, who was beaten in a tight three-setter by Sharapova in the group, said.
"I really needed that. And especially that surface. It's very sticky, so three and a half hours is a lot. I'm really tired today and I really wanted to run, but my legs didn't."
Sharapova went into her match with Azarenka having lost four of their five meetings this year, including losing to her in three finals, but looked much fresher on Saturday inside the Sinan Erdem arena.
Azarenka, who had sealed the year-end number one ranking by advancing to the semi-finals, lacked her normal power and foot speed and was no match for Sharapova who broke the Belarussian's serve twice in the first set with some vicious returns.
The four-times Grand Slam champion raced out to 4-0 lead in the second set, fought tooth and nail to win a 24-point game to go ahead 5-1, and then easily held to win the match.
"I give Maria all the credit. She played really well," Azarenka said. "Could I play better? Yeah, I could have moved better for sure. But I have no regrets. I finished the first time a loss with a smile."
Sharapova has advanced to the WTA Championships final for the first time since 2007. She won her sole title at the event in 2004 when she beat Williams, which is the last time she beat the American.
"I'm happy with the way I came in and didn't let anything bother me, even losing to her the last couple times just trying to figure it out," she said of the Azarenka match.
Photograph: Eduardo Munoz/Reuters