Ethiopian Kenenisa Bekele motored away to a third straight 10,000 metres title while only a freeze-frame could separate Veronica Campbell from her 100m rivals on a dramatic night at the World Athletics Championships on Monday.
The Japanese crowd roared Bekele towards the pantheon of greats, but they were silenced and left gaping at the scoreboard at the end of the women's sprint.
The naked eye could not split Jamaican Campbell and American Lauryn Williams and nor could the clock -- both women were timed at 11.01 seconds.
Such was the cluster on the line that Torri Edwards was first flashed up as winner, yet she finished fourth, behind another American Carmelita Jeter.
For several minutes the four sprinters paced around uneasily, blowing through puffed cheeks and glancing anxiously up at the scoreboard.
Only when Campbell was finally named the winner did she allow an enormous smile to spread across her face as she looked to the heavens.
''It was one of my longest moments,'' Campbell said. ''I wasn't sure with the names going back and forth (on the scoreboard) but now I am so happy to win.
''I was very confident and positive. My start wasn't the greatest but I know I finished well.''
SPRINT QUEEN
Also Olympic gold medallist in the 200m, Campbell can be considered the all-round sprint queen.
''I would think so,'' she grinned. ''I am very good at running the one and the two ... I was able to prove to the world tonight I am able to run very well in both.'' The 2005 champion Williams took heart from her silver medal after a season of injuries.
''During the wait I did a lot of praying in those minutes.
Where I have come from this season I am not at all upset with the silver.'' Campbell's victory capped a sensational two days for her imprisoned coach Lance Brauman who also coaches men's 100m champion Tyson Gay.
Brauman will be released tomorrow from a federal prison in Texarkana, Texas, where he has spent more than nine months after being found guilty of embezzlement, theft and mail fraud charges.
''He should be very proud. He's got two gold medallists so far,'' Campbell said.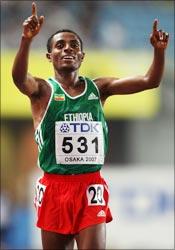 There was no such suspense to Olympic champion Bekele's demolition of the field in the 10,000m. The Ethiopian blew past countryman Sileshi Sihine coming round the final bend and eased away to win in 27 minutes 5.90 seconds.
Bekele had time to blow kisses to the crowd before turning around to see Sihine come home for silver in 27:09.03. Kenya's Martin Irungu Mathathi took bronze in 27:12.17.
Bekele moved to within one world championship gold of Ethiopian great Haile Gebrselassie, who won four between 1993 and 1999.
''It is very special... a very special moment,'' Bekele said.
''I am very pleased to have had this chance. It is not easy to win for a third time in a world championships.''
BIG FIGHT
In the women's 3,000 metres steeplechase, Russia's Yekaterina Volkova snapped up gold with a world championship record time of nine minutes 6.57 seconds.
''This victory is for my three-year-old son Daniel,'' Volkova said. ''He is already trying to call me now for sure.'' Compatriot Tatyana Petrova claimed silver with Kenyan Eunice Jepkorir taking bronze.
Japan's Olympic gold medallist hammer thrower Koji Murofushi gave home fans nothing to cheer about, finishing sixth.
The event was won by Belarussian Ivan Tikhon who also completed a hat-trick of world titles with a final throw of 83.63.
The 30-year-old, champion in 2003 and 2005, produced the best throw of the season with his last effort to deny Slovenia's Primoz Kozmus. Slovakia's Libor Charfreitag took bronze.
''It was a big fight, very tough and very emotional for me,'' said Tsikhan. ''Before my last throw I said to myself I could do it. As you saw, everything is possible.''