Ryan Lochte became the first person to break a long course world record since the controversial polyurethane swimsuits were banned in 2010 when he retained the men's 200 metres individual medley title at the World Championships on Thursday.
American Lochte edged a titanic tussle with Michael Phelps to clock one minute, 54.00 seconds, bettering his own mark by 0.10, while his compatriot took silver in 1.54.16, ahead of Hungary's Laszlo Cseh (1:57.69).
The victory was a huge confidence boost for Lochte heading into the London Olympics, now less than one year away. The 26-year-old had won the silver behind Phelps in the same event at the last two Summer Games in Athens and Beijing.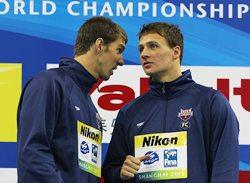 Phelps led for the first butterfly leg, while Lochte, who is swimming in the 200 metres backstroke semi-finals later on Thursday, took over at the halfway mark.
The pair went stroke-for-stroke on the third breaststroke leg though Lochte turned marginally in front.
Lochte looked to have developed a winning lead half way down the final freestyle lap, before Phelps surged again and the pair were within a fingernail of each other at the wall.
"About the race, all I can say can be summed up in one word 'Yeah!'," Lochte told reporters.
"Anytime you break the world record you gotta be excited. I trained hard and it paid off. I know this was gonna be a battle between me and Michael and I got the better end this time."
Phelps had not competed in the event at the Rome world championships in 2009, and has dropped the 400 medley from his programme, leaving the more gruelling distance to Lochte and Cseh to battle over.
The fact he finished so closely to Lochte will also do wonders for Phelps' confidence given his acknowledged aversion to coach Bob Bowman's gruelling training schedule after he won an unprecedented eight Olympics golds at Beijing in 2008.
Phelps, who said before the championships began that he had realised he was only hurting himself by not turning up to Bowman's training sessions, has committed just one more year to his swimming career, planning to retire after London.
"I felt good. I thought I was a little long at the finish and that cost me the race," Phelps said.
"I am a little disappointed at the same time it's faster than I did at the 2008 Olympics, so that's a good thing."
Lochte has now won two gold medals in Shanghai, having pipped Phelps for the 200 freestyle title on Tuesday and is expected to defend the 200 backstroke title he won in Rome on Friday.
Phelps, who won the 200 butterfly -- his signature event -- on Wednesday has now won a gold, two silvers and a bronze from t he 4x100 freestyle relay.
Photograph: Getty Images