Ukraine's Nataliya Dobrynska set a pentathlon World record of 5,013 points to win the gold medal at the World indoor championships on Friday.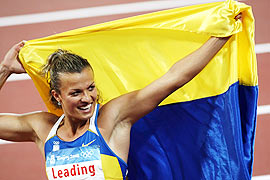 Her performance was a timely reminder of the Olympic heptathlon champion's class as the expected battle between Britain's Jessica Ennis and Russian Tatyana Chernova failed to materialise.
The previous World best of 4,991 had been set in 1992 by Russian Irina Belova.
Ennis, the 2010 champion, had to settle for the silver with a national record of 4,965 with Austra Skujyte third in a Lithuanian record of 4,802. Chernova, the World heptathlon champion, finished fifth.
Dobrynska won the shot put and long jump to head Skuyjte by 87 points with Ennis a further six behind going into the final discipline, the 800 metres.
The 29-year-old kept Ennis in her sights around the four laps of the track and, although the Briton won the race, Dobrynska's time of two minutes 11.15 seconds, a personal best indoors by over three seconds, ensured the overall victory.